Models walked the runway at the Surety Hotel in downtown Des Moines for the XIX launch party last July. All the looks were styled by Laura Biggins with her inaugural designs. Here, model Anaialynn rocks a XIX cutoff T-shirt. Photo: Vinyl Studio
Writer: Hailey Allen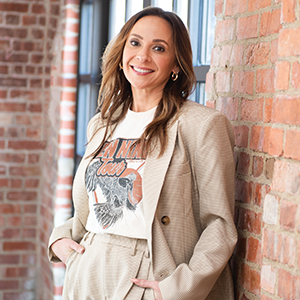 Laura Biggins, a local fashion designer, launched her own fashion brand XIX last July. She's owned a screen printing and custom apparel business called the Vinyl Studio since 2018 but decided last summer to jump full force back into fashion design.
She got her start in fashion right after graduating from the University of Northern Iowa with a marketing degree, moving to New York City and landing a job as the assistant of product development, merchandising and design at J. Lo by Jennifer Lopez — a big break for the young woman from Fort Dodge. Around 2006, she left the Big Apple for the Lone Star State and worked for Fossil in Dallas until 2010, when she and her husband returned to Iowa.
While working at J. Lo, Biggins taught herself fashion-design basics by watching the designers around her and copying their methods. "It was a small company, so I got to wear a lot of hats and really get my feet wet in the fashion industry," she said.
Back then, everything at J. Lo was done by hand, so that's how she learned how to design. Later, during a stint at Garan Inc., a co-worker taught her how to design using computers. "It's crazy what people will take the time to teach you if you just ask," she said. Now she pays that forward by helping others who seek out her expertise.
Biggins, 41, said the idea of XIX (pronounced "ten nine") had been bouncing around in her head but never materialized until 2022. "I started to make a lot of changes and surround myself with people who would help me grow, not only as a person but in business," she says. "I was like, 'Let's do this. Why not?' " She recalled her college days at UNI, when she'd mustered the courage to interview with J. Lo and thought, "I can shoot for the stars if I want to."
At the Vinyl Studio, Biggins had plenty of T-shirts and screen-printing resources at her disposal, but "there's only so many Des Moines-centric shirts I can design," she said with a laugh. She wanted to expand the brand and modernize the offerings to reach a national audience, so she found a Los Angeles shirt supplier and started designing. Her first launch, a series of tops for layering, mixing and matching, culminated last July with a fashion show.
Biggins hopes to grow her brand and add to the already thriving collection with more cut-and-sew options for woven and denim fabrics, in addition to the current cotton tops. XIX offers new collections for the fall/winter and spring/summer seasons, with monthly drops in between.
Expanding the brand is the next step for the business that would have made Biggins' late father proud. Way back when, he encouraged her to move to New York and follow her dream to become a fashion designer. Her new company's name, XIX, comes from his birthday on Oct. 9.
"He taught my husband and me everything we know about being small business owners," she said, "and what it takes to be successful."