Writer: Hailey Allen
Photographer: Duane Tinkey
Stylist: Casey Halder
As soon as summer whispers its arrival, we hear its invitation loud and clear: Come outside! It's a beautiful day! To help you heed that call, local chef and food stylist Casey Halder developed four dishes for dining al fresco on the back deck, at the park or wherever the day takes you. The watermelon salad (pictured above) makes a light and crisp side dish or snack, and the savory-sweet prosciutto, peach and strawberry sandwich is surprisingly hearty.
---
Watermelon, Feta and Mint Salad
Serves 6
Prep: 15 minutes
Total: 15 minutes
Ingredients
4 cups fresh watermelon, chunked
1 English cucumber, roughly diced
1 cup fresh feta cheese, crumbled
1/4 cup fresh mint leaves, packed
1/4 cup red onion, thinly sliced
1 tablespoon fresh lime zest
2 tablespoons juice from 1 lime
2 tablespoons olive oil
1 teaspoon Kosher salt
Directions
Toss together the watermelon, cucumber, feta, mint and red onions in a medium bowl. Whisk together lime zest, juice, oil and salt; drizzle it over salad and toss it to coat. Garnish with additional mint, if desired. Serve immediately.
---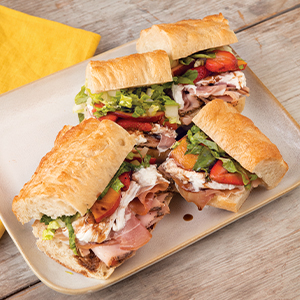 Prosciutto, Peach and Strawberry Sandwich
Serves 4
Prep: 45 minutes
Total: 50 minutes
Ingredients
1/2 cup balsamic vinegar
1/4 cup granulated sugar
2 tablespoons honey
1 teaspoon Kosher salt
1/2 teaspoon cracked black pepper
3 sprigs fresh thyme
1/2 cup fresh peaches, pitted and sliced
1/2 cup fresh strawberries, sliced
1 12-inch baguette, cut in half lengthwise
Olive oil, to taste
2 ounces La Quercia prosciutto
8 ounces peppered turkey, thickly sliced
1 8-ounce ball burrata cheese, torn and slightly drained
1/4 cup packed fresh basil, torn
2 cups Romaine lettuce, shredded
Directions
1. In a small saucepan over medium-high heat, combine the vinegar, sugar, honey, 1/2 teaspoon salt, 1/4 teaspoon pepper and thyme. Bring the mixture to a simmer or just until small bubbles appear. Remove from heat and set aside to cool, or place in the refrigerator for 15 to 20 minutes. When it's cool to the touch, add peaches and strawberries, mixing well to coat. Marinate for 15 to 20 minutes. Using a slotted spoon, drain fruit from liquid and set aside. Reserve the sauce.
2. Place both bread halves cut-side up on a work surface; drizzle them with olive oil and 2 tablespoons of the reserved sauce and sprinkle with remaining salt and pepper. Assemble the sandwich from the bottom up with ribbons of prosciutto and turkey, cheese, strawberries and peaches, a mix of basil and lettuce, and the remaining bread half. Slice into four servings and serve immediately.
---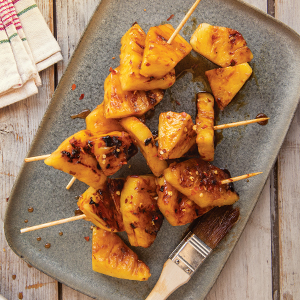 Sweet and Spicy Grilled Pineapple
Serves 6
Prep: 40 minutes
Total: 45 minutes
Ingredients
6 8-inch wooden skewers
2 tablespoons pure maple syrup
2 tablespoons dark brown sugar, packed
1 tablespoon vegetable oil
1 tablespoon chili garlic sauce
1 teaspoon ground cinnamon
1/2 teaspoon kosher salt
1 medium pineapple, peeled, cored and cut into chunks
Crushed red pepper flakes
Directions
1. Soak the skewers in water for 30 minutes. Preheat a charcoal or gas grill for direct cooking over medium-high heat. (Indoors, use a grill plate over a burner set to medium-high.)
2. Combine the syrup, brown sugar, oil, chili garlic sauce, cinnamon and salt in a medium bowl. Add the pineapple, toss to coat and marinate for 5 to 10 minutes. Thread pineapple onto skewers; reserve sauce. Grill 6 minutes, turning occasionally and brushing with reserve sauce. Garnish with red pepper flakes. Serve warm.
---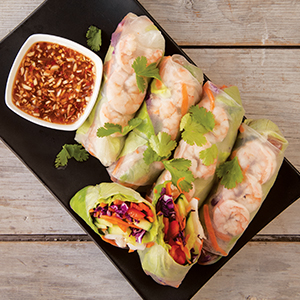 Shrimp Spring Rolls
Makes 15 rolls, serves 6
Prep: 40 minutes
Total: 45 minutes
Ingredients
4-ounce vermicelli noodles, cooked, drained and cooled
1 tablespoon garlic powder
1/2 teaspoon cracked black pepper
1 bay leaf
8 cups cold water
1 pound raw shrimp (21-25), deveined, with tails removed and set aside
15 sheets of rice paper
1 head butterhead lettuce
1 bunch fresh cilantro, stems removed
1 cup red bell pepper, thinly sliced
1 cup English cucumber, thinly sliced
1 cup red cabbage, shredded
1 cup carrots, shredded
Ingredients for the sauce
1/4 cup granulated sugar
2 tablespoons juice from 1 lime
2 teaspoons rice wine vinegar
2 teaspoons sesame oil
2 teaspoons chili garlic sauce
1 large garlic clove, minced
1 teaspoon crushed red pepper flakes
Directions
1. Cook the noodles according to package directions. Using a spider strainer or small mesh strainer, remove noodles from boiling water and immediately rinse with cold water to stop them from overcooking. Set aside to drain and dry.
2. Combine garlic powder, pepper, bay leaf and water in a saucepan. Bring to a boil over medium-high heat and add shrimp and separated tails. Cook for 2 to 3 minutes, or until shrimp have turned pink and curled slightly into a "C" shape. Transfer shrimp to a bowl of ice water to stop the cooking process. Once cooled, slice shrimp in half lengthwise and set aside.
3. In a shallow dish, such as a pie plate, soak one sheet of rice paper in water for 10 seconds. (Take care not to over-soak the rice paper, as it can tear more easily.) Remove paper from water and lay it flat on a damp work surface. Beginning at the edge closest to you and leaving 1 inch of space on all sides, add a small portion of noodles, 1 cup of lettuce, and heaping tablespoons of cilantro and each vegetable. Gently cover the fillings with the bottom edge of the rice paper and roll away from you, tightly tucking in the sides as you roll (like a burrito). Halfway through rolling and after the sides are tucked in, shingle the sliced shrimp in the center of the roll, pressing down as you finish rolling to help everything stay in place. Repeat the process for the remaining rolls.
4. For the sauce, stir together all the ingredients in a small bowl. Transfer to small dish and serve immediately. Garnish with additional cilantro, if desired.
---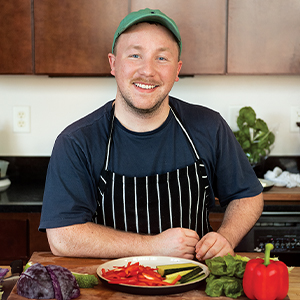 Casey Halder grew up in Des Moines and is a die-hard advocate for the community. His love for all things local means you can find all the ingredients for his recipes at locally owned businesses, including baguettes and greens from farmers markets, oils and spices from Allspice, and fresh fruits from Gateway Market (where you can also find the wine pairings in this issue, here).