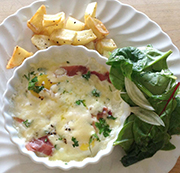 By Wini Moranville 
Here's another reason you'll want to go to dsm's unveiling party tonight: The new issue has a story on five great brunch dishes (and drinks) in Des Moines. Don't miss it!
While the story will inspire you to try one of the city's great chef-driven brunches, I'm also a fan of a good brunch at home. However, because weekends are for leisure, I tend to keep mine simple.
Here's a perfect recipe for an upcoming springtime brunch, such as Mother's Day–or any day you want something bright, sunny and easy. It's particularly good when you use a product of Iowa like La Quercia prosciutto from Norwalk.
Baked Eggs with Prosciutto and Comté
For each serving:
* 2 eggs
* 1 tablespoon cream
* 2 tablespoons diced prosciutto (such as La Quercia)
* 2 tablespoons Comté or Gruyère cheese, or any other cheese that melts well
* Snipped fresh parsley
1. Preheat the oven to 375 degrees. Butter an 8-ounce mini quiche dish or custard cup. Break the 2 eggs into the dish. Drizzle the cream over the eggs and sprinkle with salt and pepper to taste. Place the dish on a baking sheet. Repeat for as many servings as you need.
2. Bake for 10 minutes. Sprinkle each dish with prosciutto, cheese and parsley. Return to the oven and bake until the egg whites are set and the yolks are done to your liking, 2 to 5 minutes more (custard cups may take longer than the shallow baking dishes).