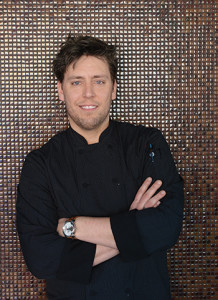 Reviewed by Wini Moranville
Photos by Duane Tinkey
Dear dsm readers:
For the most part, we're a pretty well-traveled lot. Many of us have been to Mexico. Some of us have even been even farther—to Ecuador, Costa Rica, or maybe Chile or Argentina.
At the very least, we've been to Miami or Chicago, right? We've seen Rick Bayless, of Chicago's Topolobampo and Frontera Grill, and other contemporary chefs do stunning things with Latin flavors.
So we all know that Latin American cuisine encompasses much, much more than tacos, enchiladas, fajitas, quesadillas et al. Right?
Then why—why—do we continue to only order the tacos, enchiladas, fajitas, quesadillas et al. at Dos Rios?
Notice I say "we" and not "you." I, too, have been guilty of heading to this Court Avenue venue, eyeing the menu and being tempted by such enticing-sounding offerings as the seared scallops with spiked tomato emulsion or the crispy pork belly with mole negro.
Yet, in the end, I've too often stuck with the familiar: a margarita, the expert tableside guacamole, a few tacos. Looking around the room (as we restaurant reviewers often do), I've seen plenty of other diners playing it just as safe.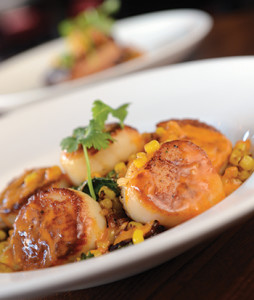 In truth, we should give ourselves a break. The reason we've been skittish about rolling the dice on the scallops might be this: The entrées cost about twice as much as the tacos, but in past experiences, they were rarely two times better.
So—in one of the most dashing of downtown venues, with its star-punched lanterns, playful-modern take on Mexican folk art and floor-to-ceiling windows giving way to the most stylish patio and energetic streetscape in Des Moines—there we sat, eating tacos. Yes, they were really good tacos, in that fresh and simple taco-truck way, but these days, you can get good, fresh and simple tacos at a lot of places in Des Moines.
Eating taco-truck-style tacos at Dos Rios felt incongruous—like eating a Vienna Beef hot dog at 801 Chophouse.
At long last, under the helm of the immensely gifted Mike Holman, the entrées thoroughly live up to the venue's cosmopolitan vibe and ambitions.
Holman, a graduate of the Iowa Culinary Institute at Des Moines Area Community College, worked at the Café in Ames for eight years, advancing to the position of sous chef before heading to Dos Rios, where he was sous chef for three years. He left for a return stint at the Café, later working in the kitchens of Americana Restaurant & Lounge and Tartine (the precursor to Table 128).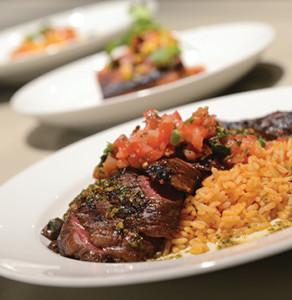 Holman headed back to Dos Rios in October 2012 and is currently the executive chef of the Two Rivers Hospitality Group, which includes Dos Rios, Catering DSM and Big City Burgers and Greens.
Upon his return, he knew that he needed to make some changes. "I think that Dos had developed a stigma in the past about being overpriced and under-indulging, and I've worked really hard to try and change that," he says.
The man has hit his mark. On three recent visits, I sampled an array of dishes, and while the tacos, enchiladas, fajitas, quesadillas et al. are as admirable as always, it's the entrées that place Dos Rios firmly on the same playing field as the city's other chef-driven restaurants, from Proof to Eatery A.
Each plate showcased the kind of sparkle and precision I always longed for at Dos Rios. The scallops arrived creamy, sweet, tender and moist—with just a touch of that briny ocean-ness to them; the robust-yet-refined accompaniments included poblano whipped potatoes, a little bacon-sauteed kale and this marvelous thing called spiked tomato emulsion—a simple cherry tomato/olive oil-based sauce that added brightness and verve to the overall dish.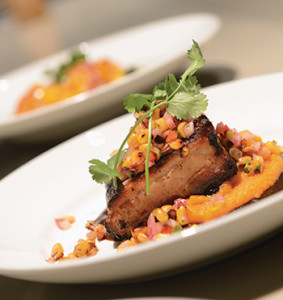 The carne asada also brought an equally great play of depth and brightness; rosy-pink slices of marinated grilled skirt steak came with a bonus of chimichurri. Holman's version of the Argentine condiment of herbs, oil, vinegar and spices was unlike any I've had around here.
"So often chimichurri is blended and emulsified into a bright green mess with no distinction between flavors," he explained later. "My chimichurri is a very traditional Argentine version; we tried … to find a balance between the herbs (parsley and oregano) and chiles, and the acidity of the vinegar and citrus."
Fans of pork belly—those of us who love dallying around the luscious layers of flab for streaks of tender, succulent meat—must try Holman's take. The mole negro—a sauce that begins with ingredients that have been toasted until they're nearly or entirely burnt—adds sweetness and spicy intrigue to meaty-salty pork, while the judicious scattering of roasted corn salsa adds levity to all those deep flavors.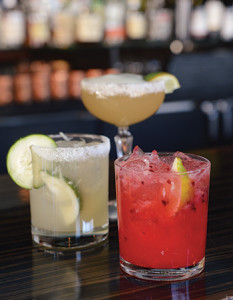 Recently, Holman has been turning heads outside of the Dos Rios realm. He came in first, besting nearly 20 other professional chefs, at this year's Leukemia and Lymphoma Society's Fifth Annual Chili Cook-Off; he also won the Culinary Fight Night competition in January.
In spite of his successes and accolades, he exudes a modest and easygoing demeanor. About the inspired changes he's brought to the entrées at Dos Rios, he says, "I'm not trying to reinvent Latin dining."
Maybe not, but you'd have to go pretty far afield to find Latin American food this inventive.
---
Dos Rios
316 Court Ave.; 282.2995
www.dosriosrestaurant.com