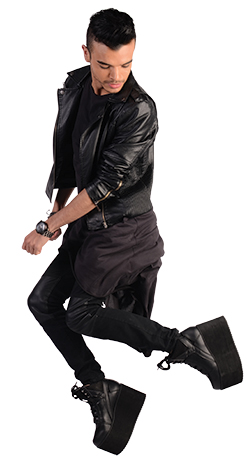 Photo by Nate Ward
Assistants: Michelle Phelan and Christina Wolf
Hobbies:
I'm a fashion designer, so sketching new ideas and looks is my favorite thing to do when I'm not working.
Dream:
I dream to become as good as Alexander McQueen some day. Not because of fame, money or power, but because of passion and drive to do what I love to do, which is fashion.
How would you describe your style?
I'd say borderline avant-garde.
What part of your style are you known for?
For having extravagant love for black and futuristic accessories.
What is the one piece of clothing or an accessory you couldn't live without?
Definitely a black leather jacket.
Do you have a fashion icon?
Brigitte Bardot and Lady Gaga.
Picky about:
What I eat.
Not so much about:
The price tag.
Would always:
Be optimistic.
Would never:
Be stuck-up.
Fear conquered:
Heights.
Not quite there yet:
Deep water.
Early for:
Fashion.
Late for:
Answering emails.
Always up for:
Adventure.
Never up for:
Drama.