Writer: Wini Moranville
Photographer: Duane Tinkey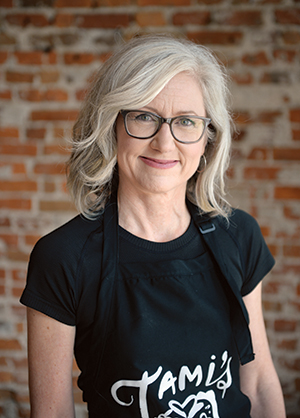 For this issue's recipe, we craved a showy dessert for the holidays. It took us about three seconds to think of Tami Johnson, who sells gorgeous tarts from her busy food stand at the Downtown Farmers' Market.
A staff attorney for a federal court of appeals by day, Johnson crafts her popular tarts as a side hustle. She first became interested in baking as a youngster. "I always baked with my grandmother," she says. "In high school, I was the one who baked everyone's birthday cakes."
In the late '90s and early 2000s, she perfected her craft by taking pastry courses taught by certified master bakers Didier Rosada and Philippe Le Corre at the bygone National Baking Center at Dunwoody Institute in Minneapolis. She began selling her tarts at the farmers market in 2008.
On select Saturdays from May through October, pastry lovers crowd around Tami's Tarts—as her business is known—picking up the ultimate in artisanal single-serving tartlets. Johnson and her partner, Marcus Walsh, make each tart from scratch; often, selections march to the beat of the growing season, from rhubarb-custard and lemon curd topped with fresh berries early in the season, to plum-almond and nectarine-cherry as summer hits full swing.
With the growing season long over, we sweet-talked our way into snagging the recipe for her famed Chocolate Tart With Bourbon Caramel and Sea Salt. One of her best-sellers, it's a glamorous option for stylish holiday gatherings. And of course, we think chocolate is always in season!
Tips From the Chef
Get a kitchen scale: Johnson recommends measuring dry ingredients by weight for better accuracy. Most kitchen scales have a gram setting as well as an ounce setting.
How she rolls: "I roll the dough directly on top of the removable tart pan bottom, until the dough extends beyond the bottom's edges by about an inch," Johnson says. "Then, I carefully lift the pan bottom with the rolled dough
and place it into the tart pan, pressing the overhanging dough up the sides of the pan."
What to do with the extra crust: Johnson's recipe makes two crusts—that's because it calls for one egg, which makes the crust recipe hard to halve. The good news is that the dough for the extra crust freezes well, giving you a jump-start on your next tart. "Simply flatten the extra into a 1-inch-thick disk, wrap it in plastic wrap, and freeze," she says. "Thaw in the refrigerator before rolling out."
Caramel demystified: To avoid crystallization of sugar, Johnson says to make sure your pan is free of any residue. "Don't stir it while cooking; swirl instead. If the sugar does start to crystallize around the sides of the pan, put a lid on the pan until condensation dissolves the crystallization. Watch closely, as caramel can burn quickly."
Go easy on the ganache: "Whisk the ganache just until it comes together to avoid creating air bubbles," Johnson says. "If there are bubbles on top of your tart, you can pop them with the tip of a sharp knife."
Make-ahead strategy: You can bake the crust and set the caramel in the crust, as directed, the day before serving; refrigerate overnight. Then finish the tart with the ganache, as directed, the next day.
---
Chocolate Tart With Bourbon Caramel and Sea Salt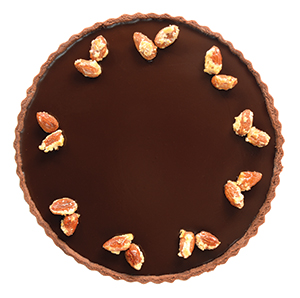 Recipe by Tami Johnson of Tami's Tarts
CHOCOLATE TART DOUGH
Makes two 9-inch tart shells
1/2 cup plus 1 tablespoon butter, softened (127g)
1/2 cup sugar (100g)
1 large egg
1 1/2 cups all-purpose flour (210g)
1/4 cup unsweetened cocoa powder (35g)
1/8 teaspoon salt
CARAMEL
(For one 9-inch tart.)
1/4 cup water
1 1/4 cups sugar (240g)
2 tablespoons corn syrup
1/2 cup cream
1 tablespoon bourbon or dark rum
4 tablespoons butter (56g)
1/4 teaspoon flaked sea salt, such as Maldon
CHOCOLATE GANACHE
(For one 9-inch tart.)
3 1/2 ounces (98g) fine-quality chocolate (66-80% cocoa, callets or chopped)
2/3 cup heavy cream
FINISHING TOUCH
Purchased candied nuts
Tart Crust
1. In the bowl of an electric mixer fitted with the paddle attachment, cream the butter and sugar until combined, about 1 minute. Add the egg and beat until smooth. Sift in the flour, cocoa powder and salt. Mix on low speed until just combined (if the dough won't come together because it's too dry, add
1 tablespoon heavy cream). Divide the dough in half, form each half into a disc, wrap with plastic wrap, and chill until firm, about 1 hour, or up to 3 days.
2. On a lightly floured surface, roll one disc of tart dough into a circle about 3/16 inch thick, then place in a 9-inch tart pan (see recipe tips, page 44). Trim dough to top of pan edge and chill or freeze for at least 1 hour.
3. Preheat oven to 350 degrees. Line tart shell with parchment paper and fill with dried beans to weigh down the paper. Bake in the preheated oven for 15 minutes. Remove the paper and beans and bake for 10-15 minutes more or until dry and firm to the touch. Set aside to cool completely.
Caramel
1. Place water, sugar and corn syrup in heavy 4-quart saucepan; stir until combined. Cook the mixture over medium-high heat, swirling pan occasionally, until caramel is a medium amber color. Off heat, whisk in the cream, bourbon and butter until
smooth (stand back because the caramel will bubble up). Set aside to cool slightly—caramel should be spreadable but not hot.
2. Pour the caramel into the cooled crust, using just enough caramel to fill the crust half full (reserve any extra caramel to use as ice-cream topping). Let caramel set for at least 1 hour. When the caramel is set, sprinkle with flaked sea salt.
Chocolate Ganache
1. Place chocolate in a mixing bowl. Bring cream to a boil in a saucepan. Pour the hot cream over the chocolate and let it sit for a couple of minutes, then whisk until smooth.
2. Gently pour the ganache over the caramel. Let ganache set at room temperature for at least 2 hours before serving. Right before serving the tart, garnish with candied nuts. Refrigerate leftovers.