Writer: Wini Moranville
Photographer: Duane Tinkey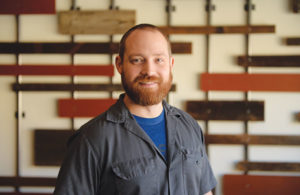 There are pancakes, and then there are pancakes. The thick, dreamy and voluptuous lemon-ricotta pancakes served at Eatery A's brunch are unlike any I've ever had, anywhere. Crisp on the outside, fluffy on the inside, dotted with sweet blueberries and creamy ricotta, they're sparked with lemon zest and wrought with a buttery richness, inside and out.
These finessed flapjacks exemplify how everything on executive chef Nic Gonwa's brunch menu arrives satisfyingly robust, yet irresistibly detailed. Spinach quiche? Yes—but cradled in a browned butter crust and served with sprightly shaved fennel salad. Capers and chopped hard-cooked egg aren't quite fine enough to accompany this kitchen's salmon lox—instead, those classic accompaniments get stirred into sauce gribiche, with a windfall of fresh herbs, plus aioli, mustard and house-made pickles. And the Benedict-style eggs bring wild crab, harissa aioli and avocado, with a bright snow-pea salad alongside.
Craft cocktails, both hot and cold, keep spirits high, whether you need an eye-opener, such as the 2932 (grapefruit juice, Campari and elderflower liqueur), or something to ease you more gently into the day, such as the Peace of Mind (rye, chamomile-honey simple syrup, Lillet and lemon).
Best of all, while most venues serve brunch on Saturday and Sunday only, Eatery A kicks off their brunch service on Friday, letting you live large before the weekend even begins.
Lemon-Ricotta Pancakes
With Blueberries
Recipe by Nic Gonwa,
executive chef, Eatery A
Resist the urge to stack 'em up! These stand-alone beauties truly stand apart. Served with bacon and/or eggs, one will be plenty for many diners, two almost too much. (But you might not be able to stop yourself!)
1 cup (2 sticks) butter, divided
2 cups all-purpose flour
1/4 cup sugar
2 teaspoons baking powder
1 teaspoon baking soda
1/2 teaspoon kosher salt
1 lemon (zest only)
2 eggs, beaten
2 cups buttermilk
1 teaspoon vanilla
1 cup blueberries
2/3 cup whole-milk ricotta cheese
Real maple syrup, for serving
In a small saucepan, melt 1/2 cup of the butter. Set aside to cool.
In a large bowl, combine the flour, sugar, baking powder, baking soda and salt. Mix well to combine. Make a well in the center of the dry ingredients. Zest one lemon atop this ring of dry ingredients.
In a small bowl, combine the eggs, buttermilk and vanilla. Pour this mixture into the well in the center of the dry ingredients. Gently mix some of the flour mixture together with the milk mixture. Add the 1/2 cup melted butter and gently stir all ingredients together to form a thick batter, which should remain lumpy. Do not overmix.
For each batch of pancakes, in a 10-inch nonstick skillet, melt 2 tablespoons butter over medium heat. When it bubbles and sizzles, drop batter by 1/3-cup measures into the hot butter (you should be able to make about 3 pancakes at a time). Drop 3 small dollops of ricotta (about 1 level teaspoon each) along with 5 to 7 blueberries into the batter of each pancake. Cook about 4 minutes, or until bottoms are golden brown. Turn, and cook about 2 to 3 minutes more or until golden brown and cooked through (turn heat down if pancakes are browning too quickly). Repeat with more butter and batter. Serve warm with real maple syrup. Makes 10 pancakes (about 5 generous servings).
---
Eatery A executive chef Nic Gonwa shared these tips:
Do. Not. Overmix. The secret to the fluffiest pancakes? When combining the wet and dry ingredients to make the batter, do so with a light hand. "Otherwise, you'll have flat, nasty pancakes," Gonwa says. Don't be afraid of a few lumps in the batter.
Mind the butter: Before adding the butter to the mix, gently combine some of the wet and dry ingredients in the bowl to form a buffer between the melted butter and the eggs and milk. "That way, the butter won't solidify when you add it to the cool eggs and milk," Gonwa says. Also, don't stint on the butter when frying the pancakes. It's the key to the flavor as well as the irresistible golden-brown color and crispy outer texture.
Spread's the word: The pancakes may spread and swell into each other in the early stages of cooking. No worries—just cut them apart with the edge of a spatula when the time comes to flip them.
Finish in the oven if desired: Because cooking brunch at home requires so many other tasks—egg-scrambling, bacon-frying, mimosa-pouring—you may want to just brown the pancakes on each side, then transfer them to a 350 F oven for about 5 minutes to finish cooking them through. "That way you can get other things done rather than hawking the stove," Gonwa says.