Writer: Laurel Lund
Photographer: Duane Tinkey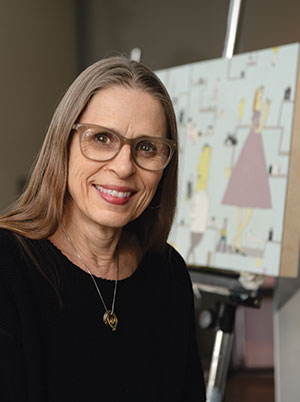 By walking alone, Mary Jones has gained a following. The multimedia artist captures the spirit of urban environments by immersing herself in them and examining her surroundings, step by step.
Focusing on iconic or un-gentrified areas of the cities in which she lives, she creates multimedia "art maps" that challenge viewers to engage with and find themselves and their place in their community.
"The theme of Jones' work is turning space into place, transforming her personal experience into artworks that help her, and others, find a sense of identity," says Ryan Mullin, manager of Moberg Gallery.
The gallery recently showcased a piece from the artist's five-part series "14th Street Flaneuse," which highlights Des Moines' Southeast 14th Street corridor.
Jones embraces the title of flaneuse, the feminine French term for a recreational walker. "During the quarter-century that I lived in Chicago, I walked everywhere," says Jones, now a professor of art and design at Grand View University. "I didn't even own a car until I was over the age of 40. I wanted to discover the heart of the city, and with it myself, my sense of place, my own heart."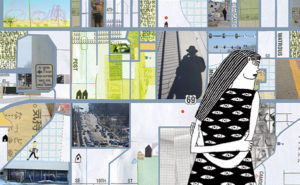 When she and her husband, Steve Rose (a recently retired professor of education at Simpson College), relocated to Iowa in 2001, she brought that passion with her. During the commute from her Indianola home to Grand View, she drove the Southeast 14th Street route daily but was unable to take in the spaces and places she longed to explore. Ever the flaneuse, she began walking the eight-mile corridor, which allowed her to explore the new environment and transfer that space-into-place sensibility onto canvas.
While paying multimedia homage to her new home, Jones also was wending her way through triple-threat art territory.
The Windy City walker was already a talented printmaker and illustrator when she began embracing photography.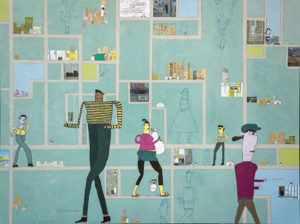 "Photography was my 'gateway drug' to the world," says the 66-year-old Jones. "It allowed me to see life through a different artistic lens. I now can record the world both as it is and as I see it."
The result? Her work is a lyrical mashup of artistic genres in the imagist tradition.
"Her subject matter is unique," Mullin says. "She's a minimalist, a miniaturist, who tells the story of place through her images."
Although the 14th Street series denotes buildings and businesses in Des Moines, realism is not Jones' emphasis. Local streets are creativity placed out of context, interspersed with collage elements such as newspaper snippets of Wall Street stock quotes, Asian calligraphy, fish literally out of water, coffeehouses next to venerable hotels, liquor stores and laundromats next to city monuments. Handwritten thoughts punctuate each piece. And people and pets are reflected in exaggerated expressions, activities, poses and props, all captured from notes jotted down in her walking diary.
Jones' caricature of herself is also central to her work. "I am the flaneuse who is both spectator and spectacle," she says. As a student of the Chicago imagist tradition, she uses a free association of symbols reflecting her reality.
"My work wanders through place and time by recording experience with words, drawings and photos," Jones says. "No one medium says enough. It's about both staying the same and negotiating change."
According to Mullin, Jones' artistic signature is the depth of her art. "Each time you investigate the fine detail, the abstract characters and the illustrative images of her work, you experience it differently," he says. "To understand her art is a work in progress."