Writer: Jane Schorer Meisner
Photographer: Duane Tinkey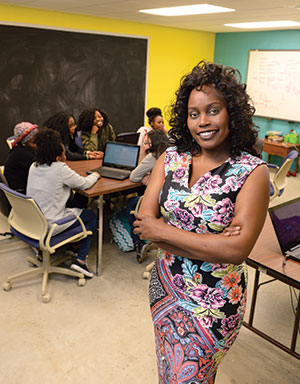 By her own admission, Nancy Mwirotsi was once so naive.
Several years ago, when the 40-year-old single mother from Altoona spent her own money to buy winter coats for a refugee family, she was clueless about available services that might have helped.
And in 2014, when she founded a nonprofit program to teach computer skills to low-income and refugee youth, she had no knowledge of how to run such an organization.
"Sometimes people think I'm kind of crazy for doing this, because when you start something from nothing, you're basically building a dream up," says Mwirotsi, who emigrated from Kenya in 1997.
Her program, Pi515: Pursuit of Innovation, exposes students to career possibilities in science, technology, engineering and mathematics (STEM) and provides personal support and mentoring.
From a cramped basement classroom at Zion Evangelical Lutheran Church, volunteer instructors teach computer coding and other technology-based skills as well as critical thinking skills. The goal is to help students succeed in obtaining an education and in building careers to support themselves.
The program is small, but effective.
Last year, all five high school seniors in the program entered college to study in STEM fields, Mwirotsi says. "I'm going to brag about that," she says. "They accumulated more than $200,000 in scholarships. One girl is in medical engineering, and a boy at Simpson wants to be a doctor. Another recently texted me that he got a full ride to Iowa State."
Mwirotsi says meeting the family that had no coats was the impetus for her growing volunteerism. "I was very passionate about making sure no one ever goes through the same thing that woman went through," she says. "I got exhausted in the process. It was very expensive. Then I stopped for a minute, and I asked myself if that really was the best thing I could do to help."
She realized that many refugees in Des Moines had no concept of the opportunities that exist here, especially in STEM areas. "These kids were talented, but no one was exposing them to what could be," Mwirotsi says. "You have to help them realize they have so much opportunity."
Pi515 has no shortage of potential students. They work on donated computers, but the group needs a bigger space for classes and—always—more financial resources.
Mwirotsi is especially grateful to "incredible Iowa women" for volunteering time and support for the project. Iowa Sen. Janet Petersen sometimes visits classes to get acquainted with students and their challenges, she says.
Another supporter, Des Moines school board member Connie Boesen, first met Mwirotsi at a church event. "Nancy is a very positive, caring individual who has a passion for helping others," Boesen says. "She is an advocate for not only her program, but also for helping with everyday issues people encounter."
Mwirotsi understands the issues facing African refugees, Boesen adds: "Nancy knew that by making sure they took advantage of the educational opportunities that are offered, they would be able to better their lives and the lives of their families."
The once-naive Mwirotsi now writes grant proposals, networks with legislators and gives speeches in other states about the progress of her project.
"I have come to realize I am very innovative and very ambitious," she says. "I've learned to be patient and not to take things for granted, and I've learned to explore part of me that I never knew existed—like telling myself I can take on a challenge. The students have really groomed me rather than me grooming them."
Mwirotsi worked in real estate before devoting herself full time to Pi515. Through funding from United Way, she now draws a modest salary to help support her and her 13-year-old daughter, Riziki.
"This was not an easy choice, but it was something I needed to do," she says. "I felt like if I didn't do it, it would never be OK with me."