Beginning as coffee shop conversation, Lincoln Savings Bank [LSB] began their partnership with Scott Siepker, Iconic Iowa Nice Guy, in late 2019. Joining the bank's team as LSB's first Brand Ambassador, Siepker was thrilled to help the bank craft a new voice within the financial industry.
"Most organizations do not embrace goofiness," Siepker said. "Lincoln Savings Bank was seeking it out, and it was a big selling point to me. We live in very serious times. I hope the lightness of these videos is a small respite."
Members of the bank's marketing team began to unravel stories and narratives alongside Siepker, eventually finding a common theme for each of their three videos. First released was the LSB History video, opening with a joke that sets a familiar Iowa Nice Guy pace. This initial video in the series centers around the institution's centurion history, dating back to 1902, featuring several of LSB's seventeen locations.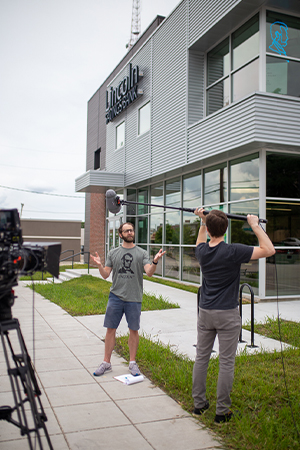 For the next video in the series, Marketing Brand Coordinator Tori Cory shares the spotlight alongside CEO & President Erik Skovgard, LSB Board Member Scott Bush, and Bank Secrecy Act Specialist Kenesha Davis, as Siepker introduces each of them in LSB's People video. One of Cory's most grin-worthy moments from the clip is caught while seeing her wield a lightsaber on-camera, highlighting her fanatical love for the Star Wars franchise.
"These videos were in the works in the beginning of 2020, but I don't think any of us had any idea how much we would need a lighthearted message by the end of the year," says Cory, who has been working remotely since the pandemic started. "I think these fun messages with a touch of sarcasm really are a refreshing take on the financial industry and a needed break for Iowans after such a difficult 2020."
The bank chose to wrap up the series in a video featuring their love for innovation and technology, along with a touch of showboating for its recent 2020 FinTech of the Year award, which comes across in a fun and even personal way thanks to Siepker's humble brags, witty puns, and well positioned sarcasm throughout the series.
Filming for the videos took place at a number of locations, including several here in Des Moines. Gateway Market & Café, Foundry Distilling Company, and Lola's Fine Kitchen were all highlighted in different clips throughout the series.
On set of filming at LSB's Ingersoll location, Cory remembers hearing Siepker rehearsing his lines while members of Around the Corners Productions worked to set lighting and microphones for the location. "It seemed to be a pretty mundane moment until I realized he was reciting full scenes from Shakespeare," she says with a laugh. "It was an absolutely hoot to watch Scott work. He isn't playing a character, but rather is just completely embracing his own idiosyncrasies and humor, which is what makes his voice for every brand so unique, but with his own consistent voice."
While LSB wrapped up their filming from 2020, they confirm this partnership is far from over. The reaction they have heard to the series has been tremendous. In an industry where conversations around finances can sound more like lectures, Scott's voice has made their message stand out in a more approachable way.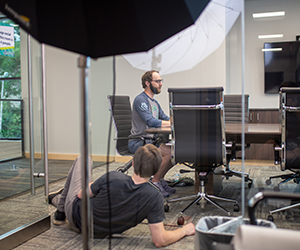 According to LSB's marketing team, they are excited to continue building LSB's partnerships with Scott Siepker as the bank's Brand Ambassador, as well as Cedar Falls video production company, Around the Corner Productions [ATCP], and their CEO Eric Braley.  "Lincoln Savings Bank has a rich history of taking care of people and businesses in communities throughout Iowa," comments Braley. "They have been a wonderful partner for our business and significantly helped us get to where we are today. But not everyone knows the Lincoln Savings Bank story. We were thrilled to be involved with putting together powerful visuals to tell their story and connect with people in communities across Iowa."
LSB's video series can be found on the bank's Facebook, Instagram, and YouTube pages, so while you scroll, keep an eye out for some of Siepker's iconic content.
Member FDIC.