"Everything is better with pie" is the motto for Pies and Pastries by Lana. We couldn't agree more. Here's Lana Ross' lattice-top cherry pie, which is available through special order. Want to learn to make your own? Ross regularly teaches classes at Kitchen Collage. You can also find her baked goods at Zanzibar's on Ingersoll. 
Writer: Karla Walsh
Photographer: Duane Tinkey
Sweet and savory pies are expanding their territory across Greater Des Moines. Any way you slice it, these local businesses are worth a taste.
Classic Desserts
The dessert pie game is so strong in Central Iowa, we couldn't stick with just one pick! Available via pre-order only, they're all totally worth the wait. Save room for a slice of Cha Cha's Confections' fruit or custard pies (chachasconfections.net), or check out Pies and Pastries by Lana (piesandpastriesbylana.com) for dessert pies in jars; some are even made with sweet corn. For an all-butter crust, as many local and seasonal ingredients as possible, and plenty of gluten-free options, preheat your appetite and order from Pie Bird Pies (instagram.com/piebirdpies).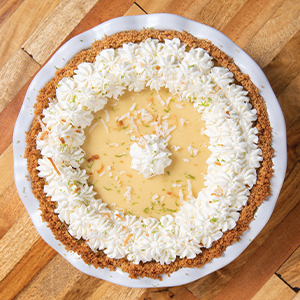 From Pies and Pastries by Lana, De Lime in de Coconut Key Lime Pie is sweet and tart, with a vanilla wafer and toasted coconut crust and key lime zest tempering the fresh whipped cream. The business also makes specialty pies in flavors like butterscotch bacon, plus sells sweet rolls, scones and cookies. 
Handhelds
You can score single hand pies from Domestic Bones at pop-ups at Peace Tree Brewing Co. or six-packs through Iowa Food Co-op. But the most devoted fans of the savory hand pies—which are similar to fancy, homemade Hot Pockets—order a subscription package through domesticbones.com. Sign up for $150, and you'll receive eight savory hand pies per month for three months. Choose among three seasonal flavors for each batch, in meat and plant-based options, such as spicy chicken sausage, cheeseburger, mushroom Philly and vegan Buffalo cauliflower. The pies are perfect for sharing, so divide up a few to sample a few flavors.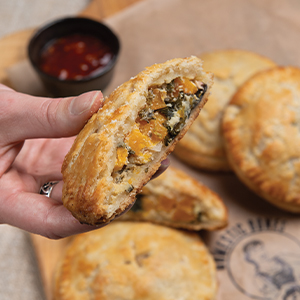 Squash, kale, goat cheese, herbs and honey fill this pie from Domestic Bones. 
Pizza 
Recently rebranded and expanded, Gusto Pizza Bar (gustopizzaco.com) now offers cocktails, a range of appetizers such as caprese and crab cakes, sandwiches, pastas and their star pizzas. The variety of crusts and the creative toppings make Gusto stand out from the parlor competition. Choose from Detroit-style, Chicago deep dish or their signature New York-meets-Des Moines classic crust; all come with a different cast of topping options with names like Seoul Food (Korean barbecue beef bulgogi) and Fuhgeddaboutit (meatballs, sausage and giardiniera).