By Wini Moranville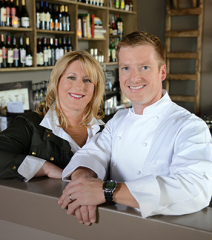 I should love it when one of my favorite restaurants gets the wider recognition that it deserves; however, as a restaurant reviewer, it's always more fun to champion lesser-known underdogs than to follow the throngs to everyone's favorite hotspots.
So while most of me is thrilled that husband-and-wife duo Lynn and Sarah Pritchard of Table 128 have just been named "Restaurateurs of the Year" by the Iowa Restaurant Association, there's also a part of me that thinks, "Soon, I'll no longer be able to take the uninitiated there and hear them say, 'Wow! Who knew? ' "
Because soon, everyone will know (if they don't already), that this venue is one of our city's best. To find out why I think so, read my dsm magazine review of the restaurant.
Jessica Dunker, president and CEO of the Iowa Restaurant Association, says the Pritchards quickly rose to the top of this year's list of nominations. "Table 128 and its owners … exemplify everything an upscale casual independent restaurant should be," she said.
Other food professionals also were honored by the association this year, including Mike Holman, executive chef of the Two Rivers Hospitality Group in Des Moines (which includes Dos Rios, Big City Burgers, DSM Catering and Sidebar), who was named Chef of the Year. Pamela Patton, owner-operator of Patton's Restaurant & Catering, won the Faces of Diversity American Dream Award.