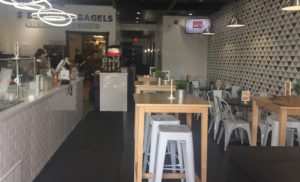 To say that I haven't had a really good bagel since I left New York City might be a bit harsh. Still, when a friend told me that the bagels she tried from 5-Borough Bagels took her straight back to her first true New York bagel experience, I had to head to the Clive eatery the first chance I got.
These bagels aren't simply like New York City bagels — they are New York City bagels. They're par-baked in Long Island and shipped to Des Moines, where they're baked fresh every morning. They have a satisfyingly dense chew plus an unmistakable crusty appeal, which aficionados claim you can only get by using New York state water. Myth or not, these are great bagels.
Five specialty sandwiches — each named for one of the city's borough's — kick off the lunch menu. I tried the immensely satisfying Queens, with jalapeño cream cheese, ham, lettuce and a bonus of crispy fried onions.
Adding immensely to the experience: You'll find no 16-year-olds running this spot. The exceedingly personable owners, husband-and-wife team Toney and Sarah Chem, work the counter almost every day. He's from Pella, she's from New York state. They met while living in New York City, where he worked in hospitality and she in graphic design. Sarah's artistic skills explain their shop's cute interior, with its plastic plants in metal buckets atop blond-wood tables, a happy place for a casual bite. — Wini Moranville 
5-Borough Bagels is at 13435 University Ave., Suite 300, Clive; 515-809-1807; 5boroughbagels.com.