A brine adds moistness to this grilled chicken recipe, courtesy of Mulberry Tavern. Photographer: Duane Tinkey.
Writer: Karla Walsh
Chalk it up to an unpredictable 2020 or maybe cooking one too many recipes from Ina Garten's new cookbook, "Modern Comfort," during the pandemic, but something has me on an elevated comfort food kick.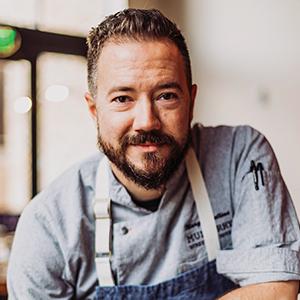 What's coming out of the kitchen at the Surety Hotel's Mulberry Street Tavern (206 Sixth Ave., suretyhotel.com/food-and-drink) has been hitting the spot since my first visit in January. So after thinking about the half chicken entree I devoured during that dinner, I asked chef Marque Collins to dish how we might re-create it at home.
Turns out, it's similar to what he and his wife, Erica Franklin Collins, might enjoy if both were off the clock. "Erica and I like to make pasta at home, and often spend summer evenings grilling," he told me.
Cooking hasn't always been in the family, though. "Growing up, my family wasn't super into cooking beyond my grandmother's holiday meals," Collins says. "It wasn't until I was a preteen that I became more interested in cooking. I remember watching Emeril Lagasse and Anthony Bourdain on TV. Those greats inspired me to try more and more things at home and on my own."
He didn't think about it as a potential career until he was having second thoughts while applying to law schools—and reflecting on what he was passionate about. "I started to apply, then pulled out to pursue working in restaurants," Collins says.
This took him from Gainesville, Florida, to a nearly decade-long stint in Chicago, and now to downtown Des Moines last November. "One of the biggest lessons I learned in past kitchens and my home is to not waste anything," Collins says. "At home specifically, I try to work with what I have and make things from there, being a little more flexible and improvisational."
In other words, think of this juicy grilled chicken recipe as a guide, and customize it with whatever tweaks you see fit.
---
Chef's Tips
BYOB (be your own butcher). Spatchcocking is a butchering technique that debones the chicken but keeps the skin intact. "It can take a little practice, but once you get the hang of it, you can grill chicken quickly, evenly and with deliciously charred skin," Collins says. To DIY, lay the chicken breast-side down on a cutting board, carefully use kitchen shears to snip along one side of the back bone all the way down; repeat on the other side. Flip the chicken over. Using a bit of force, press the breastbone down using the palm of your hand, until you hear a pop and can press the bird flat. (Watch this great tutorial from BBC Good Food.)
Get saucy. You can find both Aji Amarillo ("a chile paste made from yellow peppers native to Peru," Collins explains) and Kewpie mayo online at select global grocers. Collins prefers Inca's Food Aji Amarillo.
Think fresh. Make the brine your own by dressing it up with your favorite fresh herb(s). Just don't skip the brining step as it's crucial to keep the chicken juicy.
Take it indoors. If the weather isn't amenable or you don't own a grill or a grill pan, make the chicken in the oven. Preheat the oven to 450 degrees, and roast the chicken for 20 minutes. If after 10 to 15 minutes the skin starts to take on too much color, place a piece of loosely tented foil over the top.
---
Tools of the Trade
Large pot or bucket for brining
Chef's knife
Kitchen shears (if trying the spatchcocking)
Meat thermometer
Tongs (handy for flipping ingredients on the grill)
Grill or grill pan
Blender
---
Roast Chicken with Aji Amarillo Sauce and Grilled Romaine Salad
Serves 2 to 3
Ingredients
1 gallon of water
3/4 cup kosher salt
2/3 cup granulated sugar
Bone-in, skin-on chicken leg quarters or 1 whole chicken, spatchcocked (see chef's tips above)
1/4 head of romaine, quartered through root end lengthwise
1/4 cup regular mayonnaise, such as Duke's
1/4 cup Kewpie mayonnaise (a Japanese mayo that uses only egg yolks instead of the whole egg)
1/4 cup sour cream
1/4 cup queso fresco
1 1/2 ounces Aji Amarillo (Peruvian chile paste)
2 green onions, chopped
2 garlic cloves, chopped
1 large or 2 small limes, juiced
Salt and pepper to taste
1/4 red onion, thinly sliced
Small handful of ripe tomatoes, chopped
Fresh lemon juice
Olive oil, salt and pepper to taste
Directions
1. In a large pot or bucket, mix the water, sugar and salt until solids are dissolved. Submerge the chicken leg quarters or the spatchcocked chicken in the solution and refrigerate at least four hours or up to overnight.
2. Before grilling, take the chicken out of the brine and allow to come to room temperature, about 30 to 60 minutes. Pat dry.
3. Heat a grill or grill pan to medium high, or about 375 degrees.
4. Lightly brush the grates with olive oil, then place the chicken skin-side down.
5. Grill the leg quarters 20 to 30 minutes or the whole chicken for 10 to 15 minutes, or until a meat thermometer reads just below 165 degrees when inserted into the thickest part of the thigh without touching the bone. (Note: The residual cooking temperature will bring the chicken to 165 degrees after it's taken off the grill.)
6. Remove the chicken from the grill and allow it to rest as you make the salad.
7. Place the romaine on the grill and char slightly on all sides. Remove from the heat once grill marks appear.
8. In a blender, combine the regular and Kewpie mayonnaise, sour cream, queso fresco, Aji Amarillo, green onion and garlic. Process until smooth. (Try to do this quickly so the green onion does not discolor.)
9. Transfer sauce to a bowl, then add lime juice and season to taste.
10. Plate the grilled romaine with onion, tomato, a squeeze of lemon juice and a drizzle of olive oil. Spoon sauce on the plate, then serve with chicken on top.