No, this isn't the Florida Keys or Outer Banks. It's a perfect sunset view from Madison, just five hours away. Photographer: Dave Hoefler.
Writer: Jane Burns
Well, it seemed like a good idea at the time.
After a decade living 20 miles from Madison, tired of the commute and eager to get back into the rhythm of a city and all it offered, I moved
 back there in late 2019. Without late-night drives, my life would surely be filled with even more concerts, ballgames and nights out with friends.
Like I said, it seemed like a good idea. Then a few months later … well, we all know what happened.
Every reason why I'd moved to Madison was taken away, leaving me with just one option: Become a tourist in my own city and explore what I hadn't planned to explore. And that exploring would have to happen outdoors because so much was shut down. That didn't just mean outdoors in an REI sort of way; in many ways it's simply the opposite of indoors.
Fortunately, Madison is a city built for anyone who wants to be outdoors, pandemic or not. With three lakes, hundreds of miles of bike trails and 270 city parks, it's easy to build a day when the only time spent indoors is bedtime. That's just what I did—on a bike, on foot, lunch or coffee dates in a newly discovered park, or wandering around chasing sunrises and sunsets. Among friends, it all raised the question: Why haven't we always lived like this?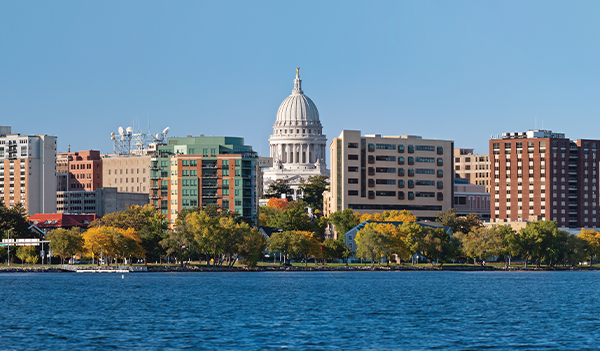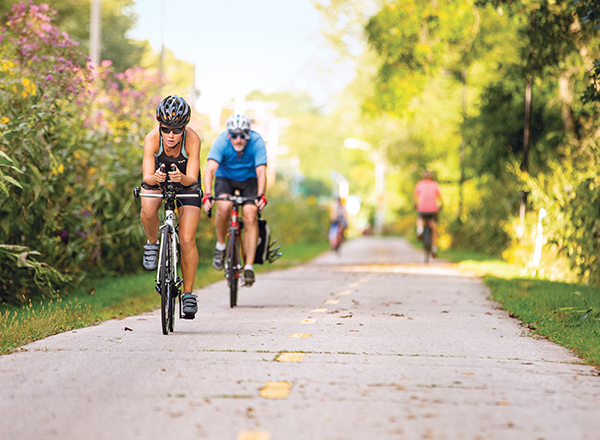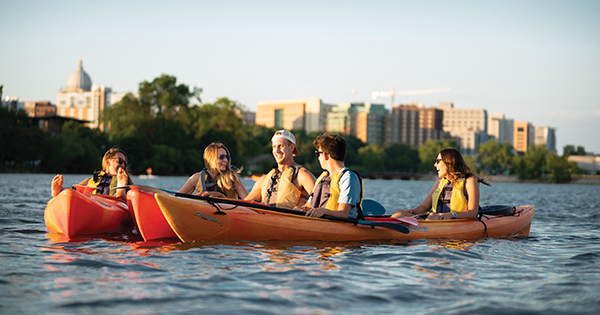 Outdoor rec is part of Madison's appeal. Find bike and boat rentals for exploring the city's paths and lakes. Bicycle image courtesy of Destination Madison. Canoe photo by Focal Flame Photography, courtesy of Destination Madison.  
The landscape has been Madison's pull since the beginning, particularly the piece of land downtown between lakes Mendota and Monona. The city's hallmark geographical feature ensures that every Madisonian knows what an "isthmus" is and might even be able to spell it.
Even before Wisconsin became a territory in 1836, a man named James Doty had traveled to that isthmus and, so enamored of the view, bought 1,200 unsettled acres that included it. He was a judge and a land speculator, a dodgy combination, and persuaded the territorial legislature to place the capital there. Doty cashed in but also had the right vision: Even now (or at least when it opens to the public), you can stand in the middle of the Capitol rotunda and see both lakes on either side of you.
The Capitol building is the heart of Madison, and from it extends State Street, the longtime pedestrian-friendly shopping and drinking/dining area that leads to the University of Wisconsin. In recent years, however, the other side of the Capitol—known as the East Washington corridor—has seen a transformation not unlike that of the East Village in Des Moines. Warehouses and worn-out buildings on a busy street have been turned into spots for dining, nightlife, music and sports.
Areas just east and west of downtown have plenty to offer, too. The near-east Williamson (Willy to the locals) and East Johnson street areas are walkable neighborhoods with unique shops, bars and restaurants. Just west of downtown, Monroe Street begins at Camp Randall Stadium, home to the Wisconsin Badgers, and heads to two commercial areas as well as to lake access and beautiful walking areas.
Madison's geography makes the city a driving challenge, but it's easy to explore by bike. Madison is one of five cities awarded the League of American Bicyclists' top designation as a bike-friendly city, and the city's BCycle rent/share program offers easy-riding e-bikes. Many are docked in neighborhoods with trail or lake access.
It's handy that Madison has long embraced outdoor living; it's in Dane County, which has had the state's strictest COVID-19 regulations. Check local regulations before you visit.
---
Friday Evening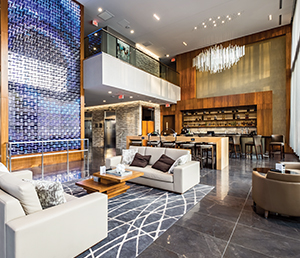 Settle in. For a splurge, book a room at the Edgewater Hotel, a recently renovated art deco classic on the shore of Lake Mendota. The AC Hotel off Capitol Square puts you in the heart of downtown. The Marquette Hotel is an 11-room boutique hotel in the midst of the Willy Street neighborhood.
Relax along the lake. One of the most perfectly Wisconsin spots in Madison is the Biergarten at Olbrich Park on the city's east side. Overlooking Lake Monona, it's not just about the (local) beer and soda at the beer garden but bratwurst and cheese curds, too.
Take it to go. There's no need to cut short your lake time for dinner; you just need to find the right takeout before you hit your next destination. Try Miller Family Meat & Three for a casual, carryout way to get a dish from a James Beard Award-winning chef, Tory Miller.
A traditional Friday night fish fry from Kavanaugh's Esquire Club or Dexter's Pub or some barbecue from Beef Butter BBQ also make for a fine eastside picnic supper.
Watch the sun set. Lake Mendota is a postcard-perfect setting for a sunset, and four east- and north-side parks give you a perfect view: Warner, Burrows, Tenney and James Madison.
Saturday
Coffee and a kayak. In a normal world, the Saturday destination would be the Dane County Farmers' Market on Capitol Square, but, as of press time, its status for 2021 was still undecided. Instead, head south from downtown to Lakeside Street Coffee House for a light breakfast to eat inside or outside there, or at neighboring Bernie's Beach.
Directly across Monona Bay is Brittingham Boats, where you can rent canoes, kayaks, paddle boats or stand-up paddle boards. If you'd rather be by the water instead of on it, two BCycle stations are in the vicinity for a lakeside ride.
Cheese time. You're in Wisconsin, so of course you need to pick up cheese. Fromagination on Capitol Square is one of the finest cheese shops in the U.S., with a range of local favorites and other food-related items. Take some chances—you can sample anything in the cases. Grab lunch there, or head down the street to The Coopers Tavern, an Irish gastropub with outdoor seating.
Wander State Street. Neighboring Little Luxuries and Anthology offer unique gifts and goods, many locally created. The Soap Opera has been a destination for decades, while Sunshine Daydream tips its hat to Madison's hippie history as a place to pick up some tie-dye. Paul's Book Store has been in business since 1954, and its packed shelves make it a quintessential used book shop. You're in the Dairy State, so a stop at Chocolate Shoppe Ice Cream is required by law.
Dinner on a roof. Fresco, above the Madison Museum of Contemporary Art, lives up to its name with rooftop dining overlooking State Street. Eno Vino, above the AC Hotel, has stunning views of the state Capitol from its patio. For a more steakhouse/supper club feel, try the Tornado Club Steak House just off Capitol Square. If you want to get out of downtown, head to Buraka on Willy Street for Ethiopian food and an outdoor dining area that feels like a friendly neighbor's backyard.
Neighborhood nightcap. History is on tap as well as a wide range of beer at the Malt House. The craft tavern was a former hangout for Union soldiers stationed at or headed to Camp Randall during the Civil War.
Sunday
Made for outside. Even before the pandemic, the Robinia Courtyard was created for outdoor dining, as three restaurants converge on its patio. Robinia's morning spot is Black Locust Cafe, with crepes, standard breakfast favorites and an espresso bar.
One last lake. If you have time to sneak in a walk, head out of town by way of Wingra Park. Beyond its boathouse is a wooded trail along Lake Wingra. After the walk, grab a coffee or tea at Colectivo on Monroe Street and you'll be fit and caffeinated for the drive home.