Isabella Stewart Gardner Museum. Photographer: David Mathews, courtesy of Isabella Stewart Gardner Museum.
Writer: Lisa Lavia Ryan
Ask Des Moines arts advocate and composer Beau Kenyon how he feels about Boston, his home of 20 years, and for a moment, he's not sure how to respond. When he does, his directive is simple: "Just go."
Kenyon, a Creston native, moved to Boston to attend Berklee College of Music. Some things about the city felt immediately familiar, he says. First, the weather, with its long, cold winters, made him feel at home. And the city's neighborhood structure gave it an accessibility that other large metropolitan areas might be missing.
The city was a good fit for Kenyon, and he stayed. Several years ago, though, a visit home to Iowa piqued his and his partner's interest in making a change. Fast-forward to pre-pandemic, and Kenyon—the composer and sound artist behind "River Constellation," Des Moines Water Works' multimedia sculpture—found himself and his partner, Nathan Venne, living in Des Moines.
"Boston will always be special to me in so many ways because it helped teach me and shape me," Kenyon says. "Everyone needs to see and experience Boston."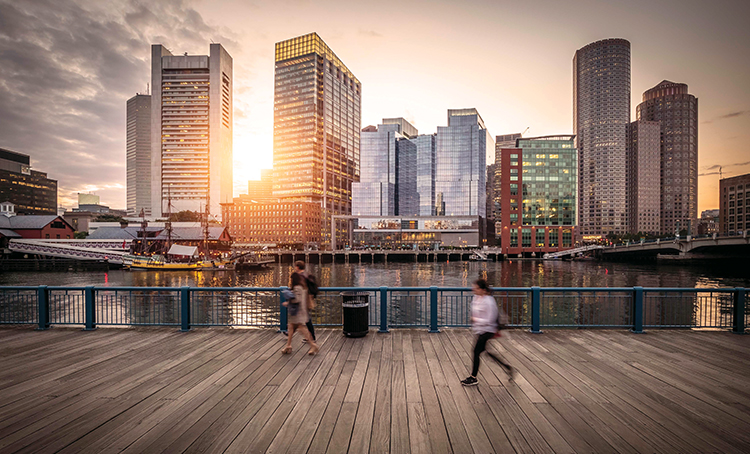 Boston Harbor and the Financial District.
Let's begin with the food. "I'm not a big nightlife person, but I can tell you where to eat in Boston all day and evening long," Kenyon says with a laugh. "Start at the North End for authentic Italian, and for pastries. For your entree, visit Monica's, a tiny little Italian deli that's so small you have one aisle in, one aisle out. The Italian and chicken-Parm subs are like nothing you've ever tasted."
Then, stop by Kenyon's secret spot for Italian pastries, Boba's. Get takeout from both spots and enjoy a picnic at Central Wharf Park in front of the sculpture "To Each Era Its Art. To Art, Its Freedom" by artist Jose Dávila.
If you're looking for a sit-down experience, Kenyon suggests staying away from the fancier Italian places: "You'll pay a premium, and you'll find better for a fraction of the price at Monica's."
As an alternative, he recommends a short trip to the South End for dinner at Aquitaine on Tremont Street. "I waited tables there as an undergrad; it's wonderful French cuisine and equally wonderful French wine," he says.
In the same area is SRV, which serves Parisian, Mediterranean and small plates and is an ideal brunch spot. Kenyon also likes Toro for brunch and recommends checking out the nearby mural "Breathe Life 3" by Rob "Problak" Gibbs.
"There's also Kava Neo-Taverna, a Greek restaurant. They serve the best octopus I've ever eaten," Kenyon says.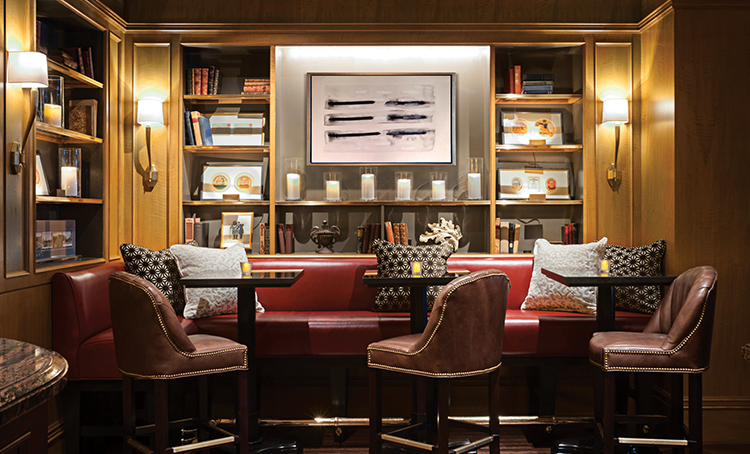 Bristol Restaurant and Bar at the Four Seasons Hotel.
Food's out of the way; let's get to the parks. And the history. And the sports. Take your pastry to go and head to the Isabella Stewart Gardner Museum, Kenyon advises.
"This is a great venue for people who love art and also history," he says. "This is the building where Gardner actually lived. She was a notable public figure and a famous patron of the arts. She had Rembrandts and eclectic collections, and she left everything … for the community to enjoy."
From there, Kenyon says, walk to the Emerald Necklace Conservancy, a 1,100-acre chain of parks linked by parkways and waterways. It gets its name from the way the planned chain appears to hang from the "neck" of the Boston peninsula.
"Olmsted Park is part of the 'necklace' and is on the National Register of Historic Places and is also just some really beautiful green space," Kenyon says. "Take another pastry—or even a bag of pastries—there, and eat and walk around."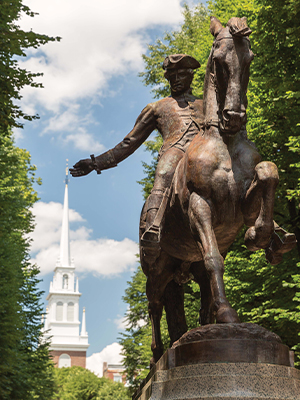 Old North Church and a statue of Paul Revere on the Freedom Trail.
And about those other tourist spots … Stop by Bunker Hill and Harvard Square, Kenyon says; take a trip to nearby Quincy to see the John Adams and John Quincy Adams homes and burial places. Check out the monuments in Pier 6 of the Navy Yard. But skip Faneuil Hall, a marketplace and meeting hall where Samuel Adams and James Otis often spoke to encourage independence from Great Britain.
"It's historical, but it's usually packed with a young college crowd and the food is not that great," Kenyon says. "Take a picture if you'd like—then head to the Holocaust museum, which is impactful and beautiful. Then walk back up to the South End for dinner, and grab a beer in the Fenway neighborhood."
While on your walking tour of the city, make sure to stop at Silvia Lopez Chavez's mural "Patterned Behavior" on the Charles River Esplanade near the Mass. Ave. Bridge. "Walk along in late afternoon, then onto Tiger Mama in Fenway for trendy Asian fusion or Deuxave for elegant and upscale," he says.
And definitely set aside time to walk the Freedom Trail, a 2.5-mile-long path through downtown Boston. You'll see historic cemeteries, the Paul Revere house, the Boston Massacre site, Old North Church and more.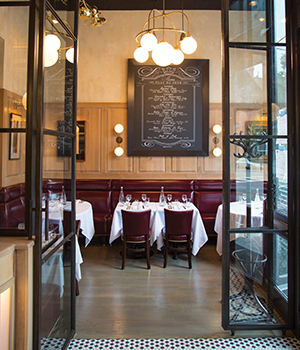 Aquitaine specializes in traditional French cuisine.
Where to stay. If you have the budget for downtown, stay along the Waterfront, Kenyon says; the new Four Seasons is a good choice. Or opt for an Airbnb within city limits. You won't need to rent a car as the city is easily walked or accessed via Uber or Lyft.
Don't forget the souvenirs. Head to Newbury Street in the Back Bay for unique high-end items, Kenyon suggests. "Anything else is really typical large-city … the big designers all have stores there," he says.
Odds and ends. "If you have extra time, head to the Berkshires for the weekend," Kenyon says. "It's just gorgeous, and you never know when you might be able to just grab your picnic blanket and take in a concert by James Taylor or Yo-Yo Ma."