Moglea releases a new collection of hand-painted cards, notebooks and gifts twice a year. The items pictured here are from their spring and summer 2021 collection.
Writer: Missy Keenan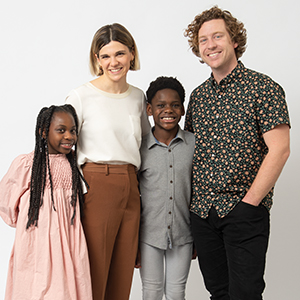 Tucked in an understated cinder block storefront on a quiet stretch of Eleventh Street downtown, design and letterpress studio Moglea (pronounced MOH-glee) may be one of Des Moines' best-kept secrets.
The studio hasn't gotten a lot of press locally, but they apparently haven't needed it: Moglea's handcrafted cards and home goods such as hand-painted clocks speak for themselves on a national level, flying off the shelves at retail giants like West Elm and Anthropologie.
Chad and Meg Gleason started Moglea in 2012, three years after graduating from Iowa State University—Chad's degree is in interior design and Meg's is in graphic design. At the time, Chad was a partner at his family farm in Audubon. Meg helped him part-time while starting to design cards. She wanted to find ways to mass produce cards that would feel handmade and one-of-a-kind, experimenting with processes like dip dying, hand-painting and printing on the century-old letterpress the couple had purchased.
That year they took a small collection of cards to the National Stationery Show in New York City, where they unexpectedly received orders from large retailers including Urban Outfitters and Anthropologie. "It felt like we won the lottery," Meg says.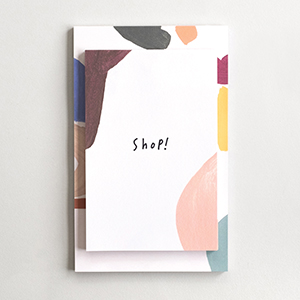 Soon after the show, the couple received another happy surprise—the finalization of the adoption process they'd been working on for a year and a half. Just five months later, they headed to Congo to pick up their two children, Ev (now 9) and Shepard (now 11). With the new responsibilities of parenthood and the expansion of their business, they needed to hire a team.
"When we first hired employees, they worked with me in our farmhouse," Meg says. "I'd be feeding the baby in the highchair while our employees were there packing cards to ship. It was a crazy juggling act."
A few years into the business, Chad left his family farm to focus on Moglea. The company has continued to grow, first moving to a studio they built in Audubon, then to their current 4,000-square-foot Des Moines location in 2018. They now have nine full-time employees and six part-time staffers.
In addition to their national clients, Moglea products are carried locally by stores including Wildflower, Des Moines Mercantile and Marnē, and they have a small shop at their studio.
As the business has grown, Moglea has stayed true to the initial concept of making each piece feel handmade and one-of-a-kind. Meg's design process generally starts with color—drawing from inspirations as varied as a Gucci jacket, a vintage children's book, or light filtering through mist in a favorite landscape photo. She'll develop the pattern, colors and paper selection and create an example for her team to expand on.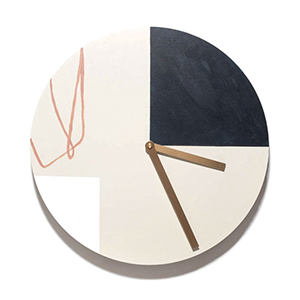 "A company like Hallmark is making cards that are complex and beautiful, but they still feel mass produced," Meg says. "Our products are unique because most of them are painted on large sheets that get cut down to multiple cards, creating a unique composition.
"You can even see and feel the texture of the paint, which allows our customers to receive a truly special one-of-a-kind product," she adds. "It's one of the things I'm most proud of; I know no one else is making products the way we do."
The business will soon include contemporary furniture designed by Chad in addition to paper goods, art and cell phone covers. They have several chairs in the works that should be available for sale later this year.
"We feel lucky to be able to spend this much time together, run a business together, run a family together," Meg says. "We feel like we have a dream situation."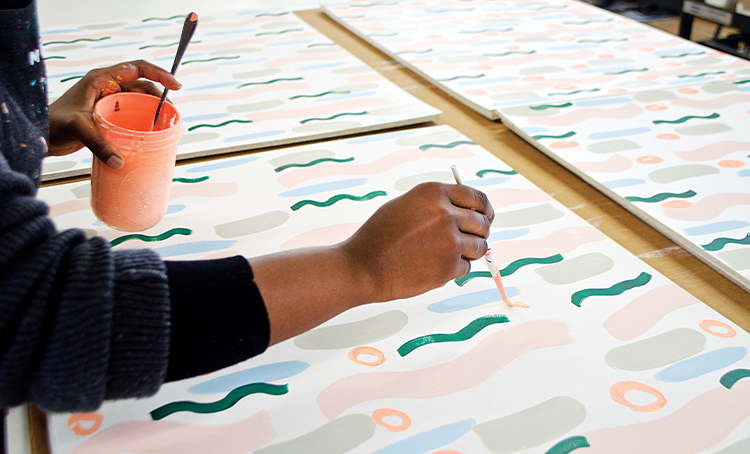 Artists paint each piece by hand. To watch them create, follow @moglea on Instagram for daily videos of the behind-the-scenes process.