This bounty of eggplants and both sweet and hot peppers is the result of healthy soil. Neil Hamilton amends the beds annually with manure, practices crop rotation and relies on nitrogen-fixing legumes to add fertility back to the soil.
Writer: James Augustus Baggett
Photographer: Duane Tinkey
Neil Hamilton is nothing if not passionate about the stewardship of Iowa's natural resources. After all, the emeritus professor of law and the former director of the Agricultural Law Center at Drake University Law School is an articulate authority on improving the quality of Iowa's soil and water. Presidential candidates, cabinet secretaries and journalists turn to him for advice on issues involving farming, rural society, conservation and land tenure.
Hamilton, who retired from full-time teaching in 2019 after 38 years focusing on agriculture and food law, is also the author of the new book "The Land Remains: A Midwestern Perspective on Our Past and Future" (see below). So it's certainly no surprise that he's been practicing what he preaches in the 2-acre garden he shares with his wife, Khanh, near Waukee.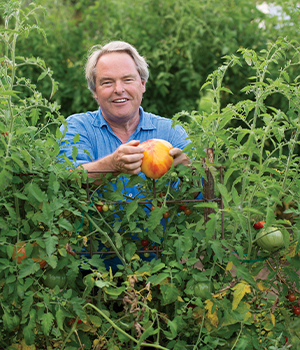 Neil harvests organically grown heirloom tomatoes destined for Des Moines chef Derek Eidson's restaurant Django. Most of the heirloom seeds the Hamiltons grow are sourced from the Seed Savers Exchange in Decorah; Neil has served on the board for the past 25 years.
Their garden began 25 years ago when they purchased the home and farm they call Sunstead. "We had been gardening on a friend's property and had flowers planted around the townhouse where we lived in West Des Moines, but moving to the country and buying these 10 acres gave us the opportunity to create the garden we've always dreamed of," Hamilton says.
Their bountiful garden includes a thriving, photo-worthy mix of flowers, vegetables, berries, fruit trees and perennials. "We raise many different varieties of vegetables with a great deal of attention on leeks, herbs, heirloom tomatoes, garlic and other interesting vegetables," says Hamilton, who grew up on a farm in Adams County in southwest Iowa. "In the garden beds, we have planted thousands of tulips and daffodils, hundreds of lilies, and many beds of other flowers that change with the seasons."
Khanh is renowned for the exquisite bouquets she fashions for special occasions from the many flowers she grows for cutting. Over the years, Sunstead has hosted a range of social events, including dinner parties, weddings and a series of annual Slow Food picnics, sometimes involving as many as 140 guests.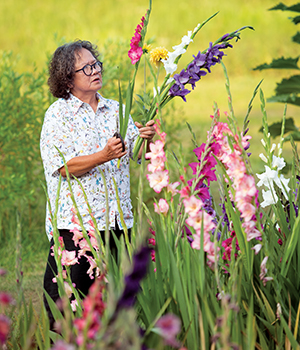 Khanh cuts strong spikes of gladiolas to recruit for service in her much-beloved floral arrangements. She combines her flower design work with her catering services and "she has developed a strong following of friends who turn to her for designs and advice," Neil says.
The garden has evolved over the years as the two have carved out additional beds and added new features. As the garden became established, they cultivated even more flowers and vegetables, as well as perennials and trees to help frame the property. They also added ornamental features such as trellises, gateways, arches and stone sculptures. One of the most recent additions is a "writer's roost" or tea house that Hamilton constructed on the south side of the garden.
Tucked throughout the grounds are more than a dozen Buddha statues, many of which the couple acquired during their travels in Southeast Asia. "The Buddhas and other Asian goddesses provide a certain sense of tranquility and peace, and they connect with Khanh's background," explains Hamilton, whose wife grew up in the south of France and in South Vietnam before coming to the United States more than 50 years ago.
One of the property's most notable features is a 5-foot-tall stone cairn Hamilton constructed from 2 tons of dry-stacked stone, inspired by the work of British artist Andy Goldsworthy, who visited the farm in the summer of 2001 when he was working on the "Three Cairns" for the Des Moines Art Center.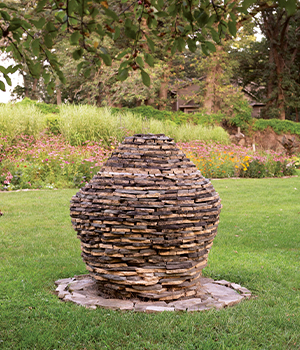 Inspired by the work of British sculptor Andrew Goldsworthy, Neil constructed a 5-foot-tall, 2-ton cairn (a stone structure or marker) by meticulously dry-stacking alternating layers of bluestone and Kasota Valley limestone.
The Hamiltons raise a diverse range of vegetables not only for their own enjoyment but also to sell to Des Moines-area restaurants, including Django. "Chef Derek Eidson has been a loyal supporter of Sunstead and makes excellent use of our produce," Hamilton says. "He appreciates the time and effort that goes into providing the quality produce we deliver."
It's no surprise the Hamiltons rely on organic gardening techniques to grow their produce, including crop rotation and using homemade compost instead of chemical fertilizers. "We have several beehives that are helpful in providing pollination, and we take steps to try to increase the bird life and activity to provide a natural form of insect control," says Hamilton, who admits to enjoying growing plants in surprisingly large quantities. "By planting 3,000 to 4,000 leeks each year, our leek beds are possibly some of the largest in the state. And over the years, Khanh has started as many as 70 or 80 different varieties of heirloom tomatoes that we enjoy growing and sharing."
The pandemic lockdowns meant even more time in the garden. COVID "gave people the opportunity and even the need to be outside," Hamilton says. "While we were always very connected to our garden and our property, the reality of not traveling for almost two years gave us more opportunity to study, to design and to make improvements. In many ways the garden helped us stay grounded just as hopefully we helped the garden during this time."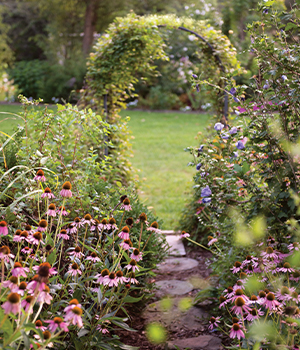 Pathways flanked with blooming beds of hardworking perennials like purple coneflower crisscross Neil and Khanh Hamilton's property and beckon visitors and pollinators to explore beyond this arbor, which drips with fragrant sweet autumn clematis.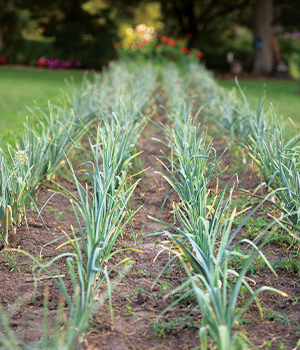 Each year, Neil and Khanh plant 3,000 to 4,000 leeks in the garden at Sunstead, making them perhaps the largest beds of these onion relatives in the state. In addition to leeks, they also grow sweet potatoes, Asian yardlong beans and striped Armenian cucumbers.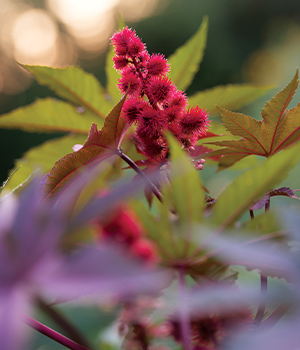 The bright pink prickly seed pods of ornamental castor bean are much more flamboyant than its blossoms. Grown as an annual in Iowa, the bean's bold, showy leaves lend a distinctly tropical look to the landscape.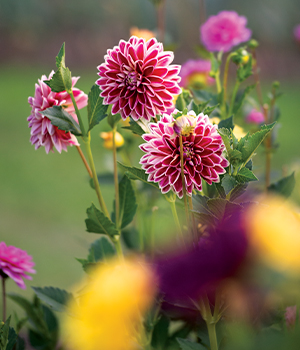 Khanh relies on carnival-colored dahlia blossoms to add floral pyrotechnics to her late-summer bouquets. The blooms grow from tender tubers that she digs up each fall and overwinters indoors before planting in the cutting garden again each spring for another crop of flowers.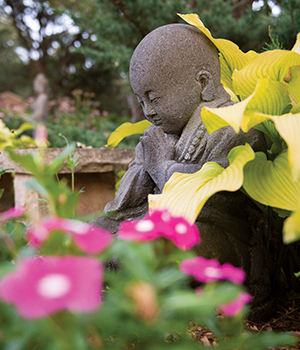 Throughout their garden, Neil and Khahn display pieces of their extensive collection of Asian art and sculptures acquired during their travels. Carefully situated Buddhas like this one connect with Khanh's childhood in South Vietnam.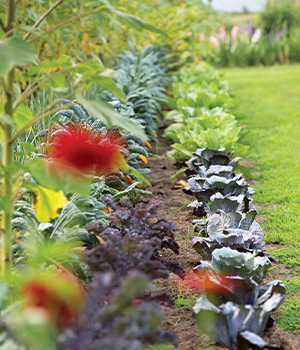 Over the years, Khanh has employed dozens of young people—primarily young women (often the daughters of friends)—to work in the gardens each summer. She teaches them gardening techniques and helps them learn to cook the noon meals she provides in order to mentor another generation of gardeners.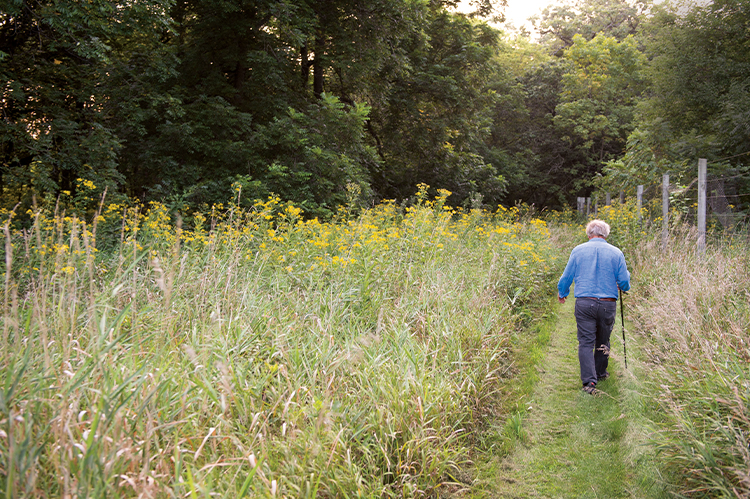 In addition to the 2 acres of gardens on the northern end of their property, Neil and Khahn are also responsible for another 8 acres of meadow and timber. This area is left as natural wildlife habitat with trails running through it, which Neil maintains and walks every day.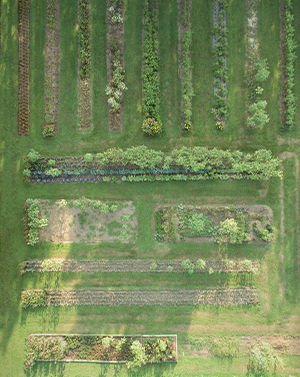 Even the birds get a pretty view of the organized garden beds.
---
Sharing Lessons from the Land
The early lockdowns of the pandemic helped motivate Neil Hamilton to write "The Land Remains: A Midwestern Perspective on Our Past and Future" (Ice Cube Press), which was published this past spring. To tell the story of how land shapes our lives, the book blends personal memoir, a history of Midwestern land conservation, and an analysis of contemporary issues of soil health, water quality and public lands, plus future challenges. The book is narrated in part by the voice of the "Back Forty," a field on his family's 200- acre farm in Adams County in southwest Iowa. "This is a book about the land, how it shaped me and how it shapes life for all of us," Hamilton writes. "The Land Remains" is more than a personal narrative: It's a stirring call to action to protect the soil as if our lives depend on it. Because they do.