Tulipsis Floral decked out this wooden archway at Harpor's Vinyard in New Virginia, transforming it into a statement floral oasis that made the perfect backdrop for Gage and Oxana Gullett to say "I do." Photographer: Missie Lafrenz Photography.
Writer: Hailey Allen
Weddings and small businesses make for a perfect pair. Local vendors can put the icing on the cake—both metaphorically and literally—with their one-of-a-kind touches. Meet four wedding pros in Greater Des Moines who offer fresh ideas and add local flair to your wedding or other celebration.
---
Stylist Sarah Bergan
Mise En Scène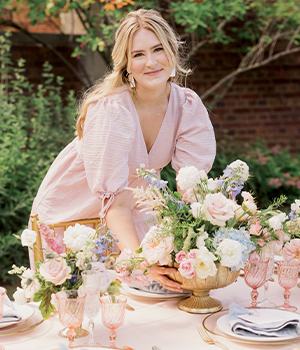 Sarah Bergan. Photographer: Jennifer Weinman Photography.
Who she is: Sarah Bergan began Vowed Vintage, a Des Moines-based event design and rental company, in 2020. Originally from Bakersfield, California, Bergan moved to Ames to attend Iowa State University. While earning her hospitality management degree (and planning her own wedding), the 24-year-old entrepreneur decided to offer her unique eye for vintage and design to other couples. She collects items such as couches, chairs, tables, rugs and even glassware, and offers an la carte menu of decor to choose from (with no minimum). 
In addition to the antique pieces, she also offers modern items and "a little bit of everything. Our inventory is constantly evolving as trends come in and out, so pretty much anybody can have what they want at their wedding," Bergan says. She'll also design your entire event as well as do the setup. "I take [couples'] Pinterest photos and work on making that a reality," she says. 
What sets her apart: As part of a younger generation, and a newlywed herself, Bergan is tuned in to the latest wedding trends and new traditions. "I want people to think, 'I can chat with that girl, I can get a drink with that girl, I want her to do my wedding,' " she says. 
She recently designed a Hindu wedding, a first for Bergan and an experience for which she was grateful. "Now I have a small inventory of traditional Hindu wedding decor, and I just got my first inquiry for a traditional African wedding the other day. Inclusivity is really important to me and in my business," she says, adding that she feels privileged to be able to design weddings for other cultures and identities. 
Bergan suggests: "I love lounge areas; they've been really popular. Not only do they make a great photo op, but they're also great for people to just relax and have conversations, especially if you have older guests who want a more comfortable place to sit," Bergan says. She also suggests opting for floor-length linens, which "add a lot of elegance for minimal cost." 
Cost: Individually rented items from Bergan's collection run anywhere from $2 for glassware to $100 for sofas. Her design service can range from $1,200 to around $2,500. 
Contact: vowedvintageia@gmail.com; vowedvintage.com.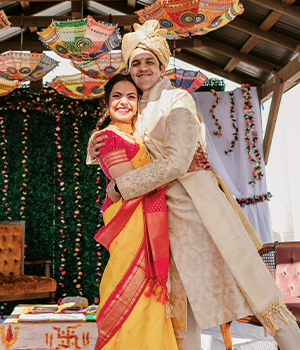 Sarah Bergan designed this colorful lounge area for the traditional Hindu wedding of Amala Jatar and Shaarang Sahanie. "It was my first time doing a cultural wedding, so we worked together closely," Bergan says. "I want to make sure I respect people's culture and learn how I can better help people in the future." Photographer: Amelia Renee.
---
DJ Chase Martin
Mixing It Up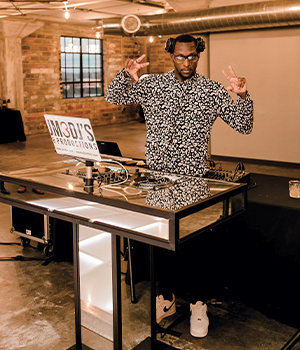 Rather than setting up on an average banquet table or relying on provided surfaces, Chase Martin had his own signature mirrored DJ booth custom-made by Okula Custom Designs. "I wanted to do something a little more unique. I think it elevates the experience a lot," he says. Photographer: Lindsay Goedken.
Who he is: Chase Martin, a 24-year-old DJ and the co-owner of JM3 DJ's, is the man to turn to if you're looking for big energy and a modern feel for your reception. "My dad started [the company] around the same time I was born, and he taught me all the rules," Martin says. "And then I started doing my own events (like weddings and school dances) when I was in middle school." 
Martin left his hometown of St. Louis to attend Iowa State University in 2016, but decided he enjoyed DJing more than his statistics major. He has stayed in Ames since then, expanding his father's business to cover Central Iowa and beyond; JM3 DJ's travels to Chicago, Minneapolis, St. Louis and surrounding areas for events.
What sets him apart: Martin creates his set on the spot. "A lot of DJs don't live mix, if you can believe that," he says. "Going further than live mixing, I try to throw in a lot of different scratch routines too, to mix it up and give the sets a lot of flavor. I think people like hearing that little something different." 
He's a self-described nontraditional DJ, so you won't be getting any "corny icebreakers" or line dances. "I meet with my couple to learn what year they graduated high school and the specific time frame they grew up in to see what songs were around at that time that I can specifically play," he says. While some DJs simply play through popular songs of a particular decade, Martin says diving in deeper can reveal a better-curated list of songs that the couple and their friends will enjoy. "My song selection isn't basic," he says with a laugh.
Martin suggests: "Allow the DJ to set up right on the dance floor, preferably in the middle of the room. That way, the sound is kind of dispersed evenly throughout the venue. And of course, the DJ being on the dance floor is better energy-wise," he says. 
Martin also recommends making sure grandparents, parents or any other attendee who may not appreciate loud music are seated as far away from the DJ and their speakers as possible.
Cost: Martin will spin tracks and emcee your entire event for $2,500, which also includes dance floor lighting. Optional add-ons include indoor fireworks, uplighting, photo booths and neon signs.
Contact: events@jm3djs.com; www.jm3djs.com.
---
Tulipsis Floral
Sisters In Sync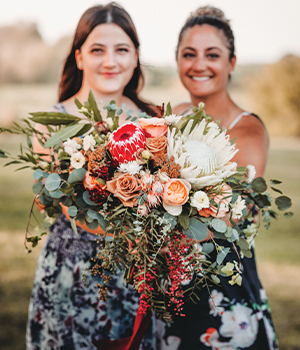 Ashley Knudson (left) and Emily Broadston (right) love being creative and designing fun floral arrangements to fit each wedding style. "Have a vision, but leave room for a little creativity," and that will yield a one-of-a-kind result, Broadston says. Photographer: Missie Lafrenz Photography.
Who they are: Emily Broadston, 36, and Ashley Knudson, 30, are the sisters behind Tulipsis Floral, a floral design business based in Des Moines. Broadston previously worked in medical sales and wanted to branch out into more creative work, and Knudson had been working at a commercial flower wholesaler for about 10 years. 
The sisters joined forces in 2019. Broadston's experience in sales helped them manage the books, and Knudson's knowledge of flowers was obviously key. "The thing about working with a family member is we understand each other really well," Knudson says. The two sisters work in sync and push each other to do their best work. "You can't hire work ethic, and nobody works harder than us," Broadston says. 
What sets them apart: The two will wow guests with bouquets and table arrangements, but they don't stop there. They've engineered entire displays of hanging flower ceilings, and flower chandeliers that look like an art installation. When working on these large pieces, "we're a month out [from the wedding] going to Menards, buying supplies, building it and testing it in our garage," Broadston says. 
They build the base structures themselves to fit the couple's individual preferences. "We always try to have something cool or something unique that you don't see very often," Knudson says, even if it's small like a grass or a varied texture. Because they don't operate out of a storefront, they only order inventory as needed. The sisters create "recipes" for every client and order accordingly—a perk for soonlyweds who want one-of-a-kind vibes. 
The sisters suggest: "This season we are seeing a lot of wildflowers and gardening blooms that are kind of layered," Knudson says. But don't rely on Pinterest to pick your perfect blooms, they advise. "Some pictures on Pinterest just don't exist in nature. It could be an edited photo or a silk or plastic flower," Knudson explains. The two can suggest other options that will look similar or be more seasonally available (you can't get peonies in December, for instance). 
Cost: The sisters don't have a minimum for their services, but they suggest having a floral budget in mind when you meet them for a consultation. That way, they can better estimate what's possible. Broadston recommends setting aside $5,000 for a fully flowered wedding. They charge a $100 minimum for delivery of any items, but clients are also welcome to pick them up for free. 
Contact: tulipsisfloral@gmail.com; facebook.com/tulipsisfloral.
---
Designer Gretchen Bohling
Dream Dresses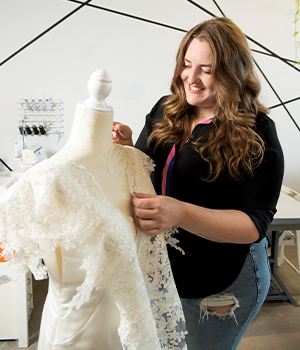 Gretchen Bohling. Photographer: Duane Tinkey.
Who she is: Gretchen Bohling, 33, is a sustainable clothing designer, tailor and custom wedding garment creator. The multitalented seamstress works under her own label, Gretchen Bohling Designs, based out of Mainframe Studios. She grew up in Carroll and attended the Illinois Institute of Art-Chicago for fashion design. After graduating in 2010, she worked in retail management in Chicago to learn the basics of the business before moving to Des Moines in 2016 to pursue her dream of starting her own company. 
"Originally the idea was to stay here for a year, but I fell in love with Des Moines and the community for art and local businesses," Bohling says. She enjoys the customization part of her job and creating one-of-a-kind pieces. "I try to be the person people can come to for anything, any type of vision." 
What sets her apart: Bohling works with each client to create a dream dress (or suit—she can design all types of wedding apparel). She is also a big advocate for sustainable and ethical fashion. By designing a garment made to your custom measurements, Bohling can minimize fabric waste and ensure a perfect fit. 
She often works with brides "who can't find what they want off the rack, or who fall in love with one style for the top and another for the bottom," she says. Bohling also designs for many plus-sized brides opting for custom dresses instead of dealing with the size-restrictive samples that stores carry.
Bohling suggests: "Sometimes [clients] know what they want, but they don't know what will look good. So it's always nice to try some styles on first," she says. Since she doesn't carry stock or pre-made dresses, she recommends doing some firsthand research in fitting rooms. 
Also important to double-check: "Make sure you can use the bathroom [in your dress], make sure you can sit down. With long-fitted or lace sleeves, you at least want to be able to hug your partner. … Just be mindful of the functionality of the fabric."
Cost: Bohling discusses pricing during individual client consultations. Garment style, timeline and current fabric pricing can all affect the overall cost. Her designs fall into two tiers: Tier 1 starts at $1,200 for more simple or basic gowns, while tier 2 dresses may include hand beading, delicate laces or other intricate customizations and start at $2,500.
Contact: letstalk@gretchenbohling.com; gretchenbohling.com.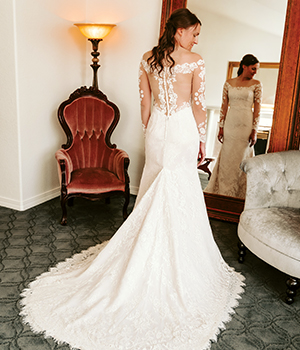 Gretchen Bohling designed and stitched her sister Maria Vigil's wedding dress to fit her exact measurements. Lace sleeves are popular at the moment, says Bohling, and getting a custom dress can ensure these types of sleeves fit someone's arms nearly perfectly. Photographer: Samantha D'Anna Photography.