Harper is a 4-year-old golden retriever whose mom, Anne Gaer, took her to enjoy Yappy Hour at the Surety Hotel Courtyard. Harper's soulful eyes and beautiful red coat drew plenty of attention; as photographer Joe Crimmings noted, "She was meant to walk the red carpet."
Writer: Lisa Holderness Brown
Photographer: Joe Crimmings
We adore our dogs. Actually, we're obsessed. During the homebound months of the pandemic, pet ownership skyrocketed to an estimated 70% of U.S. households, and pet spending increased 35% in the past year. Luckily for all puppy pawrents in Greater Des Moines who want to pal around with their dogs in public, there are plenty of playful choices.
Because of changes in the Iowa Administrative Code in 2021, now any restaurant or bar can have pet dogs (not just service dogs) on an outdoor patio. Here's a spotlight on some of the newest places to drink or dine with your furry best friend.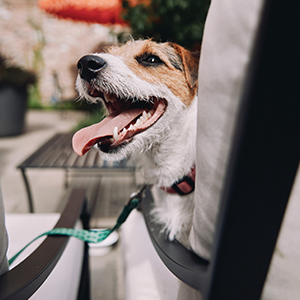 Val, photographer Joe Crimmings' 11-month-old Jack Russell terrier, may be small, but she possesses plenty of spunk and spirit.
Urban Puppy Patio
The Surety Hotel recently opened its dog-friendly, brick-and-stone Courtyard patio as a spot for locals and hotel guests to mingle. Citrus-orange umbrellas offer shade for the dining tables, and a comfy living room space with a fireplace invites you to settle in with friends, sip on cocktails and nibble on shareable eats. We recommend the fiery cucumber-pineapple Racoon Lagoon Slushie and the falafel plate.
Put Wednesdays and Thursdays from 6 to 8 p.m. on your calendar for Yappy Hour in the Courtyard. You can spoil your canine companion with a special dog menu that includes a bark board (peanut butter, dog biscuits and sausages) and Lady and the Tramp, a spin on biscuits and gravy. During Yappy Hour, you'll also get a free dog treat with the purchase of human food or a beverage. Dogs are always welcome in the Surety Hotel rooms, lobby and Courtyard.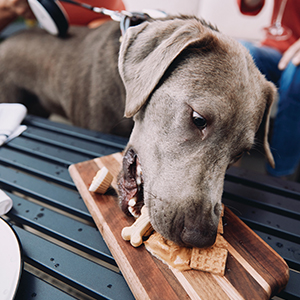 Moira Rose was the best eater of the pooches gathered at the Surety Hotel Courtyard. The 18-month-old silver lab gobbled up the bark board—and was eager for her mom, Ellen Lewis, to give her more.
Disneyland for Dogs
The expansive Paws & Pints at 6218 Willowmere Drive is a one-stop village for all things dog. It includes a veterinary clinic, obedience training, indoor and outdoor dog parks, pet lodging and grooming, and a retail area with swag, toys and treats. Come for the 3 1/2-acre, natural-grass dog park with jungle gym, water feature, walking trail, gazebo and climbing rocks, and stay for dinner with your dog. Or sip beers together—they serve house-made bone broth "doggie beer." Dogs dine alongside their people on the patio and eat from a special canine menu. They can also hang out on-leash at the music stage.
Exclusively for humans are an indoor restaurant, full-service bar, and a 5 Borough Bagels. At press time, Paws & Pints was planning to host their grand opening in late September, but they may open sooner.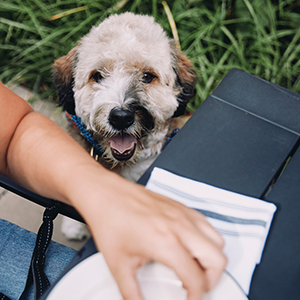 Four-year-old Banjo went to the Surety accompanied by his sister, Maya Wright. While the Bernedoodle enjoyed the cantaloupe, he mostly loved getting pets.
Cup of Joe With Fido
Scot Dickerson knew people would love a coffee shop that catered to canines while also offering custom coffee and espresso drinks. He launched the first Frothy Paws Cafe & Doghouse last spring, which is inside the Stylin' Paws Play Place in Urbandale. Plans include more stand-alone locations around the city.
Most beverages at this canine coffeehouse, including Cap-PAW-ccino and Mutt's Mocha, as well as energy drinks and alcoholic beverages, are for people, but there are plenty of snacks for Fido. The display case of colorful iced and sprinkled doggie treats might make you a bit jealous. And Frothy Paws is the only place in the state that carries Arrfscarf Dog Ice Cream, which comes in flavors such as chicken cheddar, bacon and peanut butter.
Dickerson emphasizes that Frothy Paws is all about community. The Doghouse part of the name is an indoor dog park where pet parents can gather for a beverage, movie or other activities while their pooches run around off leash.