The lucha mask serves as a "great symbol for immigrants living in Iowa," allowing them a way to freely share their stories without the fear of being recognized, photographer Miriam Alarcón Avila says. ("Luchadora Gracias A La Vida" by Miriam Alarcón Avilacolor, photograph courtesy of the artist.)
Writer: Christine Riccelli
In the years following her immigration to Iowa City in 2002, Miriam Alarcón Avila was finally starting to realize her lifelong ambition of becoming a fine art photographer. Her dream had been long deferred by her upbringing in Mexico City, where her widowed mother couldn't afford to buy her a camera; her practical pursuit of biology in college; the move to Iowa City for her thenhusband's career; and the financial struggles she faced as a divorced mother raising two children on her own.
But she slowly furthered her skill set and eventually started shooting local musicians as well as projects for Hancher Auditorium and other organizations. Although she enjoyed the work, "the one thing missing was my own culture, my own identity," says the now 52-year-old Alarcón Avila. "I felt alienated."
So she "started looking for diversity other places I went," she says. What she found was discouraging: Other than at heritage festivals, "the only place you see [Latino immigrants] is behind the scenes—cooking or cleaning in the middle of the night. … We are invisibles."
That realization spurred her to try to elevate these "invisibles" by creating a project in which their voices could be heard and their stories shared, says Alarcón Avila, whose work will be featured in an exhibit opening Oct. 28 at the Des Moines Art Center.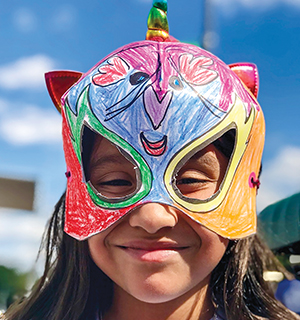 Photographer Miriam Alarcón Avila attends festivals and other events where she gives children the opportunity to make their own paper masks. She then photographs these "Little Luchadores." "I can see my own kids in their faces," she says. "Their brown skin, smiles, dark eyes—all so beautiful."
Intentional Invisibility
Getting those stories, though, proved daunting. She discovered that much of the immigrants' invisibility was intentional. As soon as the camera came out, "there was a wall in front of us. … They said, 'They're going to see us; we're going to be recognized.' "
Whether or not they had visas, most of the immigrants—even second and succeeding generations—"didn't want to put a target on their backs," Alarcón Avila explains. "When you look different, when you speak with an accent, when you're [bilingual], it's really hard to go anywhere and not be targeted."
She thought of blurring their faces to guard their identities, "but that didn't work [and] it's not powerful" from an artistic or storytelling standpoint, she says.
Then one day, El Santo, a popular Mexican luchador, actor and folk hero who died nearly 40 years ago, popped into her mind. Luchadores are professional Mexican wrestlers who wear colorful masks, but the word has a double meaning. It also refers to anyone who is striving to conquer tough challenges, Alarcón Avila says.
As a luchador, "you're putting your whole heart and soul into overcoming obstacles. It's not equal to fighting, which is a different word in Spanish," she explains. "When you hear the stories of many people overcoming troubles, you use the word lucha. … It's about a sense of fairness." Activists in Latin America, for example, use the word to describe the struggle for civil rights and social justice.
Inspired, she realized "the lucha mask was a great symbol for immigrants living in Iowa that … allows [them] to tell their stories without the worry of being recognized."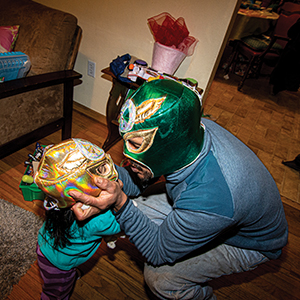 When immigrants wear their custom-made masks, they become like Mexican luchadores and feel empowered to overcome the obstacles in their path, says Alarcón Avila. ("Luchador Guerrero Verde Con Luchadorsita Guerrera Amarilla" (2021) by Miriam Alarcón Avila. Color photograph courtesy of the artist.)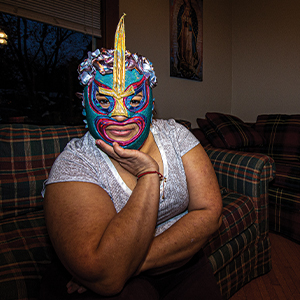 ("Luchadora Con Fe Todo Se Puede" (2021) by Miriam Alarcón Avila. Color photograph courtesy of the artist.)
Becoming Superheroes
Wearing the masks, the immigrants "become like superheroes," says Alarcón Avila, who makes many of the customized masks featured in the portraits. "Some force from their inner selves comes out and allows them to feel free to share anything they want. It's humbling to create spaces for these stories to be shared. The whole process is very powerful."
With a grant from the Iowa Arts Council in 2017, she launched "Luchadores Immigrants of Iowa," a multifaceted project she has continued working on since then. Her photo series will be featured at the Art Center exhibit, along with masks, videos and other objects.
"I was intrigued by her photography and blown away by how brilliant her concept is," says Laura Burkhalter, curatorial manager at the Des Moines Art Center. "I love when artists can take a complicated subject and go straight to the heart and to the imagination."
Alarcón Avila, whom Burkhalter chose as this year's Iowa Artist, creates multilayered work "that's accessible but yet has so much to say about individuals, about the story of their lives, about immigration, about Iowa, and about where we are as a country," Burkhalter adds.
The fact the masks "let people be themselves is so interesting, especially now, when politics are so fraught that it's hard to get people to talk about certain subjects," she says. Alarcón Avila's "poetic and beautiful art provides a way to talk about real people."
Indeed, Alarcón Avila hopes the exhibit helps foster conversations about history, geography, migration and culture. People from innumerable cultures have migrated across the continent for thousands of years, but today's "political agendas have stopped migration … and that's something a lot of people don't really understand," she says.
As people forget or don't recognize their heritage, "you lose who you are and who other people are," she says. "Then you start to see enemies in everyone. I like to create art that [helps] people from different cultures see that in essence, we are all the same. We all belong together."
Exhibit
"Iowa Artists 2022: Miriam Alarcón Avila" opens at the Des Moines Art Center Oct. 28 and runs through mid-January 2023.