With spring in full swing, many trend setters head straight for Edina's 50th & France district to get the scoop on the season's hottest looks. With the district' mix of boutiques, specialty shops and restaurants, it's easy to spend the day – and evening – at 50th & France. You can even make a weekend out of it. Book a stay at Homewood Suites, Residence Inn, or the Westin's own luxe rooms via our hotel portal here.
50th & France Equation boutique owner Susan Sun describes the beloved neighborhood as "true boutique shopping….Every store has its own unique personality and charm. You can spend a whole day getting pampered from head to toe and satisfying your appetite."
Rachel Thelemann, the executive director of 50th & France's business association concurs.  "What makes the area so unique is its small town-culture-meets-urban city vibe," she adds. "There are so many great restaurants and shops you can't find anywhere else."
With that in mind, here's a list of local businesses worth exploring and how to make the most of your shopping while visiting 50th & France and beyond….
WHERE TO SHOP
Bumbershute
Kathryn Paulsrud's keen curatorial eye keeps her store firmly entrenched on the contemporary side of the fashion spectrum, from A.L.C.'s bold skirts and sweaters to Alice & Olivia's floral bodysuits and blouses.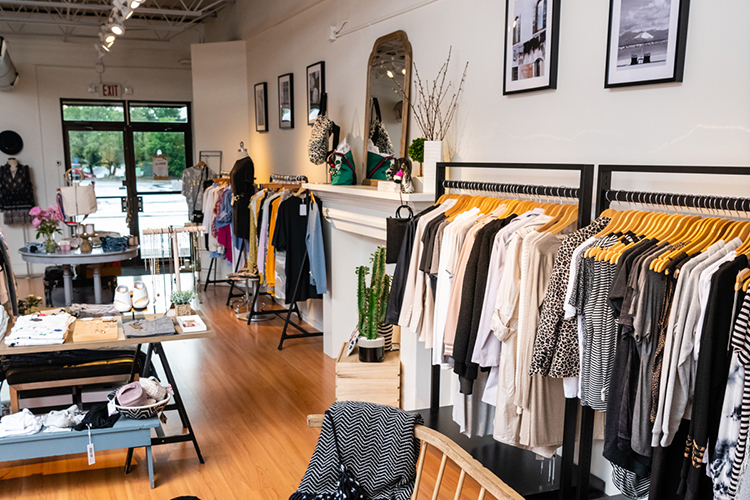 Equation
Local jewelry designers like Tess + Tricia are featured alongside such chic international brands as Ulla Johnson, Anine Bing, and Jenny Bird at Susan Sun's avant-garde yet accessible balancing act between elevated and experimental pieces.
Coccinella
Take a trip around the Mediterranean without ever leaving Minnesota at Seher and Suayip Kaplan's "wellness and vitality" shop, which pulls many of its products from the couple's native country, Turkey. That includes everything from hand-woven organic towels, robes, and scarves to exclusive bottles of exemplary olive oil.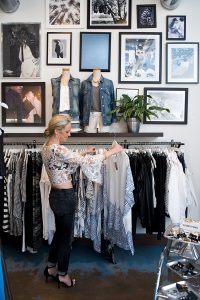 Bluebird Boutique
Longtime friends Sacha Martin and Allison Mowery slayed the sales floor at Banana Republic before opening their own high-end outlet for designer accessories, tops, and denim back in 2004. Not sure where to start? Martin is eager to share her top stylist tips with regular customers and curious newbies in need of a new outfit or complete wardrobe refresh.
Pink Door Boutique
Longtime customers of Lisa Vossen's Lakeville shop happily drive a half-hour to her new Edina location for a flashy mix of clothing, greeting cards, and home goods that are as loud and proud as the crystal-coated artwork Vossen's mother created for its rock 'n' roll interior.
Gather
"Give a gift that tells a story" is the modus operandi of Michael Hagie's seasonal decor shop, which keeps a wide range of candles, soaps, diffusers, and ceramics in stock alongside elegant housewarming essentials like serving boards and silverware. Be sure to swing by during the holidays for a superlative rotating selection of slick Christmas ornaments, furry gnomes, and highly prized Memory Blocks made by the world-renowned Vancouver artist Sid Dickens.
WHERE TO REFUEL
Whether you want to delve into different wine styles via a vibrant and varied flight or down a couple drastically reduced house glasses during happy hour, Beaujo's has oenophiles covered on the bar & bistro front. With Edina Cinema's four indie-leaning screens located right around the corner, dinner and a movie is also a welcome option, whether you're looking to pair a petit sirloin with Parasite or pan-fried cod with Portrait of a Lady on Fire.
Edina Grill
Ask Susan Sun about her favorite 50th & France combo and she'll point you towards a "quick blowout at Sloane's Beauty Bar and Edina Grill for a couple of drinks and apps with girlfriends." She's not alone in her love of the latter; it's packed from 7 a.m. onward thanks to such crowd-pleasing dishes as chicken enchiladas, potato and cheddar pierogis, and a turkey burger topped with pepper jack cheese, lettuce, and a strange yet satisfying poblano peanut pesto aioli. As for breakfast, you can't go wrong with a plate of sweet potato hash or jack cakes that combine oatmeal with caramelized bananas, granola, peanuts, seasonal berries, and locally sourced honey.
Salut Bar Américain
"Your brasserie down the block" is a must for Francophiles who dream of delicately cooked steak frites, gobs of garlic butter, and croque madame sandwiches crowned with crispy ham, cheese, bechamel, and a fried egg. Chef Paul Angeles also devotes every Monday night to iconic Julia Child dishes like Bordeaux-braised duck breast cavatappi with tomatoes, shallots, and crumbly Grana Padano cheese.
Pajarito
One of 2020's most eagerly anticipated restaurant openings is an Edina outpost of Tyge Nelson and Stephan Hesse's incredibly popular St. Paul taqueria. Expect many of the same modern takes on Mexican food, from beer-battered smelt and Tennessee-style hot chicken tacos to stiff habanero-cilantro margaritas and six different kinds of salsa. (Arbol cashew or avocado-serrano anyone?)
WHERE TO UNWIND
Spalon Montage
Need a break from all the shopping, eating, and socializing that keeps 50th & France kicking morning, noon, and night? The flagship location of Shelly Engelsma and Mitchell Wherley's full-service salon offers the same attentive hair, nail, body, and skin care services it did when Spalon first opened more than 25 years ago. Treat yourself with a Lamadrid Retreat package (a $361 value for $281) that includes a massage, facial, manicure, pedicure, lunch, and a Phytomer gift set.
Haven Nail Studio
"Safer products" and "smarter techniques" are the guiding principles of Natalie Bolden and Kaitlin Casper's 1-year-old business, a local innovator in mani / pedi treatments that cares as much about your comfort level and overall health as it does the environment. Don't expect a traditional hand or foot soak here — they waste 10-to-15 gallons of water every time they're used — but do expect toxin-free products and technicians who "make sure your hands and feed get just what they need and nothing they don't."