The Young Women's Resource Center hosted a ribbon-cutting and reception to open the Louise Noun Library on March 3 at the YWRC, 818 Fifth Ave.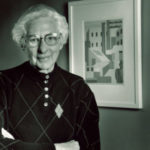 The library houses over 400 books from the personal collection of Des Moines feminist, author and philanthropist Louise Noun, who died in 2002. She was a past president of the Iowa Civil Liberties Union, and her library includes books on women's studies, history, literature and art. Books from the collection will be available to check out from the YWRC year-round.
To celebrate the new library, the DSM Girl Gang created an exhibit of visual and written works by over 50 local female artists and authors, titled "The Well-Read Woman." Each piece is inspired by a book from the Noun collection and will be available to view through the end of March. Learn more about the YWRC on its website, and read more about the Girl Gang in this story from the dsm archives.