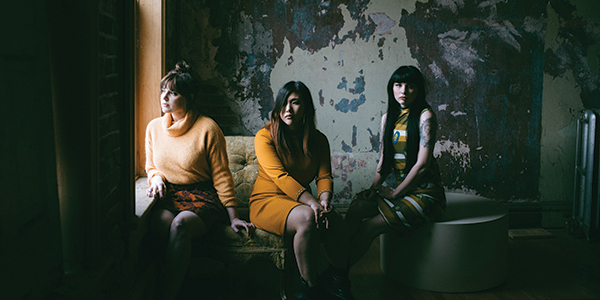 Writer: Brianne Sanchez
Photographer: liz Brown
Stylist: Jessica Miller
At an art opening, they look like cool chicks from a spread in Nylon magazine—all piercings and eyeliner, vintage clothes, tattoos and bold lips. At a workshop, their heads are bent in concentration over a loom as they learn a new craft. Online, they're Instagram experts and go-to sources for creative collaboration.
They're the members of the DSM Girl Gang, a group established in 2015 for women who are weary of creating in isolation and want to learn new skills and expand their circles. Co-founded by Meanz Chan, Alexandria Crahan and Tia Rodemeyer, the Gang claimed nearly 500 members as of press time.
The trio formed the group almost accidentally last May, after the Pedal Art Poster Show at the Des Moines Social Club's Viaduct Gallery. Since then, the concept has blossomed.
"The girls that are involved, we're a bunch of 'house people,' " says the 30-year-old Rodemeyer, whose default free-time activities might involve sweatpants, Netflix, painting and hanging out with her cats if she doesn't get a push from others to leave the house and be part of the art scene. "I have a bunch of girl crushes and I'm like, 'How do I ask people to hang out in a non-creepy way?' "
The DSM Girl Gang is what happens when "girl crushes" are caught up on a tidal wave of talent and become connected, through social media and in person.
Rodemeyer and Chan both showed pieces in Pedal Art, and 25-year-old Crahan, a photographer (and the daughter of Slipknot's Shawn Crahan), attended to support longtime friend Chan. By the end of the night, the women were crashing a wedding together and talking about how cool it would be to present an all-female art show.
Chan, 25, used her graphic design skills to create the DSM Girl Gang logo, which they put on pins and stickers and shirts—a rally flag of sorts. By October, the all-woman show opened at Hill Vintage & Knits in the East Village, featuring works from more than 30 artists. A follow-up show was quickly planned for November at Chapman House in the River Bend neighborhood. The DSM Girl Gang Facebook group took off, too, as a place to announce art talks, workshops and shows, as well as serve as a show-and-tell space and a resource for everything from craft supplies to career advice.
"I've been in scenes a long time, and I cannot remember a single time when it was so easy to do stuff with people," Rodemeyer says.
Although Chan and Crahan grew up in Johnston and have come of age at a time when Des Moines is raking in rankings as a top place for young professionals, they felt making real friends—finding their tribe—as adults was still a challenge. Chan started meeting more people after she began doing social media marketing for the music venue Wooly's, but for Crahan, the Girl Gang was a catalyst.
"I know if I have something to do, I feel like I'm so much better at socializing, because I have something to talk about," Crahan says, holding a knitting project. (She picked the skill up after a recent Girl Gang workshop.) "This has been a huge year," she adds. "We've met so many people who have been here and creating for so long, but we didn't even know about them."
That includes people like Jessica Galasso, who recently hosted a DSM Girl Gang weaving workshop in her west side apartment. Crahan, Rodemeyer and Chan were among a clutch of women (and curious cats) making a foray into fiber art on a recent Saturday morning. The vibe was Scout troop meets hipster hangout.
"We don't want to come off as this elitist, exclusive group," Chan says. "It took off so much faster than we thought. People are coming to us with ideas, and we're helping to pull them off. It speaks volumes about the group and what we're capable of together."
Creatives are regularly turning to the Girl Gang founders, asking them to host a photo booth, for instance, or offering to present a workshop. The women agree they're still gaining footing, and that it's stressful yet exhilarating to see the concept catch on. They're striving to expand their offerings and continue to deliver on expectations.
The DSM Girl Gang "has to be focused eventually, so we can throw ourselves into it with laser accuracy," Rodemeyer says. But for now, their goal is simply to create and showcase a community. As Rodemeyer says, "This is what the women in our city can do that you haven't seen."
---
Meet the Co-Founders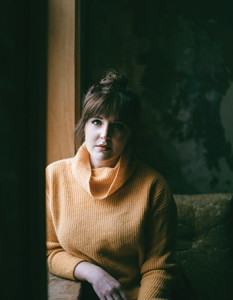 Tia Rodemeyer, 30
Instagram: @hey_tia
By day: Cake decorator at Ali Cakes in Ames
How being part of the Girl Gang has influenced her creative work: It's everything. I'm a person who lacks self-motivation. I will create when it's convenient or if I have a strong idea, but for the most part I make art at a snail's pace. The Girl Gang has become my motivator. I am lucky enough to see what these amazing women create on a daily basis, and it drives me. I've never felt such powerful inspiration.
What's most exciting about the Des Moines art scene right now? The most amazing thing about being any type of artist in this city, at this time, is that we can actually shape the scene. We young creatives can create the murals, art shows, sculptures and collectives or groups that will truly affect how this city perceives art and moves forward. You never could get this opportunity in a larger city that already has a developed arts community, and I hope that the artists here continue to challenge themselves and step into unknown territory so we can mold Des Moines into the art hub we know it can be.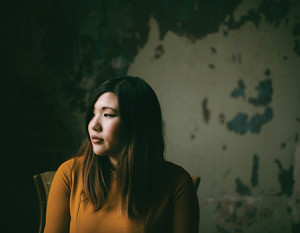 Meanz Chan, 25
Instagram: @meanzchan
By day: Graphic designer at Meredith Corp.
What does it mean to be a creative woman today? With the rise of social media, I think it's easier to get my work out there. But at the same time, I am sending it out into this abyss that is the Internet, which is full of amazing, talented people. It's harder to stand out.
What's missing from the local art scene? I think we need more gallery spaces for people to showcase their work. I would like to see more pop-up shows, interactive installations, funding, opportunities and even more public art. After visiting Detroit this past spring, [Des Moines] seems so bare. It's making strides, I know, but let's make this city more colorful.
Her creative vision in five words: Experiment, learn, grow, inspire, commit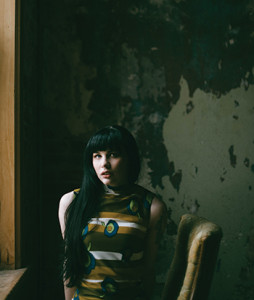 Alexandria Crahan, 25
Instagram: @alexcrahan
By day: Independent photographer
On what it means to be in the gang: We will be an open resource to any age of woman or girl who wants to be a part of us. It's just feminism and finding each other. We support each other and have each other's backs. I think that women [drawn to the DSM Girl Gang] just needed something to be part of—a community.
On why creative women should invest their time in the gang: We've got the tools, we've got the teachers, we've got the place to go. People are so generous. It's one big collaboration of women everywhere. We wanted to be a part of something and we wanted other girls to feel a part of something, and it's made a difference in people's lives.
---
Brianne Sanchez is a freelance writer and the community relations manager at Des Moines University. She enjoys sharing stories about the creative community and female leaders.
Jessica Miller is an art director and a wardrobe and prop stylist for local and national media, including Better Homes and Gardens, Kitchen and Bath Ideas, and Do It Yourself magazine. She also owns a home-staging business and is the co-owner of Hill Vintage & Knits in the East Village.
Liz Brown is a photographer and writer who enjoys capturing the beauty in seemingly broken or ordinary places. When she's not shooting, writing or editing, she's often eating doughnuts, drinking coffee, driving her car across the country and trying to keep her three plants alive. Find her at estorie.co and on Instagram @estorie.