Vanezza Van Buskirk showcases vintage looks at her shop, VZZ Vintage. It's just one of three new businesses on Southwest Fifth Street downtown. Photographer: Duane Tinkey.
Writer: Beth Eslinger 
These two micro shopping districts offer new local shops to check out for holiday gifts, plus eateries to fulfill cravings and to package into presents for the foodies on your list. Plus, we share our other favorite short-but-sweet local shopping areas throughout Greater Des Moines. Check the business websites for hours— weekends are prime times to visit all of these retailers. 
---
Highland Park
The north-side neighborhood keeps growing with new attractions. Find locally crafted goods from a variety of makers and shop for sweet and savory snacks. Plus, find free parking for stress-free shopping. 
Des Moines Mercantile 
Open since the summer of 2020, this hip retailer with a vintage vibe leans into local makers and other artisans for a curated selection of gifts perfect for foodies, home enthusiasts, outdoor rec fans, and pretty much anyone else who loves handcrafted goods. Shop for simple baskets, Amana Woolen Mills textiles, photo-filled cookbooks, organic-shape charcuterie boards, plus an extensive selection of gourmet goods produced in Iowa. The business hosts pop-ups throughout the holiday season; follow their Instagram at dsmmercantile for updates. (3707 Sixth Ave.; desmoinesmercantile.com) 
The Slow Down Coffee Co. 
While on a latte break, peruse the selection of packaged javas and teas, honey, tumblers and soft T-shirts for all ages. Plus, pick through plants and planters from downtown's Art Terrarium for the green thumbs on your list. (3613 Sixth Ave.; theslowdowndsm.com) 
Hiland Bakery 
If you're looking for a brunch contribution or tasty bites for the office holiday party, this is the place to shop. Find a selection of doughnuts (including Champagne flavor), as well as croissants, Dutch letters and eclairs. You also can order decorated cookies, tarts and cupcakes in advance. (3615 Sixth Ave.; facebook.com/Hiland-Bakery) 
---
Southwest Fifth Street
Sited right off MLK and a block south of St. Kilda Cafe & Bakery, three new-on-the-scene businesses stock fun, funky, affordable gifts—including edibles. What's more, street parking is free so there's no need to rush your shopping excursion. 
VZZ Vintage 
Vanezza Van Buskirk (pictured above) opened her plant-filled vintage clothing boutique in April. Right inside the front door, she shows off her latest style creations on the well-appointed shop mannequin. Find a curated selection of dresses (we loved a full-length floral gown that would make Karen Carpenter proud), mom jeans, pencil skirts, scarves and hats, colored glassware and pottery, plus new jewelry. Van Buskirk has been working the vintage scene for the past decade and is happy to help pull together looks. (340 S.W. Fifth St., Suite 123; facebook.com/vzzvintage) 
Copy + Paste DSM 
Opened last November, this retailer is perfect for impulse buys for your girlfriends, co-workers and holiday party host. In addition, you'll find loads of stocking stuffer ideas. For those into the hot organizing trend, there are planners, checklists, notepads, calendars, books on the subject and more. Peruse their selection of lighthearted self-help cards and books, fun toys adult kids will love, graphic socks, art supplies and stickers, jewelry, and more. (340 S.W. Fifth St., Suite 121; copyandpastedsm.com) 
Thistle's Summit 
With a new brick-and-mortar location that opened in August, this vegan bakery offers plant-based sweet treats and other foodie gifts such as jam, honey, gourmet chips and graphic tea towels. Shop the weekly menu for favorites including oatmeal cream pies and confetti cookies. Upstairs, co-owner Ash Bruxvoort offers astrological services, including classes and workshops (ashgravity.com). (340 S.W. Fifth St., Suite 122; thistlessummit.com)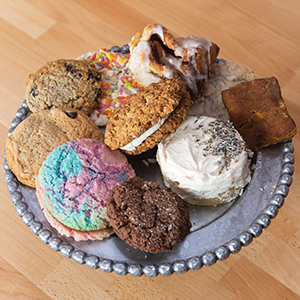 Thistle's Summit
---
4 Other Quick-To-Shop Districts
On your tour of the city, spin by these other zones for local businesses loaded with finds. 
Eleventh and Mulberry Streets 
Plan on at least 30 minutes for the meter to check out Moglea and Art Terrarium, located side by side. At Moglea, browse the beautiful hand-painted paper goods (the $8 notebooks are a gimme for stocking stuffers and friend gifts), gorgeous and somewhat complicated 1,500-piece puzzles, plus planners, mobile phone covers, artwork and their signature painted clocks. Next door, find green goods for the plant lovers on your list at Art Terrarium. Shop live plants for every type of light and care situation, books, jewelry, containers and plant-care items. Check their Facebook page for pop-up events. 
2700 Block of Ingersoll 
Though it's been in business since 1977, the Ingersoll institution Tandem Brick Gallery continues to feel fresh, fun and current. Browse accessories such as leather goods, headbands, jewelry and more, soft onesies for babies, candles, books and silly socks. The staff beautifully wraps all gifts, no matter the price, for free. A few steps down the block, Wildflower is the place for hostess bouquets, as well as other home decor items including vases and baskets. You'll also find essential oils from local flower grower PepperHarrow. 
400 Block of East Locust Street 
If you're short on time, plan on stopping by the heart of East Village for beauty, spices, kitchenware, and trendy fashion and beauty services. We suggest planning a few hours to explore the block and beyond for your ultimate small business excursion. 
For a little of everything—furniture to Champagne-print pajamas—stop by She Home & Gift. The store is packed with home goods, clothing and accessories, and much more. Just down the street, Allspice Culinarium is our favorite place to source affordable packaged gift boxes for make-at-home delicacies such spiced nuts, cookies and barbecue.
While on the cooking theme, Kitchen Collage continues to thrill home cooks with high-quality cookware and serving essentials. We particularly love their selection of aprons and tea towels. Next door, splurge on the latest fashion trends at Aimee (find gift cards on giftly.com if you can't choose). And for beauty and self-care, pick up more gift cards, shop for hair and skin products, or book a special treatment at Salon Spa W. 
200 Block of Fifth Street, West Des Moines 
While you can spend hours browsing Valley Junction's boutiques, galleries and gift shops, our quick pit stop includes just a block focused on local and Iowa-made products. Bozz Prints stocks all sorts of items themed on local attractions—puzzles of a Beaverdale brick and the Travelers sign downtown, graphic T-shirts, posters, mugs, and even corn-themed socks. Next door, Heart of Iowa Marketplace provides an ideal source for foodie baskets. Just down the block Lathermore stocks indulgent handmade bath products and lotions.