Stories by Barbara Dietrich Boose
Photos by Ben Easter
In this dsm special report on homelessness in Central Iowa, individuals share their stories of living on the streets, getting into homes and finding hope. Also read about the myths vs. the realities of homelessness; why providing housing for the homeless works, plus other best practices; the inspiring organizations and people dedicated to addressing the issue; and what you can do to help.
Homeward Bound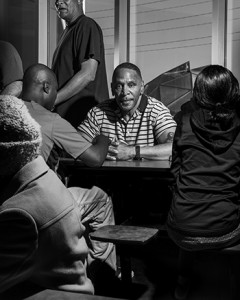 Edward Ailey-Roberson
'We don't need sympathy; we need education and good jobs.'
Edward Ailey-Roberson has packed a lot of ups and downs in his 57 years. A gifted teenage musician and athlete in Wichita Falls, Texas, he later dropped out of college and joined the Marines. Four years later, he enlisted in the Army. Stationed in Germany, he made quarterback on a semiprofessional football team, the Munich Cowboys, which fueled his dream of going pro.
Tragedy intervened: On June 9, 1984, while Ailey-Roberson was trying out for the U.S. Football League's Oklahoma Outlaws, he got the news that his father—who had been involved in some criminal activity—had been murdered.
"Grief issues overwhelmed me," he says. "That took me to a very low state."
His use of alcohol and drugs escalated. He got divorced. He got treatment. He remarried and moved to Iowa. He relapsed. He was jailed for stealing alcohol from a Wal-Mart. Released, he began addressing his bipolar and abuse issues. A counselor advised him to call his mother to say he was sober and sorry; when he did, he learned she'd died of a stroke.
"I don't even know how to describe what I felt," he says, fighting back tears. "Like always, I went right back to the liquor store. I started that downward spiral again."
Again divorced, he hit bottom on March 29, 2009, when he was involved in a fight that killed a man. The four years and seven months he then spent in prison may have saved his life.
"That's where I became clear. I conditioned myself to say, 'I don't care what it is, if it's detrimental to Edward, I'm ducking it,' " he says.
Ailey-Roberson came to Central Iowa Shelter and Services (CISS) in November 2013, where Terry Thomas, the organization's programs manager, counseled and encouraged him.
"She changed my life. She pushed me through thresholds I was afraid to go through," he says, such as asking for help from the Department of Veterans Affairs. "These miracles just started happening. I'm not afraid to admit it's a God deal."
Ailey-Roberson got a job with a window manufacturer in March 2014. He left CISS in October and now lives with his fiancée. He'd like to "spiritually counsel" other veterans, people experiencing homelessness and those struggling with substance abuse. He also wants people to know that organizations like CISS are critical.
"They say we have the best, the richest, the smartest country on earth, but the results of being smart, intelligent and rich are not experienced all the way across the scale, including among veterans," he says. "We don't need sympathy; we need education and good jobs.
"I do want to be the example that people can turn their lives around."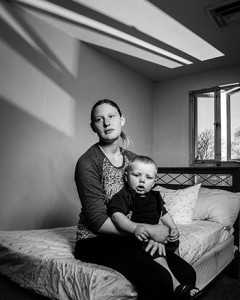 Samantha Fink
'I know what it's like, and look where I am today.'
Methamphetamine had such a grip on Samantha Fink that, in her late teens, she saw her future as on drugs, in prison or dead. "I didn't feel anybody loved me, even though my family loved me greatly. The drugs made me blind," says the youngest of six adopted children.
But when Fink became pregnant, she quit cold turkey. A "meth baby" herself, she'd suffered some developmental disabilities as a result. "I couldn't do that to William," she says, bouncing the cherubic toddler on her lap.
Homeless for about a year, Fink found refuge and resources at the Lighthouse of the Iowa Homeless Youth Centers (IHYC). Pregnant and parenting mothers, ages 16 to 25, and their children can live in the dormitory facility for up to 24 months while working on education, employment, life skills and other goals.
"It's extremely challenging because you're coming in off the streets. You're dealing with your own problems and adjusting to other girls who've all been through some kind of trauma," she says. "But the staff is dedicated to helping us. They really pushed me to keep going."
Fink, 21, pushed herself too. She saved up wages from her job at Hy-Vee and enrolled in Des Moines Area Community College's (DMACC) agricultural business program. Her first semester, she gave birth the week of finals and earned a 3.88 grade point average; the next semester, she achieved a perfect 4.0. She reconnected with her parents and moved herself and William into their own apartment.
Now the community outreach officer for DMACC's Student Activities Council (Ankeny campus), Fink wants to talk with girls in situations she fully understands. "I know what it's like, and look where I am today," she says. "It's possible. If you want to change, there are resources and ways you can change."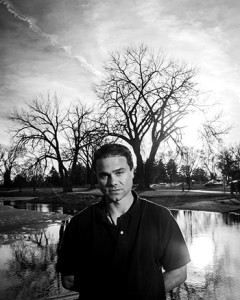 Christopher Leto
"Just because you're homeless does not mean you don't work hard."
Christopher Leto has a plan. He says he "grew up around cars" and is passionate about fixing them. His experience working in lumberyards and warehouses taught him how to organize a shop. So he plans to further develop those skills by going to school to become an automotive technician, with the hope of maybe one day owning an auto repair business.
Leto has a problem, though, in that the jobs he's worked during his adult life dwindled when the economy tanked after 2008. While he continued to work through staffing agencies to help set up Hy-Vee Hall or move furniture, he couldn't earn enough to pay rent. He spent 2013 and 2014 in and out of homelessness. Reluctant to "be a burden" on family and friends, he instead slept in his two-seater Mazda Miata in parking lots at Gray's Lake, Wal-Mart or churches.
"I just thank God that I never bought a house, because that would have been way worse," he says. "I was lucky I had something to sleep in."
Leto, 32, spent most of his days submitting job applications and working out at Planet Fitness, where he had a low-cost membership. "That kept me out of the bar," he says. It also helped him weather a "depressing" situation.
"I had no destination. That's extremely lonely," he says. "Just because you're homeless does not mean you don't work hard. It's demoralizing to know that when you submit all these applications, they're never going to hire on. But it doesn't mean that you're lazy."
Finally, two friends put Leto in touch with Primary Health Care, a nonprofit community health center that provides services, resource referrals and housing advocacy to those in need. Margo Miller, a centralized intake case manager, helped him obtain groceries and, in January, an apartment.
"Margo is a really great person, very motivational," he says. "She completely understood my situation. She's meant for the position she's in."
Now Leto is contemplating joining a friend in Arizona to attend the Universal Technical Institute, an automotive trade school. And he has hope.
"I'm going to go to school with an ambition and a motivation in life," he says. "I know how hard I work. I think I'm going to do a great job."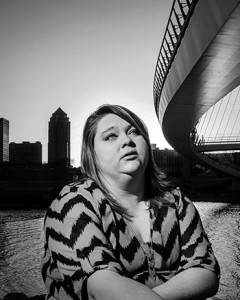 Charity Williams
"All I want to do is help people who've been where I've been."
For Charity Williams, the Des Moines River is a reminder of troubled times—nights sleeping under bridges, days aimlessly wandering along the riverbank. It was a time she was broke, hungry, homeless, hopeless.
But the river also is a reminder of how times have changed. "I still come down to the river today," says the 33-year-old Williams. "The water is serene; it makes me think and gives me tranquility. My boyfriend and I like to come here and talk about all the obstacles we've overcome."
Those obstacles started during childhood, when she was abused by her father. Her parents divorced when she was 13, "and I started to get out of control," Williams says. "I was in group home after group home."
Eventually, she ended up on the streets. "I was homeless off and on for 10 years; I was in and out of jail; I was into drugs; I got into bad relationship after bad relationship," she says. She also lost custody of her son, Caleb, when her mother and stepfather became the boy's legal guardians.
Then in November 2008, worn out by heartache and pain, "I decided to grow up and change my life," Williams says. She found out about Anawim Housing, a Des Moines nonprofit organization that owns or manages affordable housing units and also offers support services. "On December 15, 2008, I got the keys to my house," Williams says, crediting Anawim with providing the support she needed to turn her life around. "If it wasn't for Anawim, I don't know where I'd be."
She regained custody of Caleb, now a 15-year-old Roosevelt High School student who dreams of studying engineering at Iowa State University. Williams is a student at Des Moines Area Community College, where she expects to complete work toward her associate degree in a year. Her plan is to then earn both bachelor's and master's degrees in social work. "My ultimate goal is to open a nonprofit homeless organization for families," she says. "I'm not looking to be a saint; all I want to do is help people who've been where I've been."
And where she's been has given her the strength to face whatever the future holds, she adds: "I wouldn't be who I am if I hadn't gone through all the trials and tribulations I did. I overcame all of it, and if I can do it, anyone can."
Decontee Manyango
"There will be a better tomorrow."
By age 18, Decontee Manyango was a pregnant high school dropout, largely abandoned by family and friends.
After living in a family shelter for a while, she and her son, Xavier Joseph, or "AJ," moved in May 2014 into Iowa Homeless Youth Centers' Lighthouse facility. In addition to housing, the staff helped Manyango, a Liberian refugee, obtain identification and citizenship papers.
"With no papers, I couldn't work, I couldn't get an ID, I couldn't cash a check," says Manyango, who now works as a hotel housekeeper. "I don't even know where I'd be if I wasn't at the Lighthouse. I consider them to be my own family."
As a youth, Manyango lived with her father and stepmother in Rhode Island. When the couple split, she and her siblings lived in foster care until being adopted by an aunt. Then her mother emigrated from Liberia and brought Manyango to Des Moines, where she struggled with school and a new set of siblings.
Today, as 2-year-old AJ points out shapes and colors in picture books at the Lighthouse, Manyango says he motivates her "to do better." She went back to school last year and has earned her high school diploma; some day, she would like to become a certified nursing assistant. In the meantime, she perseveres.
"When I was growing up, I never heard my folks say, 'I love you.' I lost hope," she says. "Every day I tell my son, 'I love you, AJ.' My thing is, don't give up; just keep pushing yourself, encouraging yourself. There's always hope. There will be a better tomorrow."
---
Homelessness: Myths vs. Reality
Myth:
Homelessness is a chronic condition.
In January in Des Moines, 853 people were in emergency or transitional shelters, with an additional 93 unsheltered, according to the Institute of Community Allliances, a nonprofit organization that provides training and support for service agencies in Iowa and three other states. Of those homeless people, just over 100 were chronically homeless, defined by the U.S. Department of Housing and Urban Development (HUD) as people experiencing homelessness for a year or longer or who have experienced at least four episodes of homelessness in the last three years and have a disability.
In the United States, where nearly 578,424 people experience homelessness on any given night, fewer than 15 percent—around 84,291—are chronically homeless.
Myth:
Most homeless people are vagrant men.
Say "homeless," and most people think of grizzled men toting bedrolls and bags of cans to return, huddled under highway overpasses, camped by rivers or holding cardboard signs at interstate exits.
But you don't see the vast majority of Central Iowa's homeless: Families. Children. Victims of domestic violence. Many are college graduates or veterans. Many have jobs.
"In every case, there is a unique combination of life events and a lack of coping mechanisms and support networks that have led a person to experience homelessness," says Julie Bevins-Eberbach, associate director of the Institute for Community Alliances.
Each night in Polk County, more than 400 adults and children in families are homeless, according to Family Promise of Greater Des Moines, one of the city's three shelters for families without domestic violence issues. Nationally, about 220,000 people in families are homeless, making up more than a third of the total homeless population.
"Becoming homeless causes trauma. Parents are embarrassed, guilty and feel ashamed," says Jim Cain, Family Promise's executive director. (To learn more about Family Promise, scroll down.)
It's a misconception, he adds, that his clients are bad parents. "It demonstrates caring for your children that you come to us rather than live in your car," he says.
Another misconception is that families end up homeless because they've squandered their money. "That's true of a few families, but when you're working minimum-wage jobs and have to account for housing, child care and utilities, you don't have a lot to spread around for other things," Cain says.
Families in disintegration also leads to homelessness. When one's own home is unsafe due to an abusive partner, critical to the victim's escape is whether she or he has a safe place to go. "From our experience, domestic violence is a leading cause of homelessness for women and children in Iowa," says Zebulon Beilke-McCallum, director of housing and economic justice for the Iowa Coalition Against Domestic Violence. "The data don't always capture that, because a lot of people don't want to expose the fact they've been abused. … If the choice is to leave an abusive relationship or be homeless, many people choose to stay in the abusive relationship."
Domestic violence is also the primary reason teens end up on the street. "The No. 1 factor for youth homelessness is an unsafe home environment that's so bad, the youth chooses to be homeless," says Toby O'Berry, director of Iowa Homeless Youth Centers (IHYC). The nonprofit organization annually serves more than 400 youths, ages 16-21, and parenting and pregnant mothers, ages 16-25, and their children. (To read more about IHYC, scroll down.)
"Fifty percent of female youths have been sexually abused," O'Berry says. "These youths have never had a positive adult role model. Our staff becomes that stable adult."
Myth:
Homeless people are drug-addled criminals who choose to be homeless.
This misconception came to the forefront in 2008, when Des Moines city leaders and residents were squabbling over a proposed new location for Central Iowa Shelter and Services (CISS) on Keosauqua Way near Interstate 235. "The community went ballistic. Everyone was scared of having sex offenders, drunk and high people and criminals in their neighborhood," recalls Polk County Supervisor Robert Brownell. "But for the most part, those aren't the people in our shelters. And they aren't freeloaders."
(Brownell has done more to understand homelessness than have most citizens and elected officials. Past mayor and City Council member for Clive and a Polk County supervisor since 2000, he checked into CISS and Bethel Mission, a 110-bed emergency shelter for homeless men, for several nights each in 2008. "I did what I considered my best impression of a homeless guy—I grew a nine-day beard, wore ratty clothes and messed up my hair," he says. "I was the worst-dressed, worst-groomed, worst-smelling, most physically repulsive person in either shelter. By far, the majority of people there were well-dressed and groomed. Many had jobs.")
CISS Executive Director Tony Timm knew getting the new facility built would be difficult, but he says he was "surprised at how political" the project became. "Everybody believed the city needed a new shelter, but no one wanted to be near it," he says. "In Iowa, we're all good-natured people who want to help others, but we're cautious about helping when we're concerned others are going to take advantage of us."
Very few CISS clients have that goal, Timm says. About half its guests leave within four days. "In my 6 1/2 years here, I've never had anyone say they genuinely want to be homeless," he says. "If I had $40 in my pocket, I'd go to a Motel 6 rather than here." (To find out more about CISS, scroll down.)
---
The Solution?
Homes for the Homeless
While shelters may provide a critical safety net, advocates, service providers, and former and current homeless people agree that the most practical and effective way to address homelessness is permanent housing.
"The way our clients heal is to have their own housing," says Zebulon Beilke-McCallum, director of housing and economic justice for the Iowa Coalition Against Domestic Violence. "To have that key in their hand and be able to lock the door and feel safe is critical. Putting people in housing and paying their rent for a couple of months make a huge difference. Are we willing to devote resources to help people get that housing so they can heal?"
The Polk County Homeless Coordinating Council has embraced a best practice called "Housing First," in which people experiencing homelessness receive permanent, affordable housing as quickly as possible, along with the support services they need to keep their housing and avoid returning to homelessness. Through its Housing First program, Salt Lake City has reduced its chronic homeless population by 72 percent since 2005. The public-private partnership gives homes to people in need and then addresses their health and employment problems. The program has been so successful it garnered coverage from The New Yorker, "The Daily Show" and other media.
Housing First isn't just about altruism, though; it's also the most cost-effective method of getting people off the street. Providing housing to a homeless person in Salt Lake City costs about $12,000 a year, compared with $20,000 for having him or her live on the streets. Another example: The Central Florida Commission on Homelessness conducted a study that found in 2014 every chronically homeless person in central Florida costs the community roughly $31,000 a year in law enforcement expenses, jail time, emergency room visits and hospitalizations. In contrast, providing the chronically homeless with permanent housing and case managers to supervise them would run about $10,000 per person per year.
"One way or another, as a community we're going to pay for homelessness," says Tony Timm, executive director of Central Iowa Shelter and Services. "If we do nothing, we'll see increased taxes due to increased emergency room services, incarceration and court costs, which are all things that are more expensive than what we do here. Besides being the right thing to do for people, housing them is less costly than to have them bounce in and out of the system."
Polk County Supervisor Robert Brownell admits he initially "looked askance" at the Housing First concept until Deirdre Henriquez, advocacy program director of Primary Health Care, introduced him to "Lars." "He'd lived in the woods for 12 years, collecting cans, and had something like 528 citations for public intoxication," recalls Brownell, who is co-chair of the Polk County Homeless Coordinating Council. "When the weather was bad, he'd go to the (then) Botanical Center and expose himself, so he'd get arrested to get three squares and a warm place to sleep. I thought, 'And you're going to put him in an apartment? That's going to be a disaster.' "
It wasn't: Eight years later, Lars is in the same apartment ("immaculate," Brownell says), completely citation-free and reconnected to family. Even though he receives public assistance—he still collects cans to cover minor expenses—he's no longer incurring costs relating to law enforcement and jail time, and he's no longer alarming Greater Des Moines Botanical Garden visitors.
But such efforts to house the homeless are hindered by the lack of enough low-income residences in Central Iowa, service providers agree. According to a November 2014 study by the Polk County Housing Trust Fund, the county's supply of affordable housing does not match the community's needs. That's especially true—and troubling—for persons who earn less than $17,000 a year, which is about 30 percent of the median income for Polk County ($57,942). For those 13,784 extremely low-income households, there are only 6,224 affordable units available.
Developers don't have much incentive to change that. Construction costs for low-income housing aren't much different from those of higher-end units, but the return on investment is less attractive. "Polk County has a very low vacancy rate. It's a landlord's market," says Julie Bevins-Eberbach, associate director of the Institute for Community Alliances. "You don't have to rent to people whom you consider to be a risk. People with bad credit, poor rental histories and little or no income are especially at a disadvantage."
But housing people, she adds, "provides an element of stability to clear out the stress" so they are better positioned to deal with the other problems in their lives. "We used to think the first thing you did was to get people housing-ready—sober, able to manage a budget, etc.," she says. "But when people go to a food pantry, we never ask them if they're 'food-ready.' Food is considered an essential element for life. Housing is too."
---
Best Practice:
Central Coordination
In addition to Housing First (see story, page 158), another best practice to address homelessness now underway in Polk County is "centralized intake," in which all individuals and families experiencing homelessness who seek services are first directed to Primary Health Care (PHC). The organization took on the role at the request of the Polk County Continuum of Care Board, made up of stakeholders who are committed to reducing homelessness.
Wherever unsheltered people enter the system of services, they complete a nationally recognized standardized assessment designed to objectively determine who most needs housing based upon vulnerability. PHC staff members talk with each individual or family about their situation, income and possible housing options.
At the same time, all homeless service providers in Polk County can see these clients' information: It's uploaded into a shared database that can be tracked in real time to show availability at Central Iowa shelters and houses.
During a one-week trial in July 2014, PHC received nearly 70 calls and was able to divert 60 percent of families from shelters to other housing options. With PHC staff members handling initial intake and needs assessment, other providers are freed up to tackle the issues at hand.
"My staff can focus immediately on what families' goals are," says Jim Cain, executive director of Family Promise shelter, who helped write the grant proposal to fund centralized intake. "It also allows us to interface with all kinds of services we can tap into to serve all kinds of families."
Having one organization bringing homeless individuals and families into the service system also will create a comprehensive picture of homelessness in Central Iowa, which can then inform policymakers, further enhance coordination among providers and target resources to the greatest needs.
"We're hoping that in three to five years, we'll have a track record to demonstrate to funders and HUD (U.S. Department of Housing and Urban Development) what's most effective," says Ryan Crane, PHC's development director. "We believe HUD will demand this approach."
---
On the Front Lines
Here's a closer look at just a few of the Greater Des Moines organizations—and the dedicated, compassionate people who work for them—that advocate for and serve homeless individuals and families.
Central Iowa Shelter and Services
On an etched sign in the check-in area of Central Iowa Shelter and Services (CISS) is a quotation by "Harry Potter" author J.K. Rowling: "Rock bottom became the solid foundation on which I rebuilt my life." That is the outcome the organization seeks to achieve with the 2,000-plus homeless men and women it serves each year.
Established in 1992, CISS opened its 42,000-square-foot facility at 1420 Mulberry St. in 2012. With 150 emergency beds—100 for men, 50 for women—it's Iowa's largest homeless shelter. Its overflow area, which accommodates as many as 100 people on bitter nights, is the state's second-largest shelter.
"I believe we could have built a 1,500-bed facility and it would fill up because of the shortage we have of easily accessible and affordable subsidized housing," says Tony Timm, the shelter's executive director.
CISS also has 19 rooms for veterans; 38 Department of Housing and Urban Development Section 8 voucher efficiency apartments for very low-income families; and a recovery room for people not ready for the main shelter's dormitory environment. In addition, the facility offers a wide range of programs and services, from physical and mental health care and legal assistance to a clothing closet, a food pantry and weekly Alcoholics Anonymous meetings.
CISS does all that with an annual budget of less than $2 million.
"We learned we needed to be more than a bed and a meal," Timm says. "Our clients need support services, so we work with about 15 partner organizations to provide those."
Timm doesn't sugarcoat the problems of CISS guests, one-third of whom have mental health issues, one-third of whom are domestic violence victims and two-thirds of whom have substance abuse issues. Most have multiple problems.
"There's a misconception that everyone is magically fixable, that we can build folks' skills and get them back on their feet. But for some, that will never happen," he says.
Timm views CISS as "more of a triage" that seeks to help its guests connect to the resources that will help them achieve a better situation. He tells his 40 full- and part-time staff members they will have "disappointments," but they still have to be the "18th, 19th, 20th chance" for those they serve.
"People ask me, 'What does your success look like?' Last night, we kept 300-plus people off the street and alive," Timm says. "As an emergency shelter, that's our purpose."
Iowa Homeless Youth Centers
If your biggest problem at age 17 was a pimple on your chin, a spat with your friend, or frustration over your strict parents, consider yourself lucky. You weren't Tiara, who spent much of her childhood in foster care because her cancer-stricken mother couldn't care for her. You weren't Samanthya, who was removed from her home as a fifth-grader after years of abuse and neglect. You weren't Reggie Kelsey, who in 2001, three months after "aging out" of Iowa's foster care system, was found dead in the Des Moines River.
An annual fall fundraiser in Kelsey's memory, Reggie's Sleepout, brings more than 1,000 people for an overnight stay in the Drake Stadium. All proceeds from the event—more than $100,000 a year—benefit Iowa Homeless Youth Centers (IHYC), which provides transitional living programs, street outreach services, an education and employment program and assistance for individuals ages 18-21, post-foster care, as well as for mothers ages 16-25 and their children.
Currently, IHYC is closing in on a $2.8 million fundraising goal to create a new Youth Opportunity Center at 612 Locust St. that will offer emergency beds for short-term shelter, education and employment services, connections to community resources and more.
The organization's fundraising efforts and some additional HUD money also allowed it to purchase from the city six abandoned duplexes on Douglas Avenue, soon to be the new home of its Lighthouse Transitional Living Program for parenting and pregnant mothers. Up to 10 moms and their children will live in the two- or three-bedroom units. The facility will be staffed 24/7, and, as at the current Lighthouse facility (housed in a former monastery of the Basilica of St. John), residents will be required to attend parenting skills sessions and put 60 percent of their incomes into savings.
"Our ultimate goal is to help our guests achieve self-sufficiency," says IHYC director Toby O'Berry. "That's what a businessperson, what all people, can get behind. We offer a hand up, not a handout."
Primary Health Care
For homeless individuals, sleep deprivation, diminished physical safety and mental and physical illness are just some of the perils of living without a home.
"That's why we see housing as health care," says Deirdre Henriquez, advocacy program director for Primary Health Care (PHC), a nonprofit community health center that in 2014 saw 33,827 patients for more than 125,000 visits.
PHC provides services ranging from medical and dental treatment and transportation assistance to street outreach, resource referrals and housing advocacy. An example of the latter was the PHC-led effort in 2013 to help tenants of the Randolph Hotel find a new place to live. Minneapolis-based developer Sherman Associates Inc. bought the downtown building to renovate it into 55 market-rate apartments with rents that would be out of the reach of the low-income residents who lived there at the time, many of whom had prior evictions, criminal records and other barriers to obtaining permanent housing. With funding from Sherman Associates, support of city and county leaders, donations from charitable organizations and a lot of legwork and case management hours by PHC and other service providers, 68 Randolph residents were relocated in 60 days at a total cost that was under the planned budget.
For its leadership, PHC received the inaugural HousingIowa Innovation Award last September from the Iowa Finance Authority. "It was almost the perfect storm of providers, funders and political leaders in the community who came together," Henriquez says.
Family Promise
With headquarters in the labyrinthine lower level of Westminster Presbyterian Church, Family Promise is one of 181 affiliates, in 42 states, of a New Jersey-based "interfaith hospitality network."
When families come to the shelter, they first meet with a case manager to discuss their histories and map out goals. A network of 14 faith-based host congregations then provides overnight shelter and meals in their facilities, staffed by volunteers. Each congregation hosts three families for one week every three months.
"We've been asked, 'Why don't you just have a static shelter?' That's not what the concept is about. It's not about further institutionalizing homelessness," says Jim Cain, Family Promise's executive director. "For our volunteers, church is like home. It's about treating people the way we'd treat them in our own homes."
Families may stay in the program for up to 90 days; those in the program after 30 days are required to save 80 percent of their income. The average length of stay in 2014 was 40 days, Cain says.
During their stays, the families meet with a case manager to review their goals, progress and barriers. Adults are asked to apply for 20 jobs per week, and families are referred to other community resources. Family Promise continues to work with its guests for up to six months after they leave the program. Seventy percent of families exit the shelters to transitional or permanent housing; 90 percent of families who participate in the organization's after-care program remain in permanent housing.
Family Promise's space at Westminster includes a day center with two laptops that parents use to apply for jobs and other amenities. Westminster doesn't charge Family Promise for the space, which saves the program $21,000 a year; its network of congregations contributes an additional $50,000. "We couldn't do what we do without our congregations," Cain says.
How You Can Help
• Inform yourself. A good place to start is with the National Alliance to End Homelessness, endhomelessness.org, and the U.S. Department of Housing and Urban Development, hud.gov.
• Get the local picture and other information via the Institute for Community Alliances website at icalliances.org/iowa. There you'll find the institute's Greater Des Moines Area Shelter and Services Book, which lists agencies, shelters, food pantries and other resources for individuals experiencing homelessness (including the resources mentioned in this article); many welcome volunteers and donations.
• Another good source of local information, including donation and volunteer opportunities, is Primary Health Care's website, phcinc.net.
• Volunteer! You will be amazed by the committed, inspiring people who help those experiencing homelessness. Visit the links above for information.