Written by Sophia Ahmad
Photo by Duane Tinkey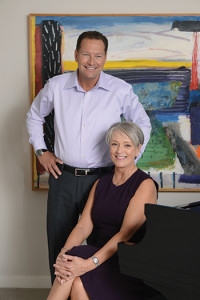 Last spring, John and Penny Krantz made modest plans to update the kitchen and dining room floors in their 1956 South of Grand home. John, president of Adventureland Amusement Park and an avid jazz pianist, and his wife, Penny, the retail manager and buyer for Blank Park Zoo, chose a red birch hardwood floor to complement the space, which was decked out with new appliances that had been installed only five months earlier.
But just one week after they chose the floors, they ventured into Projects Contemporary Furniture to purchase a lamp for their family room and were immediately drawn to a kitchen display—the Varenna by Italian luxury brand Poliform. They loved the "overall design, clean lines and minimal hardware," John Krantz says, and how Miele appliances complemented the cabinetry. After a few days of consideration, the couple made a decision: They would gut their kitchen and dining room and completely renovate the 16-by-23-foot space.
"We took the plunge," John says. "This one (project) just grew way beyond our initial plans."
The Krantzes sold many items from the old kitchen and dining room on Craigslist, including the cabinets, dining room table and chairs, appliances and granite countertops. The old drop ceiling in the kitchen was torn out, and two skylights and 11 can lights were installed, creating a lighter and airier room. By moving the kitchen peninsula one foot west and removing the upper cabinetry, the couple gained more space in the dining room.
"We spend a lot of time in the kitchen, and we're really pleased with the space," John says. "We love the (Miele) appliances and how everything is fresh and new."
The neutral tones of the quartzite white sand and Spessart oak countertops, the dark oak and glossy lacquer cabinets and the marble table allow pieces from the couple's art collection to take center stage. A Jeff Koons balloon dog seated by the range seems to gaze onto a purple Daniel Knorr piece from the artist's "Depression Elevation" series. A large Frank Stella work grounds the dining room, and a pencil drawing by Des Moines artist Larassa Kabel adds an earthy element to the backsplash.
"We live with art every day, and in our house it's a very important part of our lives," John says. "It lifts our soul on a daily basis."
---
---
---