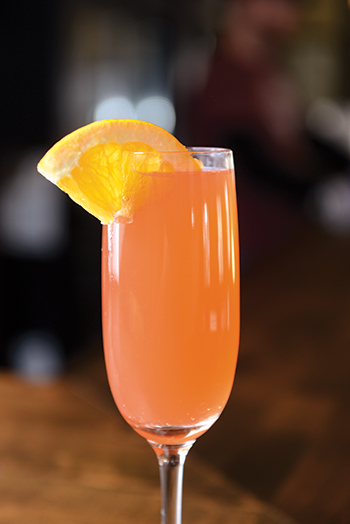 Written by Wini Moranville
Photos by Duane Tinkey
Two styles of brunch have emerged in this town, and the best way to tell which kind you're in for is by eyeing the cocktails.
If flutes and coupes and drinks that involve bubbles float by, you've settled into the realm of delicate crêpes, fine-tuned omelets and chef-driven takes on breakfast casseroles. These are the places to treat your date, your mother or epicurean out-of-town guests. Here, you'll celebrate birthdays, anniversaries or just the great luck to be with your significant other on a weekend day that, for once, hasn't been overscheduled.
If, on the other hand, you spot big ol' Mason jars and pint glasses filled with screwdrivers and bloody marys (those garnished with bacon are a dead giveaway), you've landed on another brunch planet entirely. These are the places to seek when, for whatever reason, you wake up late in the morning to major cravings for big, sustaining food: hash brown skillets, plus-sized omelets, biscuits and gravy, with fried eggs and breakfast meats all around.
Because most of us have room for both kinds of menus in our brunch-loving lives, I'm spotlighting five great dishes that encompass the range, along with signature drinks to enjoy alongside.
---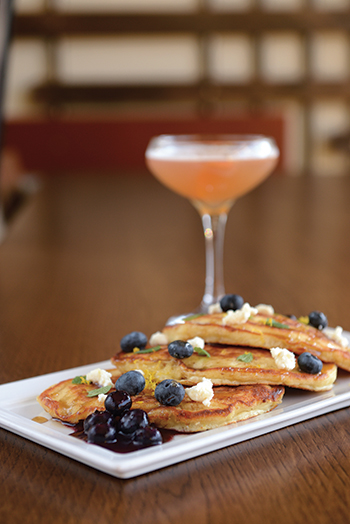 Lemon Ricotta Pancakes
EATERY A
Eatery A might be classified as a date-worthy, Mom-appropriate brunch, but the modern, polished-casual atmosphere makes it an equally good choice for piling in with a group of friends. Chef Nic Gonwa's brunch dishes arrive robust yet beautifully detailed. The heavenly lemon ricotta pancakes come with two major bonuses: fresh blueberries dotted throughout the light and fluffy disks and real maple syrup drizzled on top. The ricotta adds creamy-decadent pleasures.
Also try: Shrimp and creamy polenta with a side of poached eggs; fiery San Marzano tomatoes (a casserole with white beans, feta and soft eggs); and the Eatery A Omelet, with avocado, goat cheese and mushrooms. If dining in a group, get a Mixto platter—charcuterie and cheeses with house-made touches like mushroom duxelles—to kick off your meal over cocktails.
To drink: With an artful and calming mix of chamomile-honey syrup, rye, Lillet blanc and fresh lemon juice, the Peace of Mind cocktail may indeed take the edge off the day.
2932 Ingersoll Ave.
282.8085
eateryadsm.com
---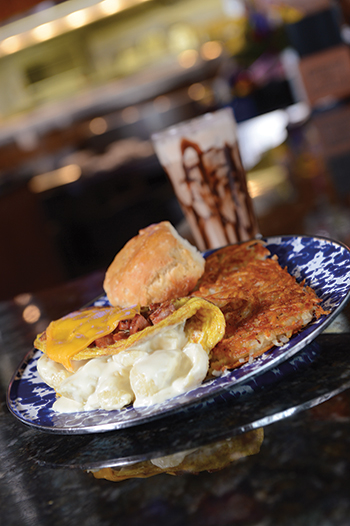 Kielbasa Mac-a-Doodle Omelet
JETHRO'S BBQ N' BACON BACON
When it comes to brunch, I generally fall in the quiche-and-crêpes camp, but sometimes, a trip to big-food heaven simply calls my name. And few places do all-out gluttony better than Jethro's.
Stuffed with smoked sausage and saucy macaroni and cheese, then blanketed with slices of anything-but-artisanal American cheese, the Kielbasa Mac-a-Doodle omelet might sound like a "you gotta be kidding" kind of dish, yet it's truly and insanely good—oozy, cheesy, fluffy and filling in all the right ways. You'll want to order a flakey biscuit with it, and yes, crispy hash browns come alongside.
Also try: Biscuits and bacon-sausage gravy with fried eggs and the triple-bacon eggs Benedict, with a triple-bacon patty, Canadian bacon, and two slices of bacon in the otherwise traditional eggs Benedict mix.
To drink: Try the Double Chocolate Jacked-Up Java. With coffee, crème de cacoa, chocolate syrup and cream, it
stimulates and soothes at the same time.
1480 22nd St.
West Des Moines
868.0888
jethrosdesmoines.com
---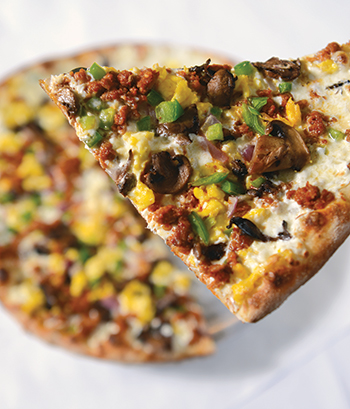 Breakfast Pizza
CENTRO
With drinks arriving in both flutes and tumblers, this brunch could fall into either the posh-brunch or the party-brunch camp. The food follows suit by being both ample and refined. Centro's breakfast pizza brings a judicious scattering of glossy scrambled eggs, flavor-charged Graziano Bros. sausage, purple onion, mushrooms and green pepper atop a thin sheen of fresh mozzarella cheese. Better yet, chef George Formaro's signature crust—thin, chewy and edged with irresistible pockets of char—is the perfect vehicle for these toppings.
Also try: The spinach frittata, an open-face omelet with fresh spinach, a dusting of Parmesan and subtle dabs of ricotta cheese. It comes with a side of country Italian toast, made from a beautiful bread with a delightfully fine crumb.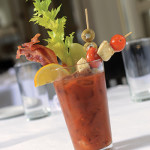 To drink: The Centro bloody mary bar is legendary. Garnish your drink with a do-it-yourself selection of pickled veggies, bacon, olives, marinated fresh mozzarella and about a dozen other options.
1003 Locust St.
248.1780
centrodesmoines.com
---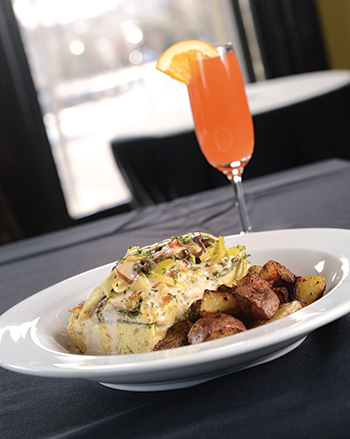 The White Album
CAFE DI SCALA
According to chef Phil Shires, some habitués have tables reserved in perpetuity for Café di Scala's ever-popular Beatles Brunch, offered only on the first Sunday of the month. Fab Four CDs, including bootlegs and live recordings, are set on random and played throughout the day, and menu items are named after a variety of tunes and albums. Find creative takes on brunch favorites, including steak and eggs with garlic aioli, orange-mascarpone French toast and crêpes (both sweet and savory). Try The White Album: With caramelized onions, spinach and roasted tomatoes woven through a savory custard, it's a bit like a crustless quiche, except it's square, and comes with a luscious leek and mushroom sauce that's (you guessed it!) white.
Also try: Fried chicken with a Belgian waffle. "Chicken and waffles on Sunday are gospel," Shires says. Also, be sure to eye the specials, which have included the likes of smoked trout frittata and lamb tacos.
To drink: The Shea Stadium cocktail combines San Pellegrino blood orange soda with Prosecco for an Italian take on the mimosa.
644 18th St.
244.1353
cafediscala.com
---
Squash Omelet
LE JARDIN
For weeknight dining, chef-owner Tag Grandgeorge and his team turn out beautiful plates of the kind of any-night French cooking that you'd find in unassuming mom-and-pop bistros across France. It's no surprise, then, that their weekend brunch omelets have the same kind of simple yet life-enhancing appeal. This specialty arrives with sweet, tender acorn squash and smoky ham, with a touch of Brie and crème fraîche for added lusciousness.
Also try: The mushroom and goat cheese crêpe and the omelet Lorraine (with bacon, cheese, potatoes and shallots). Side dishes here are equally fine-tuned; options include capon sausage, merguez lamb sausage, sour cream potato cake and other off-the-beaten-path delights.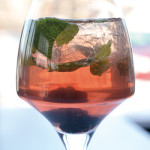 To drink: Try the Le Jardin blackberry mint spritzer—a gentle, lightly effervescent wine spritzer that's perfect for day drinking.
2815 Beaver Ave, #101
255.5787;
lejardindsm.com