Written by Brad Lane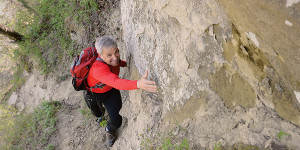 DR. FRED KLINGBEIL
Mountain Climber, Bicyclist
It was the right question at the right time: Why, Dr. Fred Klingbeil was asked in 2008, did he keep telling the same stories, over and over, of the outdoor adventures he'd had—in 1978.
That "was a major eye-opening experience for me," says Klingbeil, now a pediatric physiatrist at ChildServe, a nonprofit organization that provides services to children with disabilities. At the time, "I was working at the Children's Hospital of Wisconsin. A fellow resident told me she was interested in my adventure stories, but that they were all 30 years old. And then she asked if I had done anything new, and it hit me, it was just the right question to ask."
So Klingbeil, a lifelong health and fitness buff, decided to start training for new outdoor sports challenges. "It was a real paradigm shift for me," he says. "It put exercise as the basis for doing meaningful adventures."
Currently, those adventures include plans to bicycle the Taste of Carolina, a 1,200-kilometer bike ride in North and South Carolina, in October, and to climb the 14,962-foot Matterhorn peak in 2016. "Not always do I want to get out of bed every day and work out, but I know if I want to bicycle 1,200 kilometers, I have to do something about it," says the 59-year-old Klingbeil, who also serves as medical director of pediatric rehabilitation medicine at both Blank Children's Hospital and Mercy Children's Hospitals and Clinics.
A Michigan native, Klingbeil says his parents encouraged a healthy lifestyle and physical exercise, which fostered his interest in outdoor activity. In 1978, during the gap year between finishing his undergraduate degree and starting medical school at Wayne State University in Detroit, he set out to explore the natural world. He completed a 90-day bike ride from Illinois to Montreal and then back down to Florida, a canoe trip across Hudson Bay, and a cross-country ski expedition through the Wind River Range in the Rocky Mountains of Wyoming.
More recently, Klingbeil has climbed to the top of the 22,837-foot Aconcagua peak in Argentina. To prepare for the Matterhorn climb, he plans to attend a mountain-climbing training camp in the Cascade Mountains this August.
Whatever his training involves, the father of three draws inspiration for his outdoor challenges from the disabled children he serves. "I've become so appreciative of families who care for their kids with disabilities," says Klingbeil, one of the nation's approximately 120 pediatric physiatrists. "They are there 24/7 and dig deep to give (the disabled child) the best life they can. And it's this idea of persistence (that) I'm learning on these longer rides."
Persistence is vital when the going gets tough, he says: "It's important to know that adventures aren't always enjoyable. Once you realize that, you begin to understand the values and the work needed to meet your goals. You've got to be fully willing to accept what you're experiencing and enjoy the emotional response from it."
---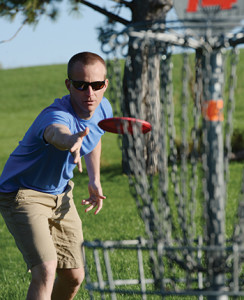 Tyler Weig
Disc Golf Player
Disc golf, Frisbee golf, Frolf. Whatever you call it, the object of this increasingly popular sport is easy: Get your Frisbee into the designated basket, or "hole," in as few strokes as possible. With most holes being par 3s ranging from 150 to 600-plus feet, the average Frisbee golfer can complete two full rounds of 18 in an afternoon. But once a season, Tyler Weig and a small club of disc golfers shoot for a nice, even 100 holes in a day.
"One of the things that I really enjoy about playing 100 unique disc golf holes a day is the adventure of it," says Weig, executive director of the South Suburban YMCA.
He's so passionate about the adventure that he co-founded the Disc Golf Century Club of Iowa in 2012 after the first time he and club co-founder Robb Beane of Oskaloosa completed 100 unique holes in one day.
"Iowa is one of the densest Frisbee golf states in the country, and it's unreal how many courses Des Moines has to choose from," Weig, 32, says. Indeed, according to the Professional Disc Golf Association, there are 16 courses within Greater Des Moines and 195 courses in Iowa. He and Beane "both thought that 100 was a nice round number to shoot for, and Robb knew the courses really well, so we came up with a game plan," Weig says.
That plan consisted of playing the 100 holes at seven different courses in the Des Moines area, including Ewing Park, Southwoods Park, Walnut Ridge Recreation Area, Big Creek State Park, Heritage Park, Walnut Woods State Park and Grandview Park. Since 2012, only two other people in Iowa have completed the 100-hole challenge and joined the club.
"When you talk about 100 holes it sounds like a fun thing to do, but when you start playing you realize it's going to be a long day," Weig says. "You could do this individually, but I don't know why you would want to. The best part is being outside all day, walking through manicured parks, and sharing those memories with your friends. Plus, you need someone there for proof."
This summer, the four Century Club members—who, in addition to Weig and Beane, include Matt Wagner of Oskaloosa and Trevor Rau of Oelwein—will repeat the 100-hole adventure, with one taking home a trophy for lowest cumulative score. "We're not the best disc golfers out there by a long shot, but 100 holes is a little bit of a different game to play, and right now our group by default is the top four in the world," Weig said with a smile.
Through both disc golf and his job at the YMCA, Weig is a big proponent of helping others live healthfully. Weig has worked for the American Cancer Society and Everybody Wins! Iowa and also volunteers for the RAGBRAI Dream Team, a five-month program during which adults mentor teens through activities such as bicycling, camping and exercising. The program culminates in the teens and mentors riding together on RAGBRAI.
When he was growing up in Olin, "there were things that I thought were impossible, and then you see somebody else do it," he says. "Now I'm not saying 100 unique holes of disc golf is an extreme category, but hopefully it can inspire one person to go out and do something that they can remember for the rest of their life."
---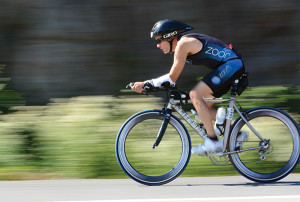 Matt Anderson
Ironman Competitor
Eight miles from the finish line in Cozumel, Mexico, in November 2014, Matt Anderson hit a wall. The physical and mental exhaustion of the last 132 miles of swimming, bicycling and now running made every new step a struggle. But Anderson knew that the exhaustion was expected, that this is what he had spent time training for, and with a resolve that long-distance endurance events inevitably demand, he completed his third Ironman competition.
"Running an Ironman is like life in a microcosm because you will experience every emotion, every high and low, and a rule of thumb is if something is going really well, embrace it, because it's not going to last," says Anderson, an assistant city manager for Des Moines. "And if something is going poorly, don't let it get you down, because that's not going to last either."
To help meet the emotional, mental and physical challenges of an Ironman competition, the 45-year-old Anderson draws on the support of friends and family, including his wife, Deb. In addition to training for long-distance events together, they also travel and compete as a small community of friends.
Anderson, who says he's always been a runner, completed his first marathon in 2005. After he raced in another half-dozen marathons, "I was looking for my next challenge," he says. "When a friend of mine opened an endurance coaching company based out of Des Moines in 2006 (Zoom Performance), my wife and I decided to try for our first sprint triathlon."
The couple successfully completed their first sprint triathlon and quickly moved on to the larger challenges of Olympic triathlons and half-Ironmans. "I never planned to race an Ironman," Anderson says. "The goal was to do a sprint and see how it felt, but there was an ever-growing camaraderie and challenge to it. There's a core group of people that I have been training with for the last five years, and they've become my best friends. And when I see them going for longer distances, it becomes easier to see myself doing it as well."
Anderson and his core group of training partners competed in the 2012 Madison (Wis.) Ironman, the 2013 Mont-Tremblant Ironman (Quebec, Canada), and the 2014 Cozumel (Mexico) Ironman, while Deb completed Ironman competitions in Cozumel and Madison in 2011 and 2013, respectively. The couple will race their first Ironman together in Chattanooga, Tenn., this September, and their friends have already been discussing plans for 2017.
What this means for an already busy assistant city manager is a 4 a.m. alarm clock for morning workouts, lunch-break yoga sessions, 80- to 100-mile Saturday bike rides and 10- to 20-mile runs on Sunday.
Anderson not only draws on the support of his wife and friends when he's competing, but also on what he's learned at his job. "I work on projects that don't have easy answers, and I work with my team and problem-solve all day," he says. "The Ironman is a lot like that—constantly evaluating and readjusting. And at some point, it's not about the competition with your friends or the external pressures; it's an internal motivation of thinking that when you wake up the next morning, how are you going to look back on the experience?"