Written by Zachary Mannheimer
and Amanda Mae Phillips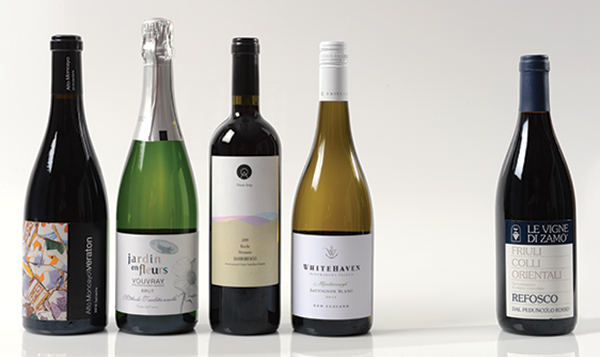 We bet this sounds familiar: You decide on a food you want—and then think about the best wine to go with it. But why should food always get the starring role? Why not start with the wine? With that in mind, Zachary Mannheimer, restaurant sommelier and executive director of the Des Moines Social Club, shared five of his favorite wines (all are available at Gateway Market). He then challenged Amanda Mae Phillips, the culinary arts director of the Social Club's Culinary Loft, to come up with food that would pair well with his choices.
Phillips embraced the task, deciding to shop around town to find foods that would complement the wine; together, the pairs can make for easy picnic planning or summer fun. Still, she encourages people to get out and discover more pairing options on their own. "I'm giving you what I think these wines will be fabulous with," she says, "but I'm also giving you a task: to explore the town you live in, with a gastronome's brain."
---
The wine:
Alto Moncayo Veraton
Campo de Borja, Spain
Pair it with:
The "Sloppy Mike" sandwich at B&B Deli
Zack: Veraton is built to smack you in the mouth. Not because the wine has anything against you, but because it overwhelms with flavors of plum, vanilla, cocoa and blackberry, yet finishes slightly dry. I've often written that Spain is the bridge between the Old and New worlds — the New World fruit-forward flavor and the Old World tannic finish. Veraton exemplifies that perfectly.
Amanda: We have to get a little rowdy with this wine, so let's head to the south side and stop at B&B Deli. There, order the "Sloppy Mike." Don't try to look up the description on its website; the sandwich isn't listed. But know that with its layers of house sausage and gooey cheese, the "Sloppy Mike" can stand up to the tannins in the Veraton. And when you go, remember B&B is a south side tradition. So be polite, and wait your turn.
---
The wine:
Jardin en Fleurs "Vouvray" Brut
Loire Valley, France
Pair it with:
A salad or charcuterie from The Cheese Shop of Des Moines
Zack: Here's the thing about sparkling wine and pairing food with it—everything goes with sparkling wine. I'm giving Amanda an easy one here. Still, I wanted to go a bit obscure in my choice. Vouvray sparklers come from the Loire Valley and are made from chenin blanc grapes, which tend to be a bit more tart than most varietals for sparkling wines. I find the bubbles are less dense in Vouvray, which opens the wine up to more intriguing pairings. What's more, because the bottle is not stamped with "Champagne," the price point ($26) is deliciously attractive.
Amanda: I relinquish the decision on this pairing to The Cheese Shop of Des Moines because of the amazing work the people there are doing. Go in and simply ask what would go with the Vouvray Brut; the experts there won't lead you astray. I'm sure an array of the shop's house-made pate or charcuterie would pair splendidly. If you are looking for something a little daring, ask for the lemon salad; a bright wine like the Vouvray would have a nice play date with this salad.
---
The wine:
Rocche Meruzzano Barbaresco
Piemonte, Italy
Pair it with:
Etoufee and fried okra at Fat Tuesday
Zack: The queen of Italian wines, Barbaresco is to Barolo as Burgundy is to Bordeaux. Barbaresco is the elegant debutante at the ball, dancing circles around all other Italian regions. Rough around the edges, this bottle needs to be savored to get to the heart of its flavor profile. Mushrooms, earth and truffles hit you first, followed by a punch of pomegranate seeds and black cherry. Just remember to let the bottle breathe.
Amanda: The queen of Italian wines begs for a cuisine fit for a king. Order for takeout the étoufée with Cajun greens and fried okra from Fat Tuesday restaurant. There is so much complexity and so many subtleties going on in this wine that it needs something just as complex to stand up to it. With each bite and each sip of this combination, you'll undoubtedly perceive a new scent or flavor you haven't experienced before. Also, it's best if the food doesn't have to travel far; think about enjoying this combo at a nearby park. Wherever and however you indulge in this pairing, just remember the meal can slip into overload; you might want to plan for a nice long walk afterward.
---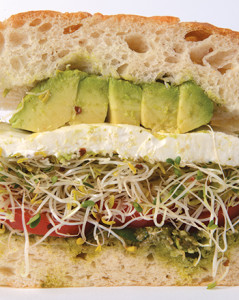 The wine:
Whitehaven Sauvignon Blanc
Marlborough, New Zealand
Pair it with:
The avocado sandwich at La Mie
Zack: I'm going out on a limb here and claiming that today's best sauvignon blancs are from New Zealand. I love the strong freshly cut grass, diesel and green apple aromas they give off. Whitehaven is one of my favorite producers and is a bargain, typically, at the retail shop ($15). This beauty is the personification of all things bright and fresh for spring and summer.
Amanda: Head to La Mie, arriving early so the avocado is still beautiful and green, and get the avocado sandwich. Under no circumstance are you allowed to take off the sprouts; they're part of the team of flavors and textures that make this pairing work. What's more, the sandwich's avocado and cream cheese serve as perfect vehicles for the sauvignon blanc.
---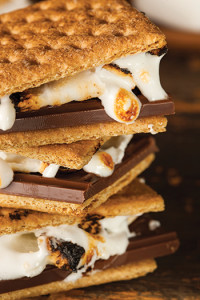 The wine:
Le Vigne Di Zamo Refosco
Friuli, Italy
Pair it with:
Adult s'mores
Zack: Refosco is one of my favorite red grapes, and yet it remains esoteric in the wine world of Iowa. Hailing from the northeastern shores of Italy, it is as much a Croatian grape as it is Italian. Medium-bodied, grainy-textured and full of cranberry and lavender, refosco reacts to food more specifically than, say, cabernet or merlot, also grown in this region. I love it with a steak, I love it with meaty fish, and I love it with cheese. What does Amanda love it with?
Amanda: Zack asked, and I will answer, but I'm not going to pair this wine with steak, fish or cheese, but rather with dessert. In Gateway Market's specialty department is a little treasure sitting right on the shelf: Marcona chocolate almond butter. The rest of your shopping list should include graham crackers, a bar of dark chocolate (the darker, the better) and a bag of marshmallows. At your next campfire, pull this adult dessert out. Assemble like the s'mores of your childhood memories, but spread the Marcona chocolate almond butter on the graham before adding the chocolate bar and mallow (preferably toasted and heated to a golden brown perfection with a few leopard spots of burn).
Get messy. Enjoy.