They started their lives in tiny cages or dumped along a roadway. But now? These rescue dogs possess all the beauty and confidence of a cover model.
Written by Belle Du Chene
---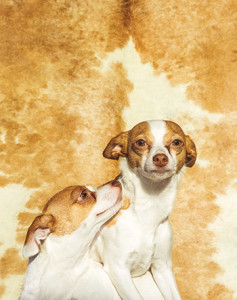 Ozzie and Harriet
As if being born in a crack house weren't enough, Ozzie and Harriet, Chihuahua and Jack Russell terrier mixes, were then sold and resold all around Iowa as part of a Craigslist money scam. Finally, dsm contributing photographer Ben Easter and postproduction specialist Eric Brockob adopted the brother and sister from Iowa-based Fluffy Butts Rescue Resorts. Upon their separate adoptions, even though they lived just doors apart, Ozzie became depressed and would even shake without his sister, so Easter and Brockob decided that the two would live together with Easter. Today the 4-year-old pups have a loyal Instagram following, and Harriet has just starred in her first movie in the role of Bulldozer for "Up on the Wooftop," alongside "Saved by the Bell" star Dennis Haskins. The movie's trailer was shown at this year's Cannes Film Festival in Cannes, France and is set to premiere sometime this winter in Iowa City.
Photo by Ben Easter
---
Apollo


Before he ended up at the Animal Rescue League of Iowa (ARL), Apollo, a Leonberger mix, most likely was in a home where he was neglected and cooped up in a house for long periods of time without necessary socialization. Still, he maintained a mellow and friendly personality, which immediately captivated his adoptive family—Jeremy Mikesell and Antje Gray and their children, Riley and Taylor Gray-Mikesell—when they met him at the ARL. Just 7 months old when this photo was taken, Apollo is sure to become an even bigger boy; male Leonbergers can eventually weigh in at 150-plus pounds. Apollo doesn't restrict his affection to cuddling with his family; he's a loyal and patient friend to neighborhood children, who often come over to play with him in the Mikesell-Grays' backyard.
Photo by Tonya Scarcello
---
Ruby
By the time she was 3, Ruby had already had six litters of puppies—while in a tiny cage in which she was forced to stand on chicken wire. After the South Dakota puppy mill where she lived was busted, Ruby, through a dachshund rescue group, found her way to the West Des Moines home of Michelle and Brad Morford. The effects of the puppy mill's mistreatment are still evident; Ruby has a permanent waddle in her step and hates to have her feet touched. Still, the now 9-year-old red-haired beauty "is the most appreciative animal I've ever, ever seen," Michelle says. "She literally smiles at us." Ruby also loves being with the other rescued members of her pack: Maize, another dachshund; Tucker, a golden retriever; and Izzie, a basset hound-corgi mix.
Photo by Elizabeth Carrie Schlueter
---
Isa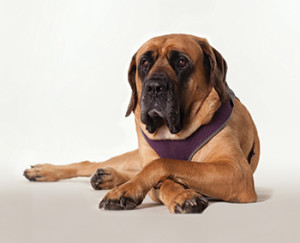 Spencer Ericson of Des Moines describes his 3-year-old English mastiff-mix dog as "a gentle giant." Her original owner in California worked long hours and was suspected of being an alcoholic, so she wasn't properly socialized and often cowered in fear. A year ago, when Ericson had completed his military service and was in San Diego, he went to that city's humane society to find a new friend. "She was a special dog," he says of Isa. "At first she ignored me but allowed me to sit beside her. She turned her head and reached out with her huge paw and motioned for me to pet her. That is when I knew she was coming home with me."
Photo by Tonya Scarcello
---
Steele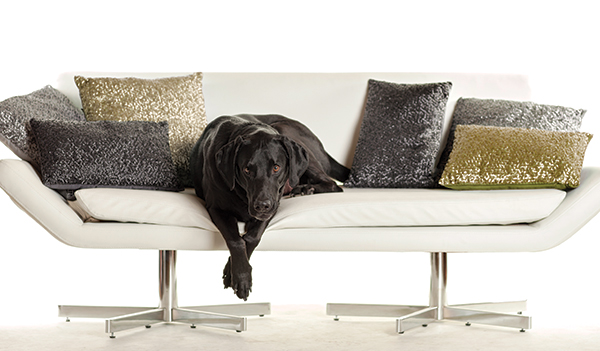 Apparently, Steele, an American Labrador, wasn't cut out to be a hunter, which evidently was reason enough to desert him. When he was found, his claws had been manicured for hunting, but he was gun-shy—two good indications that he may have been abandoned by a hunter. He ended up at the Animal Rescue League of Iowa's Ankeny facility, where Beth and Kerry Richardson met him just days after their family dog had died. The Richardsons initially were unsure about adopting him, but those doubts were quickly laid to rest. After meeting former Iowa State University quarterback Steele Jantz at ISU's Fan Fest sports festival, Kerry told Beth, "Wouldn't Steele be a great name for a black dog?" That same day, they were in the campus bookstore when a sales associate showed them a new line of Cyclone dog collars. "We couldn't stop thinking about the dog," Kerry says. "When we returned to the ARL, we received a very enthusiastic welcome from him and we knew that he needed us as much as we needed him." Today, the 6-year-old Steele is a Canine Good Citizen and certified therapy dog who visits patients in hospitals and retirement homes. (Scroll down to read the poem Kerry Richardson wrote about Steele.)
Photo by Tonya Scarcello
---
Maddie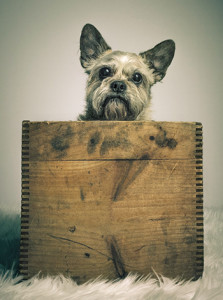 When Pat and Lou Schneider adopted Maddie as a puppy in 2004, her history was unknown, although their veterinarian said she already had suffered a broken leg and pelvis. Found on the street, Maddie was at PetSmart one day when the Clive store was hosting rescue animals. Pat saw her there and says she couldn't resist bringing her home. Today, Maddie, a Shih Tzu and Boston terrier mix, is healthy and happy, along with being extremely protective of Pat. The duo are nearly inseparable. In addition, Maddie is buddies with the family cat, Marcella, who grooms her every night; afterward, the two often snuggle together.
Photo by Ben Easter
---
Steele's Story
By Kerry Richardson
My name is Steele
I have a story to tell
It all started one Sunday
Inside the ARL.
I was napping in my cage
Dreaming of the perfect life
When I awoke to a conversation
Between this big guy and his wife.
I could tell that they were suffering
I could see it in his face
Their world was missing something
Something they weren't sure they could replace.
This couple they were wandering
Spilling details at every pen
They spoke of their deceased pet Sam
And what a great dog he had been.
The woman walked ahead a bit
Stopping at my door to read my sheet
I looked at her, she smiled and waved
In a flash I was at her feet.
She said "This black one he seems perky"
"He's almost two and chiseled like rock"
"Maybe we should take him to the trail outside"
"And see how well he walks."
More beautiful words I had never heard
She took my lead and I proceeded to dance
The woman said I pulled really hard
I thought I had blown my chance.
The big guy he just laughed a bit
And pulled my leash against his frame
He said "This boy here, he's raw energy"
"But he's smart enough to train."
I walked with them to the petting room
Where leash less I could roam
My heart was growing fonder
I hoped they would take me home.
Decision time was looming
I heard the words "We need to think"
It hit me like a dagger
And my heart began to sink.
The staffer took me from them
And my mind began to rage
I wasn't going easy
They had to drag me to the cage.
I saw the couple leaving
Maybe the rumors were really true
A black dog is the least desired
Being big, well that's strike two.
I hung my head in disbelief
What was so wrong with me?
A big dog has a bigger heart
And a black coat is so shiny.
Back in my bed I watched time pass
As people scorned me for the others
A mom and pop grabbed my leash and card
To introduce me to their girl and brothers.
I was happy that I was being considered again
But they were poking at me and making me holler
Then out of the corner of my eye I saw the big guy
And he was carrying a brand new collar.
I left those kids with a handful of black
And pressed myself against the window by the door
I squealed with the volume of a thousand hearts
They wanted me but I wanted them more.
The woman said "we're here for you"
"Our dog less home has an empty feel"
"We'll give you our love and expect yours too"
"By the way your new name is Steele."