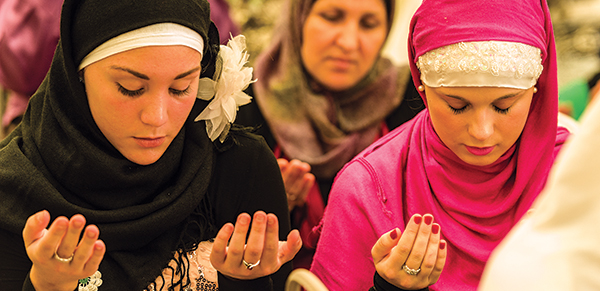 Written by Barbara Dietrich Boose
Photos by Bob Blanchard
Tim Knepper and Bob Blanchard are working on a book about some of Central Iowa's religious communities, but don't expect a weighty tome of abstruse academic discourse probing the philosophical complexities and histories of various beliefs. Expect instead a book that will pop with color and celebration; pulse with drumbeats and dancing; and reflect the reverence of sacred places, worship and faith-driven practice.
The book will explore aspects of 12 to 15 religions—Knepper is, after all, an associate professor of philosophy and chair of the philosophy and religion department at Drake University. But it will do so through Blanchard's vivid photography as well as text.
"We want to bring greater awareness to the people of Des Moines about the religious diversity here," Knepper says. "We want to encourage people to be proud about that and tie it to Iowa's history of welcoming refugees."
Blanchard, an urban planner who moved to Des Moines from Colorado in 2014 to manage the preparation of the city's new comprehensive plan, adds, "That diversity was a surprise to me. I don't think people understand this unique characteristic of Des Moines."
The book, with an anticipated release in 2017, will focus on Judaism, Christianity, Islam, Buddhism, Hinduism and Sikh in the Des Moines area. It came about when Blanchard, who is transitioning his career to photography, read an essay by Knepper in The Des Moines Register about the dedication of a towering white marble statue of Quan Âm at the Vietnamese Buddhist temple of Tu Vien Hong Duc on Southwest Ninth Street. Quan Âm is one of countless "bodhisattvas"—beings that have attained enlightenment but postpone nirvana to help others do the same—and the one credited with helping bring the Vietnamese people of the temple to Iowa, in the late 1970s. Blanchard took his camera to the dedication and also contacted Knepper.
"He said, 'Sure, I'll give you some local contacts—and, oh, by the way, I'm thinking about writing a book,' " Blanchard recalls. That conversation launched a partnership in which Knepper's text for the book sometimes drives Blanchard's photography, and sometimes vice versa.
With each community, Blanchard captures a portrait of its leader, a copy of which they frame as a gift, and photos representing the practice of the religion. "We want to show with the book how important practice is, which is what I think the pictures will do," Knepper says. "It's not just about doctrine."
Other photos show each community's sacred spaces, some of which have been creatively altered. The Vietnamese Buddhist temple, for example, is in a former office building; one of the metro area's two Sikh temples is in a former Jehovah's Witnesses hall; and the Ezan Islamic and Educational Center is located in a former used car dealership. That center is the religious home of many Bosnians who relocated to Des Moines after the genocide in the city of Srebrenica in 1995 during the Bosnian War, when more than 8,000 Muslims, mainly men and boys, were killed.
"Being at a service there and hearing so many stories was unforgettable. One elderly lady had lost seven sons in that massacre," Blanchard says. "I've learned so much history with this project."
The two men have shared in many such memorable experiences and, Blanchard says, "so many free meals." They include Knepper's first visit to a service at the Bosnian Islamic mosque during Ramadan for the sunset prayer, the iftar, which is the breaking of the fast, and then the night prayer. At midnight, he found himself in a group at the imam's home for a seven-course meal. "From midnight to 4 a.m., we did nothing but eat," he recalls.
Both men describe with some wonder the spring celebration of Holi, the festival of colors, at the Hindu temple just south of Madrid. "Technically, it celebrates the defeat of a demon or sister of a demon," Knepper explains. "It celebrates the 'many colors' of humanity and is a time when past grudges and feuds are healed. It happens outdoors—tons of people, Indian techno music and dancing. And, by the end, everyone is covered in powdered colors from head to toe."
The event was just one example of the ways the two men have been welcomed by Des Moines' religious communities. With few exceptions—such as the prohibition of photography in the Hindu temple's deity room—they have been given free rein to observe, photograph and participate in ceremonies and celebrations.
"I spent the Holi ceremony wading through the throng of people with my camera out and camera pack on my back. I could tell people were respectful of my gear so I didn't get covered with colors, but there were occasions when someone would look at me, look at my camera and then smear my face," Blanchard says. "People have adopted me as a member of their congregations."
"Interacting with all these people in the community," Knepper adds, "has been a very rewarding aspect of this work."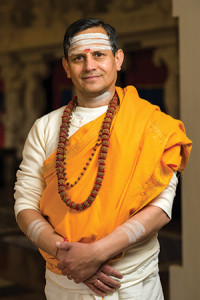 ---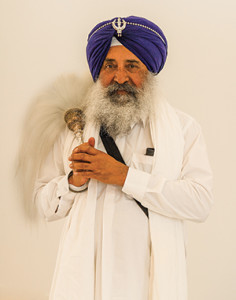 ---
---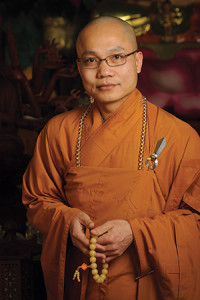 ---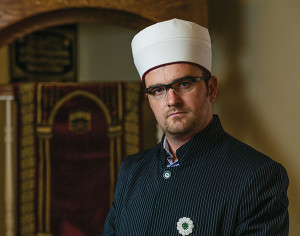 ---