Photographer: Duane Tinkey
Becoming a 'P'
Writer: Danny Beyer
Few would claim that there is a better place in the country to be a young professional, or YP, than Greater Des Moines. Numerous magazines, newspapers and websites have touted the metro area's affordability, lifestyle, convenience and accessibility for the YP crowd. I've certainly benefited, both personally and professionally, from the numerous organizations and events focused on fostering opportunities for YPs. In fact, I wouldn't be the person I am today without the support and relationships that the local YP community provides.
There's only one problem: Eventually, we age out of being a YP. And then what?
That's the question I keep hearing from a growing number of individuals moving from being a YP to just being a "P," or professional. What's next? Suddenly the YP events no longer provide the learning opportunities they once did for professionals in my age group. Boards no longer call looking to fill a YP opening. After-work networking is replaced with picking up kids from day care, and baby pictures replace event photos on Facebook feeds. Does the
professional scene really end around age 35 in Des Moines?
A good friend and mentor once told me there are three stages to professionalism in Des Moines. "Stage 1: Young Professional." There are awards, events and accolades everywhere for this group. "Stage 3: Sage." This is the older crowd, celebrated individuals who have "been there, done that." Everyone wants these people for board roles, mentors and advice.
Which leaves us with "Stage 2: Everyone Else." This is the largest set of working and professional individuals; they can range in age from early 30s to mid-50s. There simply isn't much available for those who are aging out of the
YP crowd but who are still decades away from being considered a sage.
To be fair, it is hard to provide opportunities for this group, as we're getting married and having children, which changes priorities. But I believe opportunities still exist; we simply need to make them happen.
I know of many individuals currently working on creating new experiences for professional development and networking. I would also like to issue a challenge to the ever-expanding group of Des Moines professionals who feel stuck in Stage 2. We have a unique opportunity to influence the future of our city. Let's grab it. Here's how:
• Become a mentor or source of advice to as many young professionals as you can. Look back at your early career. I'm sure someone gave you time or advice that helped shape who you are today. Do the same and pay it forward.
• Reach out to those organizations that used to reach out to you and let them know you still want to serve. You may not be showered with awards and accolades any longer, but you can still do a lot of good in whatever areas interest you.
• Keep your eyes and ears open. There are new groups forming and events being created to tailor to the Stage 2 lifestyle. As this demographic group continues to evolve, there are exciting opportunities coming to Des Moines over the next couple of years.
Without a doubt, Greater Des Moines is one of the best communities to work, play and raise a family. I may no longer be a young professional, but I'm happy to take my place in Stage 2 in this dynamic city. The future has never looked brighter—no matter what your age.
Stepping Up
Jay Byers sits down with dsm for a debriefing on what Greater Des Moines has to offer the beyond-YP crowd.
Writer: Laura Kristine Johnson
Even though it's 3:30 p.m. on a Friday, the Greater Des Moines Partnership office is still buzzing with activity. Jay Byers, the Partnership's CEO, sets a list of typed notes in front of him. The topic: What does the metro area have on deck to engage young professionals when they aren't quite so, ahem, young anymore?
"Des Moines has had very strong community leaders who have stepped up in a big way both in terms of time and financial resources," says Byers, paying homage to those who have played a critical role in what he has dubbed Des Moines' "secret sauce" — that just-right combination of accessibility, affordability and achievability that's earned the metro area such distinctions as Forbes magazine's "No. 1 City for Young Professionals."
But how does Greater Des Moines keep adding spice to that sauce? By investing in a new generation of leaders, Byers says: "Making sure we continue to build on the tradition of leadership and identify new leaders is important for the long-term success of this community."
As adults transition out of young professional groups, Byers urges them to take on leadership roles within two or three organizations they are passionate about. For those who haven't yet connected with an organization, United Way of Central Iowa's LeadershipLink tool pairs philanthropic-minded people with organizations in need of leadership help.
Professionals also can fine-tune their leadership skills through the Greater Des Moines Leadership Institute's (GDMLI) long-running leadership program, which provides a community-centered curriculum and projects, or similar programs offered by surrounding communities. The recently formed Regional Leadership Council now serves as an umbrella group so that local leadership programs can share best practices and effectively reach more professionals who want to participate. The Iowa Association of Business and Industry Foundation's Leadership Iowa program is another option for leaders who want "to not only develop leadership skills but also make statewide connections and get to know what's happening across Iowa," Byers adds.
Another recently launched program, Community Connect, brings participants and experienced leaders together for mentor-protégé relationships. The leaders pass on their knowledge of the community and help participants identify their values and then put those values into action. Initially led by the Community Foundation of Greater Des Moines and then taken over by GDMLI, Community Connect is currently moving its third class through the program.
"It's important to identify one or two mentors who can make you a stronger leader in your community and who can provide hands-on mentoring experiences that last multiple years," Byers says. "We want the next generation to step up and not only keep the momentum going with where Greater Des Moines has gone but really dream big and say what the metro will look like in five, 10, 15 years."
On Deck
Four "Stage 2" leaders sound off on professional development beyond the YP scene–what works, what doesn't and what they'd like to see next.
Writer: Laura Kristine Johnson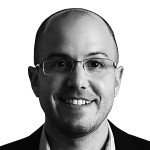 Mike Banasiak, 34
Certified Financial Planner, Legacy Financial Group
A former Business Record Forty Under 40 honoree and Greater Des Moines Leadership Institute class member, Mike Banasiak has been heavily involved with the Young Professionals Connection and currently serves as the president of Young Variety. But he's looking for a new challenge.
"I've felt like there's always been a path or goal laid out for me, and now I don't know what the next five years will look like," he says. "There seems to be a void. I call it 'the lost decade,' somewhere between 35 and 45. How do I continue to connect with that next generation of leaders and mentors in Des Moines? If you're like me and have a passion for many different organizations … or if you're trying to better define your passions going forward, that's where I find some lack of clarity."
Banasiak believes a program that connects young and veteran professionals via networking events or other activities could provide direction to adults looking for their next step: "Any time you're able to collaborate with like-minded individuals, I think the result is going to be positive, and I think you're going to improve the community."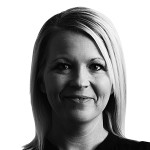 Andrea Stackhouse, 40
Business Development Director, Neumann Monson Architects
A mother of four children, Andrea Stackhouse squeezes in networking events over the noon hour so she's still available for before- and after-school activities. However, at this point in her career, she says she's looking for groups that focus less on networking and more on accomplishing a significant goal.
"By the time you're in your 30s and 40s, you're more established, and you have more connections and resources to make more happen, but you're sort of disengaged," she says. "How do you use those resources that you have and those relationships that you've built to make a difference?"
Stackhouse hopes opportunities will be developed to help professionals in their 30s and 40s find places where they can make a significant impact on the community. "Maybe it's a matter of putting it back on the Greater
Des Moines Partnership or the city— asking what needs they have that they could use these young leaders' help," she says.
She also warns against groups becoming too selective: "If there are only groups for a select few, that doesn't make it feel like we're welcoming anybody who wants to put in time to help out."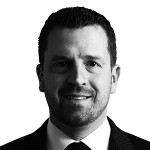 Jason Willis, 37
Fixed Operations Director, Willis Auto Campus
Ten years ago, Jason Willis was a fixture at professional events around the metro area, but shifting priorities have led him to be more strategic with where he spends his time. "In your 20s, you can attend after-work professional events and go out later in the evening, but in this stage, between my job and family, my activities are just different," he says. "I can't attend as many of the evening events."
Instead, Willis opts for more structured groups to further his professional development, including nonprofit boards and a twice-monthly breakfast club that brings together professionals from a variety of industries for networking and charity work. Coaching his children's sports teams has also allowed Willis to meet and mix with other parents.
"The hardest thing I've had to learn to do in my 30s is to say 'no,' " he says. Though Willis is not involved with as many organizations as he once was, he says he can give more to the groups he chooses to be a part of. "I feel like I can make a bigger difference," he says.
"There are a ton of places that need help, that are begging for people to be involved," Willis adds. "People just need to discover their passion and pursue it."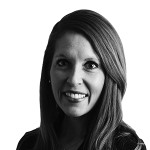 Susan Hatten, 33
Senior Consultant for Enterprise Sales and Strategic Partnerships, Holmes Murphy & Associates Inc.
Susan Hatten began diving into local professional and nonprofit groups in her early 20s. "What I noticed in those years was that organizations, be it professional development or nonprofit, were seeing that [the Young Professionals Connection and Young Variety] were very beneficial ways to engage new talent, engage new ideas, and to encourage young people and young leaders to be engaged with their organizations."
But, she says, there is a gap in opportunity to connect with and develop those who are older than young professionals but not quite seasoned professionals. "I think that from a knowledge-sharing perspective, Des Moines could benefit from groups embracing the concept of growing together rather than having people age in at 25 and age out at 35," she says. "If we engage young leaders in their mid-30s and young 40s, our community will be in a much better position to grow and charge economic development forward because we will have had time to learn from the leaders who have gone before us."
Laura Kristine Johnson is a Des Moines-based freelance writer and an editor at Meredith Corp.