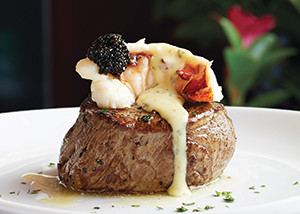 Reviewer: Wini Moranville
Over the 17-plus years I've been reviewing restaurants in Greater Des Moines, I often felt a certain pressure to be a cheerleader for locally owned venues. In a subtle way, this suggested that, with any praise I gave to corporate restaurants, I was somehow undermining local ones.
Well, I pretty much ignored that noise.
Because my job as a reviewer has never been to privilege local over chain/corporate restaurants. Rather, my goal is to write about restaurants in a way that helps readers decide whether they should spend hard-earned money and hard-won leisure time at a particular eatery.
So, if I go to a local fine-dining restaurant and endure the rank amateur move of someone serving hot food on a cold plate in the middle of winter (resulting in an egregiously cold scallop dish), I'm going to tell people about it. Likewise, when I endure yet another local spot serving yet another glass of red wine from a bottle that's been stored on a countertop above a bar fridge (and therefore is, of course, too warm), that's going to get some ink too.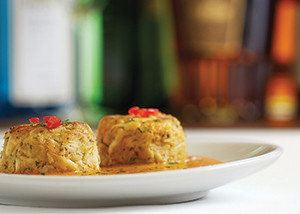 And if I go to Fleming's Prime Steakhouse & Wine Bar (a chain), and its admirably chosen wines are always served in peak condition at optimal temperatures, I'll look forward to spreading the word. Just like I'll praise the way the restaurant serves its food on burn-your-fingers-hot plates—in a way that keeps the meal's fragrance and pleasures ceaselessly intact as you dine.
I admire Fleming's so much, in fact, that it's one of the top three restaurants that I have in my worth-a-splurge rotation; two recent visits there confirmed that the venue remains deserving of this status.
For me, it's all about the steak. Most of Fleming's beef is prime—that is, the highest grade available. Some of the streaks are dry-aged, while others are wet-aged. The difference? In a nutshell, both processes help tenderize the meat, but dry-aged has the added benefit of causing moisture loss, which concentrates and deepens the flavor.
True steak aficionados swear by dry-aged steaks, but whether I've ordered the dry-aged prime rib-eye, or the wet-aged filet mignon, I've never had less than a lusty and bold cut at Fleming's. Indeed, I generally toggle between the ultra-tender filet and the immensely flavored rib-eye, the latter being more indulgent, thanks to its irresistible marbling.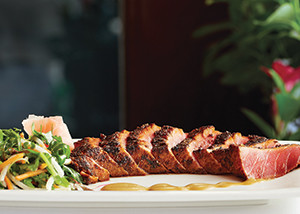 I can never go here without ordering the creamed spinach—classic steakhouse fare at its opulent best. Although I almost cried when the restaurant took its ultra-crisp hash-browns off the menu, I've since been mollified thanks to the discovery of the scalloped potato-like dish: Little bits of jalapeño add a sparky note that contrasts the lushness of the cheese and cream.
Most everything at Fleming's is rich and abundantly served, which is why I rarely order much by way of appetizers. When I do, I go for the jumbo lump crabcakes, with roasted red pepper and lime butter sauce. Two sweet and luscious cakes are perfect for two diners—enough to set the appetite in motion, without diminishing the desire for the epic meat to come.
On another visit, I gave the small plates menu a go. Each of the five options comes with a thoughtful side, and I've found that one small plate is generally filling enough to count as a main dish, if you start with a salad or appetizer. Options range from $18.95 (for short ribs or seared ahi tuna) to $25.95, for lobster tempura. We tried the sea scallops/Gulf shrimp combo, served with vermicelli, as well as braised short ribs. Both were admirably wrought; however, I've never found anything at Fleming's that I've loved more than the steaks, and these were no exceptions.
Fleming's also scores high marks for its exemplary wine program. It's not just that it serves 100 well-curated wines by the glass—it's how it serves them: The reds always arrive at perfect cool-cellar temperature, while the whites are nicely (but not overly) chilled. And while you can definitely splurge here, you don't have to: The wine list offers plenty of glasses for under $10.
Incidentally, I have Fleming's to thank for leading me to my new "house red": Chateau Blaignan Cru Bourgeois, a classic red from Bordeaux's Médoc region. I first fell in love with this earth-spicy food-friendly bottle at Fleming's, and subsequently found it at Ingersoll Wine and Spirits.
Service at Fleming's is mostly spot on. Waiters and their assistants combine finesse and knowledge to generally effect a seamless dining experience. Professionalism lapsed on a recent night, however. As the evening's pace slowed and the dining room cleared out, two employees stood at a table next to ours chatting it up noisily with two patrons—presumably some friends—who were dining that night. We felt trapped inside the loud-talkers' conversations, and finally escaped to a quieter spot in the bar to finish our last sips of wine.
That won't keep me from going back, however, as generally, I come away from Fleming's thoroughly gratified, as a steak-lover, a wine-lover and someone who appreciates polished and thoughtful service.
Fleming's Prime Steakhouse & Wine Bar
150 S. Jordan Creek Parkway
West Des Moines
515.457.2916
Freelance writer Wini Moranville, author of "The Bonne Femme Cookbook," covers food, wine and the dining scene for dsm. Follow her on Facebook at All Things Food DSM-Wini Moranville.