Writer: Wini Moranville
Braisers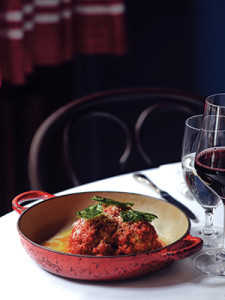 During the winter, my braiser gets used in my kitchen more than any other cooking vessel. Braisers have shallower sides and wider bases than a Dutch oven. The lower height lets the steam remain in close contact with the meat, and therein lies the brilliance: It's that steamy, moist heat that makes meats get so tender, rich and bold.
Which braiser is best? It depends on whether you prefer cast iron or stainless steel.
In the cast-iron camp, you can't go wrong with either Le Creuset or Staub. Both are French-made beauties in rich, dynamic colors. The only drawback is that these guys are heavy; the 3 1/2-quart Le Creuset weighs in at 11 pounds, empty.
If you prefer to save your heavy lifting for the gym, consider the All-Clad braiser. While it tips the scales just shy of 5 pounds, it still has an authoritative weightiness to it. Made of an aluminum core sandwiched between stainless steel, it browns meat beautifully and conducts heat well. In fact, it does everything that the French braisers do, except add color to your kitchen. Le Creuset and Staub win the beauty contest, although All-Clad's polished metal is easy on the eyes too.
The 3 1/2-quart Le Creuset and Staub braising pans range in price from $250 to $270 at Williams-Sonoma at Jordan Creek Town Center; find the All-Clad Braiser ($219) online at amazon.com.
---
Fennel Pollen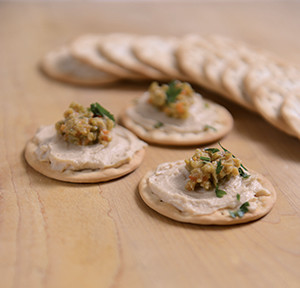 I always appreciate a great "Wow! What is it?" ingredient, something that treats everyone at your table to a new taste sensation.
Fennel pollen does just that. Collected from the blooms of wild fennel, the delicate spice recalls the subtle licorice tones of fennel but in a sweeter, more ethereal way. I use it often as part of a dry rub for meats;
I especially love it on pork tenderloin.
My No. 1 use for it, however, is in my green olive tapenade. For a great appetizer (pictured), simply slather some purchased hummus atop a cracker and top with a wee bit of the tapenade and a little snipped fresh parsley.
Find the fennel pollen at Allspice Culinarium in the East Village ($9.95 for a 4-ounce jar).
---
Green Olive Tapenade With Fennel Pollen Recipe:
1 1/2 cups pitted large green olives, drained
2 tablespoons extra-virgin olive oil
1 garlic clove, minced
1/2 teaspoon fennel pollen
1/4 teaspoon dried red pepper flakes
1/4 teaspoon dried tarragon
1/4 teaspoon curry powder
Place all ingredients in a food processor. Process until the mixture becomes a coarse paste, scraping down the sides of the bowl occasionally. Transfer the tapenade to a bowl and serve at room temperature. Store leftovers in the refrigerator in a tightly covered nonmetal container for up to two weeks. Makes about 1 cup.
---
Comté Cheese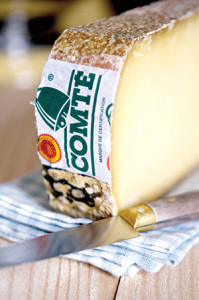 If you've ever tasted fondue and thought, "What is all the fuss about?" do yourself a favor: Go to Gateway Market or The Cheese Shop of Des Moines and ask for an aged Comté cheese from France. A great cheese makes all the difference.
I know what you're thinking: A French cheese for a classic Swiss dish? Let's not forget that France has its share of the Alps too, and food lovers there enjoy the Alpine specialty in winter as much as the Swiss do. But rather than using quintessential Swiss cheeses (like Gruyère and Emmenthaler), the French use their own cheeses, including Comté, a Gruyère-like cheese made in France's lush pasturelands in the Jura Massif region.
Comté is aged four to 24 months (generally longer than most Swiss Gruyères), and the longer the cheese ages, the more its complex fruit, hazelnut and toffee notes come through. These flavors intensify even more when melted, making fondue a head-spinningly good way to serve Comté. Fortunately, both Gateway and The Cheese Shop purvey well-aged versions of the cheese. Get extra, as it's a marvelous melting cheese, good in anything from twice-baked potatoes to panini.
---
Pineau des Charentes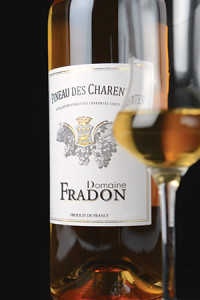 Poking around Vom Fass—the olive oil, vinegar and spirits emporium in the Shops at Roosevelt—I spotted a bottle of something I fell in love with in France but never thought I'd find here: Pineau des Charentes.
This wine-based apéritif is made mostly in the Charente and Charente-Maritime region, which is also home to cognac. In fact, most Pineau is made from the same wine grapes used in cognac, but while cognac is a distilled spirit, Pineau is a fortified wine. That is, it's made by adding a spirit (in this case, cognac) to grape juice early in the fermentation process, which stops fermentation and keeps the wine's sugars intact. The wine is then aged in oak barrels.
The resulting sip has the luscious density of port, yet brings bright, honeyed orchard-fruit flavors. Think golden apples, pears and apricots.
Of course, because it's sweet, most Americans immediately assume it's a dessert wine, and there's no reason you can't enjoy it that way. But for the French, Pineau des Charentes is an aperitif, a pre-dinner drink meant to open up the appetite for the pleasures to come. Try it this way, and you may find that sweetness in that pre-dinner drink readies the palate for dinner much better than a dry, citrusy glass of wine.
At Vom Fass, a 750-milliliter bottle costs $23.99. Serve well-chilled in 3- to 4-ounce portions.
---
Side Dishes at 801 Chophouse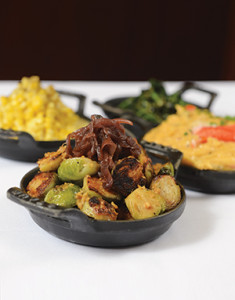 While the beef at 801 Chophouse will always be the star, in recent years, I've begun to greatly admire the sides.
That's why I was delighted to stumble on (and take advantage of) this option: You can request half-orders of most vegetables and potatoes. That's a boon to couples: Rather than choosing one or two immense side dishes, you can opt for half portions of side dishes perfectly sized (and reasonably priced) for two.
My favorites include the lobster mashed potatoes, sparklingly fresh sautéed spinach with garlic and lemon, bright Brussels sprouts with red
onion marmalade (pictured) and the creamed corn.
At 801, the half order idea also extends to the wine: The restaurant has an extensive selection of half bottles, which is perfect for couples. After all, when you start dinner with a cocktail, sometimes you don't need more than a half bottle of red wine to see you through the main course. When there are more at your table, sometimes a half-bottle of port is just right for lingering with friends into the night.
Freelance writer Wini Moranville, author of "The Bonne Femme Cookbook," covers food, wine and the dining scene for dsm. Follow her on Facebook at All Things Food DSM-Wini Moranville.