Writer: Lacy Brunnette
Photographer: Karla Conrad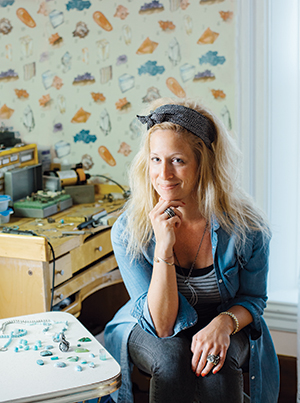 Marisa Adamson
Jewelry Designer
Marisa Adamson, owner and designer of Daily Bliss Jewelry Design, seemed destined for the jewelry business at an early age: Her mother, an artist who works in several mediums, shared her love of art and creative innovation with Adamson. When Adamson was just 3 years old—shortly after moving with her parents from Germany to Omaha—she met her future mentor, Dwaine Ferguson, at Goldsmith-Silversmith Jewelers.
After graduating from the University of Nebraska with a degree in English, she returned to Goldsmith-Silversmith, where she spent the next 15 years creating custom pieces for clients, as well as making and selling her own collection.
In 2012, she moved to Des Moines when her husband, Benjamin, was relocated. Since then, Adamson has focused on her own collection, Daily Bliss Jewelry Design. It is a risk that has paid off with a quickly growing client base and features in fashion photo spreads.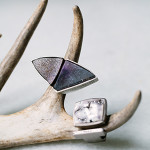 The 37-year-old designer makes each of her pieces in her home-based workshop. Her studio is filled with an impressive variety of metals and stones; her favorites include diamonds, druzy quartz, black tourmalines, amethysts and agates. Adamson finds whatever precious material her clients would like to incorporate into their design.
Each piece—or "mini-sculpture," as she affectionately refers to her jewelry—generally takes four to six weeks to make. Adamson's process begins with the client visiting her workshop for a brainstorming session, during which they discuss their vision for the piece and look at different materials. After learning more about the client's tastes and preferences, Adamson drafts the design idea into a wax model. When the client approves the design, Adamson casts and finishes the piece.
Adamson is interested in combining "darkened metal and sparkle," frequently favoring silver because of its appearance when oxidized and blackened. Although her jewelry has elements of whimsy, is stands out as a commanding, robust aesthetic. She is also inspired by curving lines and organic circular shapes, such as horns and octopus tentacles.
"At 2AU, we support women creatives, and we welcome Marisa into our community," says Anne Au, owner of 2AU Ltd. "Her bold style is a perfect complement to our collection of artists."
Adamson strives to make each of her pieces authentic and inspiring to the buyer. She even re-worked her own engagement ring to better suit her design tastes, creating an opulent piece with the stones nestled into looping metallic curves.
"There is really no limit to how much can be added to a piece," Adamson says. "It's really like, 'What kind of statement do you want to make? How happy do you want to be?' "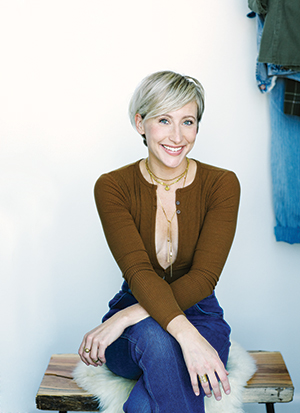 Nicole Lorenson
Boutique Owner
Nicole Lorenson is an enthusiastic advocate for "taking something old and bringing it back to life."
Specifically, she's focusing her efforts on combining responsible sustainability, production and upcycling of vintage goods. Her vehicle for doing so is Preservation, a shop she opened in the East Village last September. The store, housed in the historic Northwestern Hotel building on the corner of East Fourth and Walnut streets, offers a mix of vintage and modern items.
Preservation has crisp white walls, airy drop ceilings, and shelves and racks made from simple salvaged wooden planks and metal piping. Salvaged denim pieces, succulent plants in Southwestern pottery, Pons leather shoes,
bandanas and other small goods are grouped in artistic piles on a wooden picnic bench in the middle of the store. Such merchandising touches complement the classic interior of the old hotel with its original black and white tile floors.
The 31-year-old Lorenson started her career in photography. After graduating from Hawkeye Community College in Waterloo in 2005 with an associate's degree in photography, the Crystal Lake, Iowa, native began a commercial photography career in New York City. She moved several more times, and then she settled down in Des Moines in the summer of 2012.
Through the years, Lorenson built her photography portfolio, including portraits. She often styled the people with found pieces so that subjects aesthetically matched her vision. She also amassed an extensive collection of vintage clothing and other items.
Lorenson sold some of the vintage items on eBay and Etsy in a collection called Vintage Salvation. The biggest challenge of online retailing was how much time it took
to prep and photograph the garments and the effort involved in packaging and shipping to customers across the United States. She eventually found momentum with Market Day in Des Moines, a monthly marketplace event for vintage and handmade goods, where she purveyed a Vintage Salvation pop-up shop. Customers would seek her out, looking forward to the conversations about Vintage Salvation's pieces.
She says customers' enthusiastic response to the pop-up shop spurred her to eventually launch Preservation. "My goal was to always have a storefront and incorporate fashion with vintage," she says.
Lorenson hopes to share Preservation with new audiences through the addition of an online store. And she hasn't given up her passion for photography: She offers customers complimentary mini photo shoot sessions of them wearing their new vintage pieces when they spend more than $100 in the store.
Lauren Pearson
Clothing Designer
Lauren Pearson arrives at our coffee meeting in an oversize denim jacket, light-washed boyfriend jeans, ruby red matte lipstick and a red bandana tied pin-up style. Her look is as individualized as the designs that she has created for her own clothing collection, her collaborations with local retailers and her fashion show appearances.
The 26-year-old designer has packed a lot of experience into the early years of her career. Pearson graduated in 2015 from Iowa State University with a degree in apparel, merchandising and design. Even before winning the top honor for her final fashion project in ISU's spring show, she was hard at work in Des Moines' fashion industry: Pearson produces and nurtures a startup cut-and-sew collection for women called Burden Child and works full time at Raygun. There, she designs and produces separates for the store's in-house collection that complement its T-shirt offerings.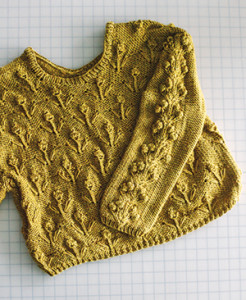 For her work, Pearson draws inspiration from textiles and often travels to New York City and other markets to find materials for projects. Her travels also provide an opportunity to gain industry knowledge and build her Rolodex of regional and global providers. "Fiber is a big thing for me," she says. "When I was 10, I would walk into a fabric store, and it would take my breath away. I'm in love with textiles."
The Ankeny native began sewing at age 6. Her mother, an avid and accomplished quilter, taught her how to operate a sewing machine. Pearson's first piece was a quilt, followed by clothes for her dolls and then herself. She admits her first garments were a bit haphazard, but she persevered through the early self-taught struggles to gain more confidence.
With an additional passion for knitting, Pearson also creates knitted pieces that are integrated into her garments, which are a mashup of urban contemporary separates. These separates, as well as her dresses, are made for easy mixing and matching.
"Lauren can be so understated about her skill that we didn't realize what a good designer she was until she won Best of Show" last year at Iowa State's annual fashion show, says Mike Draper, owner of Raygun. "We asked if she could make a line of clothing for RAYGUN and she said, 'Sure.'
"She can cover the gamut from extremely simple to complex," Draper continues. "She has a good eye for fabric design, construction, the whole range. For Raygun, she is the perfect person to not only design, but execute
construction and manage a team. We're lucky to have her."
---
Lacy Brunnette is a freelance writer who is frequently spotted roaming Des Moines, popping up at boutiques, diving into racks of clothing, and chatting up designers, artists and entrepreneurs. You can find her online at lacybrunnette.com or on Twitter @LacyBrunnette.
Karla Conrad is an editorial photographer specializing in lifestyle storytelling. See more of her work at karlaconrad.com and gestaltcreatives.com.