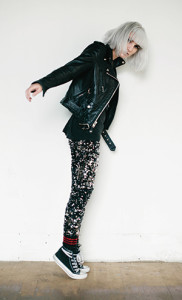 Mayim Yael is a Des Moines-based freelance wardrobe stylist.
How would you describe your personal style?
It's constantly evolving. I don't believe in hard-and-fast rules when it comes to fashion, and I'm apt to wear whatever I love at the time—as long as it's within arm's reach in the morning.
Any fashion regrets?
Much like terrible ex-boyfriends, every article of clothing I've worn in the past had a reasonable explanation behind it, but don't ask me to rationalize it now.
What part of your style are you known for?
My ability to own a million pairs of shoes but ultimately always end up back in my beat-up Chuck Taylor high-tops.
Fashion role models:
Kate Lanphear and Daphne Guinness.
What is an essential aspect of your look?
Good-quality materials, great construction, texture and an achromatic color palette. I'm a creature of comfort overall.
Celebrity crush:
Late '80s heartthrobs Corey Feldman and Christian Slater in their prime.
Always up for:
Gong Fu tea, pinball and a nap.
Never up for:
Roller coasters, brushing my hair and CrossFit.
Photographer: Joelle Blanchard