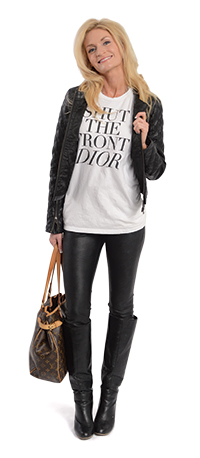 Stylist: Jessica Miller
Photographer: Duane Tinkey
Worth the Splurge: I bought this Louis Vuitton bag last year in Los Angeles. I don't buy a lot of stuff, so this was a guilty pleasure for me.
Pack a Snack: I carry ZonePerfect nutrition bars because I'm always running around. I need a healthy snack in case I get hungry when I'm on the go.
Stomach Soother: I keep Tums for when things get really hectic or I'm traveling—I go to L.A. a lot.
Noteworthy: Whether I'm in a meeting or at a coffee shop, I keep a notebook handy so I can easily jot down my thoughts. I like using paper and pen more than a laptop or an iPad. And I'm always circling things with a highlighter.
Color Therapy: I usually carry a black wallet, but this one (Kate Spade) provides a nice pop of color. It reminds me that spring is coming.
Visionary: I've started wearing glasses more than I used to. I have a small face, which was an excuse to get these Chanel glasses—they fit my face.
Paint Picks: I'm remodeling my home, and these paint chips are helping me decide on the bathroom color.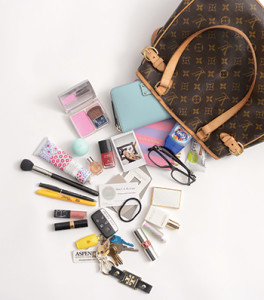 Pretty in Pink: I can't find this pink Dior blush anywhere except for Los Angeles, so whenever I go there, I stock up on it at Bloomingdale's.
Tough as Nails: Chanel is my favorite brand of polish. It was a Christmas gift from my dear friend and interior designer, Juli Verrant of Juli Verrant Interiors.
Heaven Scent: Every day, I like wearing a scent that matches my mood for that day. I love Viktor & Rolf 's Flowerbomb and Elizabeth and James' solid perfume compact.
Calming Balm: I carry a lot of lip balm. I absolutely love Library of Flowers—it calms me down and makes me feel normal. Eos in the fun blue egg and NARS are other favorites. My newest one is from Yves Saint Laurent; it's very satiny.
---
Jessica Miller is an art director and a wardrobe and prop stylist for local and national media, including Better Homes and Gardens, Kitchen and Bath Ideas, and Do It Yourself magazine. She also owns a home-staging business and is the co-owner of Hill Vintage & Knits in the East Village.