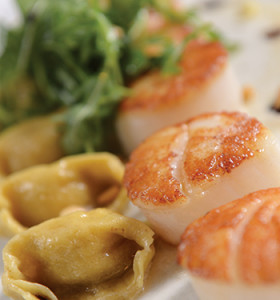 Reviewer: Wini Moranville
Photographer: Duane Tinkey
Most Des Moines diners have long appreciated Centro for its good nature, great vibe and abundantly portioned dishes such as Mama's Meatballs, onion rings, fried calamari, sausage rigatoni, red-sauced cavatelli and breaded pork chops the size of
a hubcap.
Yet these days, there's another side of Centro that I like even better. While you can still find satisfying and sincere homages to Italian-American food, the precision that generally eluded most dishes is becoming a major draw here.
One need only try the spaghetti Amatriciana to see how far the kitchen has come. In my first review of Centro, in 2003, I wrote that the Amatriciana "brought pasta swimming in an overabundant tomato sauce that completely overpowered the finer workings of the pancetta and fresh basil." Frankly, that was a nice way of saying that the dish tasted like canned tomatoes and pasta.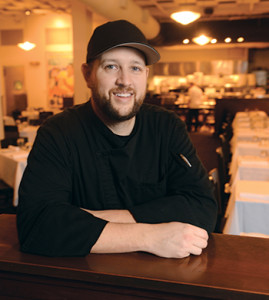 What a difference more than a decade makes.
Centro's current version of Amatriciana is a study in balance, harmony and razor-sharp attention to each component of the classic dish. Here now are fresh strands of homemade egg-enriched pasta, and the pancetta has been replaced with a more true-to-Rome choice, guanciale (a cured meat from the pork jowl). The kitchen chars the red pepper flakes for a deeper, nuttier flavor. The fresh basil—an unneeded distraction—has been axed.
And the tomato sauce? "We go a lot lighter on this dish than we do on our cavatelli and rigatoni," says chef-partner George Formaro. "The pasta is dressed almost as if it were a salad—versus the Italian-American red-sauce-gravy thing."
These days, the dish is all about the richness of the guanciale, the mellow depth of the shallots, the spark of the red pepper and a touch of brightness from the tomatoes. A light dusting (rather than a thick carpet) of sharp pecorino Romano cheese further attests to the kitchen's restraint, and the result is a masterpiece of simplicity.
Working with Formaro to help guide this new era of more refined food is Derek Eidson, who has cooked at Centro for nearly a decade; he began in 2007 as a sous chef and took over as executive chef in 2011. A graduate of the culinary arts program at Kirkwood Community College, he has roots in our city's fine-dining scene; for three years, he manned the stoves at Sage, an intimate upscale venue that once existed where Baru 66 is now.
"I don't think we had Sage's clientele coming [to Centro] when we first started, and I really pushed hard to bring that clientele in," Eidson says.
But Eidson's food doesn't emulate the imaginative multi-ingredient gastronomy found at his earlier employer. Rather, driving his vision is the more rustic Italian cooking he discovered when traveling in Italy.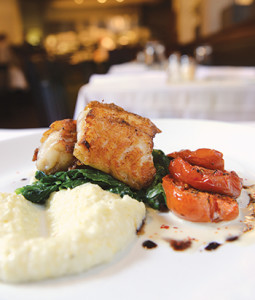 "A lot of the Italian food in town is American-Italian," Eidson says. "I'm trying to find the Italian food that I've never heard of, that keeps me excited, and then introduce it to people here."
The task, say Eidson and Formaro, is to get back to basics, which means paring down the list of ingredients while upping the expertise.
"A dish may have four ingredients, but each step is so critical. Execution is the focus," Formaro explains. "We don't get to hide behind bacon and cream and peas and cheese."
The spaghetti Amatriciana is a premier example of this new ethos. For another taste, try the pan-seared monkfish; the rich fish, with its near-lobsterlike sweetness, is elevated by the humblest of ingredients: bitter sauteed escarole, a slow-cooked tomato and a sauce made by sauteing the spine and bones of the fish in cream. A slather (rather than a heap) of polenta adds heartiness without undue heft.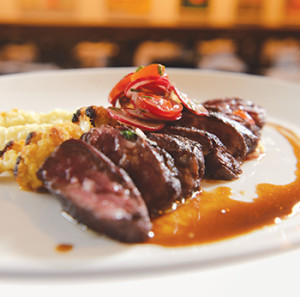 The hanger steak with Chianti demiglace also gets a judicious swath of polenta, plus a bright salad topper: a beautiful mix of shaved radishes, tomato and onion, with parsley, salt, olive oil and pepper. The ingredients may sound commonplace, but the way they combine to add levity and sparkle to the deep, vaguely liverlike flavor of the beefy cut makes the dish take off.
I also recommend the scallops, which arrived seared to a caramely golden brown yet were still glistening inside. In years past, the dish might have been bulked up with garlic mashed potatoes; today, homemade cauliflower agnolotti (a pillowy ravioli-like pasta) plants the dish firmly in fine-dining territory.
Experienced diners would be smart to wonder whether it's possible for a high-volume restaurant to serve such detailed, bistro-quality food night after night. Can a place that averages 350 to 400 covers on weekends truly stay on top of it all?
My recent experiences point to yes: On the two evenings I visited Centro for this review, the place swelled with a good-time crowd, and neither Eidson nor Formaro was in the kitchen.
"Derek has built a staff who has been loyal to him over a several-year period, so we've been able to grow and challenge ourselves," Formaro says.
In doing so, Centro has brought something new to Des Moines. Until recently, restaurant patrons have had to make a choice: If you craved fine-tuned, fresh and seasonal chef-driven food, you were likely headed to a hushed and intimate 65-seat restaurant. If, however, you were out on the town looking for a high-energy hot spot, chances were that the food—favoring predictability and abundance over risk-taking and finesse—would take a back seat to the good-time vibe.
Centro has changed that. Dramatically.
---
Centro
1003 Locust St.
515.248.1780
centrodesmoines.com