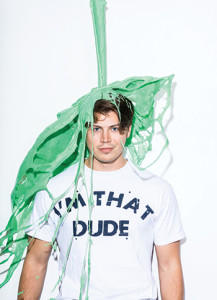 After graduating from Valley High School in 2013, Tanner Stine moved to Los Angeles to pursue acting. He currently stars as Oyster on the Nickelodeon series "The Thundermans" and also has had roles on "NCIS" and "Wicked City," among other shows. When he was back in Des Moines recently, Ben Easter caught up with him for a photo shoot—during which Stine gamely agreed to be "slimed" in Nickelodeon game-show style.
Current project: "Missed Connections," a recent independent film I worked on starring Elisabeth Röhm. I play a surfer living in Venice.
What surprised him most about Hollywood: How hard is it to obtain representation—there are so many talented, hardworking actors who aren't represented. I was lucky to have the help of Steve Myers with Peak Agency in Des Moines. He guided me through that process and helped me find representation.
Actor he'd most like to work with: Shia LaBeouf.
The part of his style he's known for: I usually wear the first thing I see in my closet.
The piece of clothing he couldn't live without: H&M jeans.
Fashion regrets: I've pierced my ears quite a few times throughout my life. In retrospect, it always seems a little silly. But a few months later, I do it again anyway.
Hobbies: Music, writing, skiing, photography.
Picky about: Shoes
Not so much: Pizza
Always up for: A movie
Never up for: Bullies