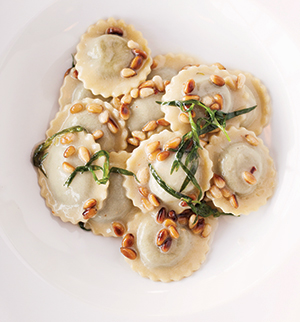 Writer: Jim Duncan
Dante ristorante Pizzeria
168th and Center, Omaha
402.932.3078
dantepizzeria.com
On the westward rim of Omaha sits Dante Ristorante Pizzeria, one of the few American pizzerias certified by Associazione Verace Pizza Napoletana, an international group based in Naples, Italy, that promotes and protects the traditions of Neapolitan pizza. Des Moines pizza guru George Formaro says the group's standards are dauntingly strict. Dough must be made with type 00 flour and the sauce from San Marzano tomatoes, and cheese must be fresh buffalo- or cow-milk mozzarella. The dough is kneaded by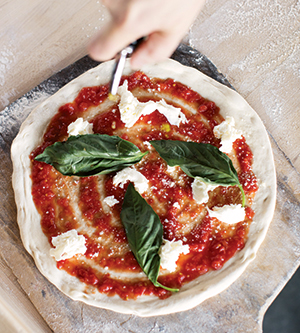 a low-speed mixer, and crusts get stretched by hand. The pies are cooked in a wood-burning oven—90 seconds at 800 degrees.
Owner-chef Nick Strawhecker cut his teeth at Michelin-starred restaurants in Italy and at top Chicago cafes Aria and Spring. He poached several of his staff from Charlie Trotter's when that restaurant closed. His house pizza is made with chicken livers, mozzarella, Calabrese peppers and lemon. The Margherita might be the best-looking pie anywhere.
While the pizza is divine, there are many other reasons to dine here, including the fresh pasta dishes. I also have enjoyed beef cheeks, either braised with fresh foraged maitakes or wood-oven grilled with scallops, and plated with kale, lentils, barley and jus. Rabbit roulade is served with mozzarella, fennel and heirloom tomatoes. Chicken tortellini arrives en brood with baby carrots. All charcuterie is made in house, including duck prosciutto.
---
The Normandy
2785 S. 17th St., Lincoln, Neb.
402.476.0606
restaurantnormandy.com
In the Indian Lakes neighborhood of Lincoln, this charming bistro is all about romance. A sign greets patrons inside the door with the message "All Because Two People Fell in Love." Owners Lawrence and Renee DeVilliers met in New York City while doing volunteer work for a Franciscan order. He came from an aristocratic political family on France's west coast; she came from a small Nebraska town west of Lincoln. They fell in love, got married and moved to Nebraska.
"We began selling pastries at farmers markets six years ago, and things moved quickly," Lawrence recalls.
The restaurant specializes in French comfort foods. A meal might start with gougères, choux pastries best known in Burgundy. Served with herbed bechamel dip, these light delights are mixed with grated cheeses and might be the best bread course in the Midwest. Chicken and wild rice soup is made with a rich cream base. Crêpe options include smoked ham, cheese, bechamel and a poached egg stuffed in a lighter-than-air pastry. Rillettes are served with toast points and béchamel dip with some fig jam.
During a recent visit, cassoulet came to the table topped with duck cracklings. Mussels were decadently smothered in saffron sauce. Long-boned rack of braised lamb was served on lentils with mint gastric. Seared duck breast came drizzled with carrot cumin puree and served on couscous. Ratatouille was made with salmon. Chicken a la crème, a house specialty, arrived covered in mushroom cream sauce.
Desserts were equally comforting, especially the chocolate fondant.
---
Salt
3623 N. 129th St., Omaha
402.991.9088
salt88.com
This eclectic Mediterranean café is part of the 88 family, which evolved from Hiro 88, the city's best sushi cafes. John and Jennifer Horvatinovich are transplanted Croatians who do not want Salt to be pigeonholed as a Croatian restaurant, even if that would make them the best Croatian cafe in America. There is a definite emphasis on the bar here, with interesting wine lists, beer offerings and craft cocktails. The restaurant's signature drink, called "Let It Rain," combines organic cucumber and lime vodkas with cucumber, mint and sour mix.
The most obvious homage to Croatian cuisine is steak Dubrovnik, a rib-eye with sauce Robert (a brown mustard sauce derived from espagnole), and demi-glace, plated with asparagus and Gouda mashed potatoes. Smoked salmon, mozzarella, ricotta, fresh dill and lemon top the Zagreb pizza. John's knife skills are revealed in his carpaccio and his white tuna sashimi. His calamari comes with ponzu sauce and onion slaw.
During a recent visit, ravioli artesa were stuffed with buffalo mozzarella and served in sauvignon blanc cream with Roma tomatoes and shrimp. Maitakes and trumpets were paired with pasta. Plank-fired salmon, a
specialty, was served with tomato basil sauce and three kinds of grilled squash. John's piece de resistance was a two-bone lamb chop, perfectly cooked in the wood oven and served with mint chimichurri. Fennel sausage came late, like a cheese course.
"Most places around here, you can't get thin sliced sausage other than for breakfast," John said.
---
Popoli Ristorante and Sullivan's Bar
101 3rd Ave. SW, Cedar Rapids
319.363.1248
popolicr.com
Popoli is named after a town in Abruzzi, Italy, that straddles the Pescara River, like Cedar Rapids does the Cedar River. The restaurant has museum qualities, occupying a revered building created by Louis Sullivan, the "father of the skyscraper" and a mentor to Frank Lloyd Wright. Stained-glass windows were made by Louis Millet. Murals titled "Banking, Commerce and Industry" were painted by Allen E. Philbrick, who inspired Grant Wood. The building was closed due to the 2008 flood until Fred Timko and Gary Rozek led a movement to buy and restore this important part of Cedar Rapids' history.
Popoli opened in 2014 with tablecloth dining and seating for 165, including an eight-seat dining room in the former bank vault behind its 25-ton door. The ornate chandeliers and terra-cotta lions guarding the exterior are original to the 1911 building.
The restaurant's mission is to serve homemade modern Italian food with locally sourced ingredients. On my first visit, I enjoyed squid ink pasta that was described as a house specialty. On a return visit, that dish was no longer on the menu. That worked out well, pushing me to try other delights.
Sausages, pasta, flatbreads and sauces are all made from scratch. Steaks are prime. My pan-roasted grouper, with spinach, tomatoes and Parmesan cream sauce, was superb, as was a pappardelle Bolognese. Signature cocktails include the Louis Sullivan, made with Woodford Reserve, benedictine and Peychaud's bitters. Prices on the wine list ranged from $28 to $305 a bottle.
---
Affäre
1911 Main St., Kansas City, Mo.
816.298.6182
affarekc.com
The Crossroads district in Kansas City included 43 art galleries and 43 restaurants the last time I counted. Lidia's, Michael Smith and The Reiger Hotel Grill & Exchange are well-known superstars in this downtown district, but Affäre is also a local favorite.
Like at The Normandy in Lincoln, there is a love story at the center of Affäre. Martin Heuser grew up in his family's restaurant, in a 400-year-old building in Bonn, Germany, and he worked at two Michelin-starred restaurants in Europe. Katrin Heuser was born in southern Germany's "Romantic Road" region and grew up in Hong Kong. The two met after she moved back to Germany. They married and moved to Canada.
"I learned to love traditional German cooking in Bonn, seafood in Vancouver and wild game in Calgary," Martin says. "Now I incorporate them all."
Sommelier Katrin learned to pair wines with unconventional cuisines everywhere she lived, beginning in Hong Kong. Her wine list at Affäre emphasizes rosés.
Martin employs bison, buying them whole or halved and using the entire animal for sausage, roasts, braises and burgers. Expect to find line-caught seasonal fish on the menu. Last summer, I enjoyed a halibut on lobster risotto with pickled ramps and morels. Freshwater trout from Iowa is usually on the menu. Classic German dishes include white asparagus soup and schnitzels.
Martin's whimsy comes out with his deconstructed German chocolate cake. "After all, it was invented in America," he says.