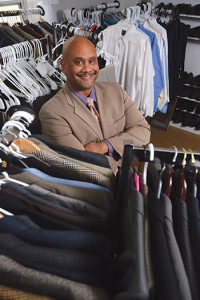 Writer: Larry Erickson
Photographer: Duane Tinkey
Marvin DeJear was a true man on the move when he realized he was moving in the wrong direction.
DeJear, 40, is the enthusiastic director of the Evelyn K. Davis Center for Working Families, an agency providing education and financial counseling on Des Moines' near north side. It was created in 2012 through an alliance of United Way of Central Iowa and Des Moines Area Community College, which delivers the educational component.
The man is a tireless cheerleader for his staff and their clients and a visionary for the agency's potential to serve the community.
But in 2012, he was running his own construction company by day and teaching business courses by night. With a fresh MBA from Iowa State and a youthful zeal to succeed, he was unstoppable—until he stopped.
"I've always liked to teach," he says, "and I've always liked helping people." He had tutored friends in college and volunteered at the Boys & Girls Club in Ames.
Sure, he enjoyed construction and the independence of his own business, but something wasn't quite right with the course he was on; something inside was calling for change.
This was no mere "recalculating" message from Siri. It was much more: "God started tapping me on the shoulder," he recalls. And the message was clear: 'I've got something I want you to do.' "
And that's when a friend told DeJear about the Davis Center's opening for an operations manager.
"I really didn't know what I was getting into," he says, "with no staff, no budget. I took a gamble and said, 'Here we go…' "
The new course led to the director's position, seats on nonprofit boards, a new direction in life—a new direction, but with the same determination, the same focus on goals and results.
Days are still long, but never long enough for DeJear. His wife, Deidre, and his assistant, Lisa Soffel, conspire to make sure he takes time for lunch. "They have to hold me back," he chuckles. Vacations? Deidre had to surprise him with a trip to Bermuda for his birthday.
"I feel like I was called to help minority kids, to help them see what's possible," he says. That includes education, which DeJear still pursues as a doctoral candidate in higher education with a focus in community college leadership. He feels a duty to provide a role model for adult clients as well as the kids he worked with in Ames.
A student of history, DeJear sees cultural waves over time and consequences of social programs spanning generations. "We see the results today of policies enacted in the 1970s and '80s," he says. Good or bad, social policies create a climate in which youths mature and shape their outlook on family and community when they're grown. That's why he sees such urgency in making things happen now. It's why he sees a ripple effect from each client helped, as they become better influences and examples for their families and friends.
Whether he's looking at his agency's policies or government programs, he says, "It's all about, how can we find ways to help more people?" Since the center opened, it has tracked more than 11,000 individual services to clients. That's a significant number, but not enough for DeJear.
He'd like to expand the facilities at 801 University Ave., adjacent to the C Fresh Market grocery store. The one-time building contractor envisions a three-story addition, more than doubling the current 12,000 square feet. He talks rapidly about the center's programs:
• Teaching classes that range from English as a second language to personal finance;
• Helping jobseekers with resumes, interview skills, even dressing for success;
• Providing computer training and other employment skills.
"We try to meet clients 'where they are,' " he says, meaning the agency works with clients to determine individual needs and priorities, then sets up a strategy to address them. "We want our clients to leave here with more hope than when they arrived."
His motivation? "Knowing there's a lot more to do," he says.
"What gives me hope is the fact that people are starting to realize we've got a problem in our society. People are starving. There's the crisis of the working poor. And society is beginning to recognize that it isn't just someone else's problem, it's their problem."
DeJear is eager to shoulder his share of the load—the same shoulder that was tapped to go in a different direction.
"I don't look at it as work," he says. "Every day I get up, I have the opportunity to make a difference."