Through much of the 1900s, the homes of successful families that once sprouted on the slopes of Sherman Hill descended into an abyss of cobbled apartments and sinister streets. The neighborhood's celebrated revival is noted in the book "Des Moines Architecture & Design" by Jay Pridmore ($24.99. The History Press; ©Jay Pridmore, 2015). In his descriptive analysis, Pridmore covers the range of local architecture, from cottages to commercial towers. Excerpted text from his chapter on Sherman Hill is presented here with permission from the publisher.
---
In the 1880s, the neighborhood that would be called Sherman Hill was desirable for its position high above downtown Des Moines and upwind of the factories that produced prodigious quantities of smoke. Its prestige was spurred by the first stately building in the neighborhood, Hoyt Sherman's house, which was built in 1877 on what is now Woodland Avenue. But like any neighborhood of its age, it has had its ups and downs.
At the turn of the last century, Sherman Hill remained an enclave for the early business elite, Des Moines' bankers and industrialists. By the Depression, the neighborhood was in decline, and after World War II, it was downright dangerous. Fortuitously, urban renewal left Sherman Hill untouched while leveling so many other historic areas. That enabled the neighborhood to be rediscovered by rehabbers in the 1970s and later made a landmark district. Young professionals found its Victorian architecture an antidote to suburban tract houses. Families moved in and restored unique homes with broad front porches. Those porches, among other elements, engendered a community that made Sherman Hill a model of historic preservation.
"Sherman Hill" is a latter-day name borrowed from Hoyt Sherman, a leading early banker in Iowa and brother of Civil War general William Tecumseh Sherman. Sherman's architect is unknown, though architects with an eye for history have speculated that the place might have been the work of William Foster, Des Moines' leading architect at the time and one of its only trained ones. The style was a mix, including a tall central tower with a French Second Empire profile, not unlike the tower over the front door of B.F. Allen's house, Terrace Hill. …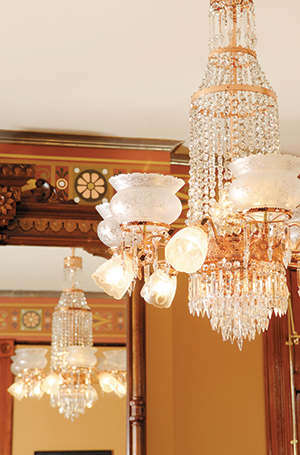 The Maish House on Center Street
Among the finer houses on Sherman Hill is one of the earlier ones, built by George Maish on Center Street in 1881. Maish may have been more typical of Des Moines entrepreneurs at the time than Sherman and Allen. His idea of a home, hardly modest, was less conspicuous, with a hipped roof, carved brackets under eaves and columns holding up a wraparound porch. Each feature seems uncrowded and with classical touches. It is a house that seems even today to weather the storms of fashion as easily as the owner weathered ups and downs in business. …
His house was designed toward the beginning of the Gilded Age when the Italianate style represented a conservative approach to the architecture of prosperity. Maish was wealthy but not so much that he would flaunt his success. The most expensive element of the exterior was the fine porch. Then, as now, porches pointed to the importance of neighbors, a quality reflected in another remarkable characteristic of this neighborhood. The Maish House is one of five on Center Street each set progressively deeper on its lot to afford its next-door neighbor to the west a clear view of the distant State Capitol.
More lavish than the exterior, perhaps, was the Maish interior, which still contains fine woodwork: carved balusters and newel posts, doors and door frames and built-in cabinetry, intricately profiled in what is now called the Eastlake style. Eastlake describes an American design movement inspired by English writers like John Ruskin and William Morris, who praised medieval handcrafts for their beauty and moral uplift as an antidote to industry. Eastlake could be so intricately wrought that it was easily impressive and, ironically, turned out in factories by mass production.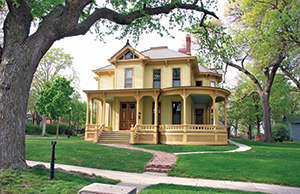 Reign of the Queen Anne
As the neighborhood filled up with houses, large Italianates were overtaken by the Queen Anne style, a general term that points to a more complex overall design. Window treatments, porches, rooflines and other exterior features became increasingly elaborate as the 1880s progressed. As for the name, "Queen Anne" is something of a misnomer. In England it describes a period when the Stuart queen reigned in the 1700s and when Neoclassical architecture became increasingly ornamented, also called "English baroque." In America, later architecture influenced by the Gothic Revival and decorated with ornate flourishes also, somewhat mistakenly, took the name of Queen Anne.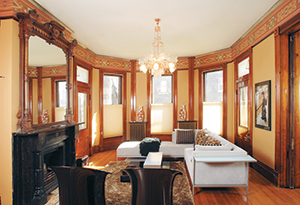 As a practical matter, the dozens of Queen Anne-influenced houses on Sherman Hill have a vertical profile that suited a neighborhood subdivided into small lots. An example would be the Sheuerman House at 16th and Woodland on a raised site and with a tower dominating the facade. Built in 1884 for the family of Leopold Sheuerman, an owner of Capital City Woolen Mills, it was a house suitable for a family of high rank. Its roofline includes intersecting gables and an elaborate dormer, definite Queen Anne traits.
More specifically, the Sheuerman House represents early Queen Anne, also called the "Stick style." The moniker indicates that the designer, who was perhaps a carpenter, amplified the intricacy of his work by highlighting its complex framework with elaborate carpentry and paint. "Carpenter's Gothic" also describes this house and the idea of design that valued originality and not convention.
A cheerful, if not typical, example of Queen Anne on Sherman Hill is found in the four houses on a short lane called Bridal Row on the eastern edge of the neighborhood. In 1885, Hoyt Sherman and his family subdivided this portion of the family's property on 15th Street. The Shermans built these smallish houses, initially rented to newlyweds, stylishly despite their small scale. "Jerkin head" (or clipped front) gables were a new touch for Des Moines Queen Annes at the time, likely drawn from English cottages. "Eyebrow" windows, another subtle touch, are low elliptical dormers that were familiar from thatched roof cottages, also from England.
As with most houses on Sherman Hill, the architect or designer of the Bridal Row cottages is uncertain, but architect-historian Jack Porter, who lives on Sherman Hill, suggests that they may be the work of Benjamin J. Bartlett, who has at least one very similar house in the neighborhood. Bartlett was an ambitious and skilled designer of Gothic churches and public buildings, as well as homes with Queen Anne-style flourishes.
Like many architects, he traveled to where he found larger and more desirable work. From Des Moines he moved to Little Rock, primarily because he won a commission for the Arkansas School for the Blind. If Bartlett's Queen Anne architecture had a complexity to it, so did his life, which included a jail term for forgery of a signature on a bond.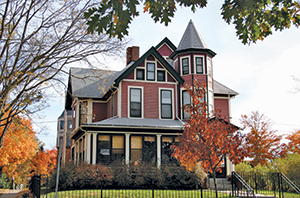 Return of Simplicity
Like other human endeavors, architecture changes with time, and the freestyle flourishes of Victorian homes reached their limit around 1893. That was when a national economic depression hit and put the brakes on building of all kinds.
When hard times lifted four years later, it was natural that simpler designs should prevail. In some places they were influenced by the Prairie School, though the approach made famous by Frank Lloyd Wright usually required larger lots than are common on Sherman Hill. The neighborhood has a Prairie variant called "Craftsman style," cottages variously marked by straight-sawn woodwork, exposed rafter tails and shingle cladding on walls.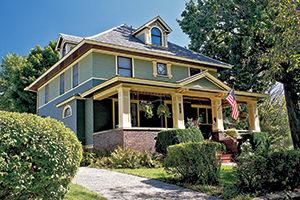 Related and more basic still was the so-called American Foursquare. It sounds simple, and it was: a square footprint, two full stories, with a hipped roof and central dormer facing front. It was so unembellished that the standard plan could be copied from magazines and then easily altered without changing the layout. The American Foursquare was simple but not poor.
An excellent example on Sherman Hill is the house built by downtown merchant Benjamin Strauss on 18th Street. It is tidy and unprepossessing outside, but inside it has marks of true Prairie School houses: fine leaded-glass windows and quarter-sawn cabinetry, mantelpieces and plate rails. A taste for handcrafts is obvious in the Strauss house, built in 1905. But Victorian frippery is over.
Now owned by Jack Porter, the house has an open interior and horizontal decor, not too different from what we associate with Frank Lloyd Wright but here designed, probably without architect supervision, by fashion-conscious carpenters, builders and clients.
Model of Preservation
The diversity of styles on Sherman Hill is not particularly evident today. In its preserved state, it looks like it reaches back to a stable time of tree-lined streets little touched by change. A closer look at the architecture belies this, of course. Also mostly forgotten are the political battles that accompanied Sherman Hill's development. As early as 1878, opposition rose when an investor from Upstate New York, Tallmadge E. Brown, purchased a portion of the area and platted it with small 8,000-square-foot lots. Also unremembered is the anger caused when developers induced the city to close the part of Cottage Grove Avenue that once went through.
Sherman Hill seemed to reflect the laissez faire business climate at the time. In 1912, the city engineer was referring in part to Sherman Hill when he lamented, "The city of Des Moines grew so fast that the various tracts of land were laid out and accepted by the city without much regard to uniformity and as the result the map of Des Moines looks like a crazy quilt patchwork." But what seemed undemocratic then became an asset later. Sherman Hill became a cohesive community because it was tightly woven on smaller lots and also because Cottage Grove did not divide it in half.
Much later, Sherman Hill became a model of historic preservation, less as a social movement in its early stages and more through examples of pioneering individualism. In fact, both impulses would describe Ralph and Marty Gross, who first moved here in 1971 when they rented an apartment from an elderly spinster who owned several houses in the area. The landlady was no rehabber, but she was fussy about who she rented to, even though the streets were rough and even dangerous. The Grosses qualified.
"At the time, I did not know that prostitutes walked the streets," Marty said. But she learned about the rougher sides of life as a resident of Sherman Hill. She witnessed drug use and random crime, which she never saw growing up in West Des Moines. But the newlywed Grosses had been dispirited by suburban life and began to feel at home especially as they found other pioneers who had moved in too. A couple of years later they bought the Maish House, which was a wreck, but Ralph harbored the dream of occupying the place with an experimental school.
More or less to survive, the Grosses became expert at various aspects of preservation, such as repairing concrete footings beneath the once-fine wraparound porch. They began to learn the niceties of fancy carpentry, such as kerfing, which is the process of bending wood, in this case for fascia that curved around the perimeter of the house. They scraped decades of paint to find original colors and then found two shades of yellow for clapboards and trim after the chips were sent away for analysis. The school they imagined did not come true, but their house became a showplace.
The other part of historic preservation, the Grosses learned, was less architectural and more social. Later in the 1970s, Mayor Richard Olson had noticed the Grosses and other families staking their claim in Sherman Hill and asked Ralph to attend an urban preservation conference in Minneapolis. Gross came back with the message that critical mass in preservation required political will.
That induced neighbors to form what they called the Sherman Hill Association in 1976. City hall, the police and the press took notice. Residents next got recognition by the National Register of Historic Places, and the practical consequence of that was federal tax credits for multiunit restorations. More generally, the neighbors faced the opponents of preservation together.
---
Reprinted with permission from "Des Moines Architecture & Design" by Jay Pridmore. Available from the publisher online at arcadiapublishing.com or by calling 888.313.2665.