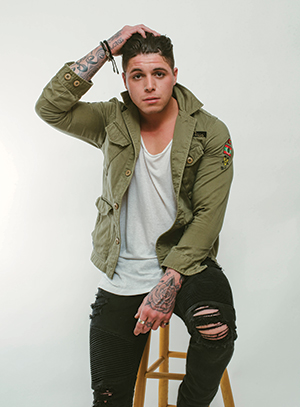 Photographer: Joelle Blanchard
How would you describe your personal style? Layers, ripped jeans, maybe a statement hat; #menwithstreetstyle.
What's an essential aspect of your look? My tattoos. Yeah, everyone has tattoos these days, but I feel mine set me apart.
What part of your style are you known for? Flowing garments, layering like rags even if they're high fashion.
Who's your style role model? Without a doubt, Jimi Hendrix is still influential to fashion—his music isn't the only thing that's electrifying. Also fashion designer Rick Owens.
Where do you shop in Des Moines? Fugitive Apparel Co. in the East Village.
Your hobbies? Fitness. I focus on making my workouts like a boot camp. I also focus on my diet.
A favorite Des Moines spot? I love new entertainment. I make my way to the Gas Lamp once a month.