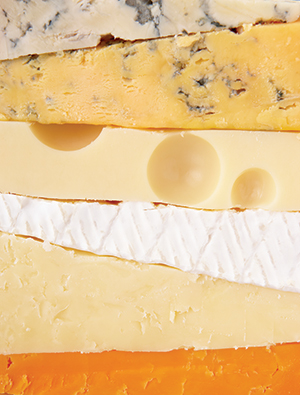 Writer: Wini Moranville
At its heart, cheese is an incredibly straightforward food. It's made from just four ingredients: milk (usually from cows, goats or sheep), plus salt, culture and enzyme.
Yet anyone who's ever beheld a great artisanal cheese counter will be struck by how these four ingredients yield fascinatingly diverse results. You'll spot hard rinds, bendy rinds, soft rinds and no rinds; colors ranging from stark white to creamy white to deep gold, orange and blue; mild cheeses, buttery cheeses, sharp cheeses, stinky cheeses; runny cheeses, sliceable cheeses, crumbly cheeses, granular cheeses—and we're just getting started.
With so much to choose from, how do you bring home a cheese you love? Start by getting to know cheeses by category. If, for example, you love brie and Camembert, knowing that these two are bloomy-rind cheeses will lead you to others of that type you might like to try.
For help, I turned to cheese guru C.J. Bienert, owner of The Cheese Shop of Des Moines. While he stressed that there are other ways to go about categorizing cheeses (by origin, texture, rind or milk type, for examples), he finds sorting them into these seven specific styles is the most straightforward. Consider them C.J.'s Seven Successful Ways to Classify Cheese.
Fresh Cheeses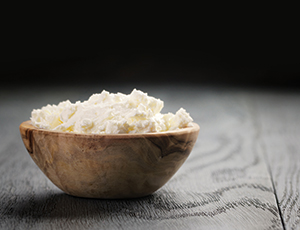 Crafted in just 24 hours or less, these soft, rindless cheeses are designed to be enjoyed in their youth. While some (e.g., cottage cheese, quark, cream cheese, ricotta, burrata and fresh mozzarella) offer lightly sweet, creamy and mild flavor, others (notably feta and fresh goat and sheep cheeses) pack some tang. None, however, are complex.
Because of their straightforward flavors, Bienert considers these the perfect breakfast cheese. Indeed, whether you slather them on a bagel, serve them with fresh fruit or side them with toast, their mildness makes them a gentle way to ease your taste buds into the day. They're also versatile in cooking. "These cheeses are blank canvasses," Bienert says. "Whether sweet or acidic, they won't overpower other ingredients."
C.J.'s picks: Milton Creamery quark (Milton, Iowa); Landmark "Petit Nuage" (Wisconsin); and Di Steffano burrata (California).
Bloomy-Rind Cheeses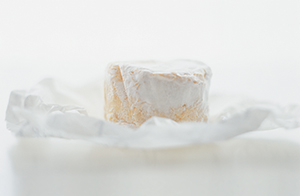 Known as "bloomies" among the cheese cognoscenti, these light, fresh and creamy cheeses have soft, sometimes fuzzy or wrinkly rinds, a result of a natural mold that has been added to the milk during the cheese-making process. France's brie and Camembert may immediately come to mind, but Bienert suggests choosing an American version. "These delicate cheeses don't travel well," he explains. Plus, he adds, they usually achieve perfection after 14 to 26 days of affinage (aging). By the time they get here, they may be past their prime.
As they age, bloomies can become pudgy and liquidy, with more pronounced flavor. Bienert suggests enjoying milder bloomies either at breakfast with fruit or before meals. "Save the more ripe and complex bloomies for after dinner, or serve them on their own with a little salad and wine as a meal," he says.
C.J.'s picks: Capriole Goat Cheese's "Wabash Cannonball" (Indiana); ShadowBrook Farm/Dutch Girl Creamery's "Crottin Belle Sabine" (Nebraska); Zingerman Creamery's "The Manchester" (Michigan); and Reichert Dairy Air's "Robiola di Mia Nonna" (Knoxville, Iowa).
Semisoft Cheeses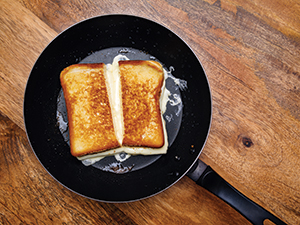 When it comes to the texture of semisoft cheese, think Play-Doh. According to Bienert, expert cheese judges will roll these malleable cheeses in their fingers to see and feel their distinct fat content, which makes their texture akin to the soft kids' stuff. Younger cheeses, such as Port-Salut, Raclette and fontina, fall into this category.
Bienert admits that, because of their youth, their flavor can be a bit bland. However, what they lack in character they make up for in moisture, making them terrific melting cheeses. "These are great for pizza toppings, cheeseburgers, grilled cheese—anything you want the 'goo factor' with," he says.
C.J.'s picks: Avalanche Cheese Co.'s "Cabra-Blanca" (Colorado); Sweet Grass Dairy's "Thomasville Tomme" (Georgia); and Spring Brook Farm's "Reading" (Vermont).
Semihard Cheeses
While semisoft cheeses are flexible enough to bend, semihard cheeses, with their lower moisture content, will snap. They're generally aged from 10 to 24 months, bringing out complex and intense flavors. Cheddar, Comté, Gruyère and aged Gouda are classic examples.
Bienert considers these the perfect "pocket cheeses"—choices to take with you on the go. "They're great snacking cheeses, because they're so satisfying," he says, adding that you can also enjoy them before and after dinner. And when it comes to cooking, he deems these terrific choices when you want intense cheese flavor. Fondue, anyone?
C.J.'s picks: Uplands Cheese Company's "Pleasant Ridge" (Wisconsin); Fort St. Antoine Comté (France); and Bleu Mont Dairy's "Bleu Mont Cheddar" (Wisconsin).
Blue Cheese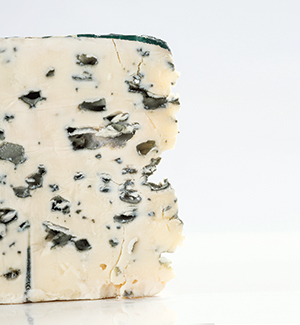 Here again, mold works its magic. For these beauties, cheese-makers introduce a helpful mold (usually penicillium roqueforti) into the cheeses; later, they needle the wheels to form holes that bring in oxygen. This allows the mold to grow in those hallmark caverns and veins.
Not a fan of the blues? Try, try again. "There's a great range of blue cheeses out there," Bienert says. Finding a mild one is as easy as taking a look: "The more blue the cheese, the more intense," he says. For example, a Dolce Gorgonzola will be creamy and barely blue; hence, it's a more mild cheese than a Roquefort, which is more blue than ivory.
Characteristically salty, with a little sweetness, blue cheeses are great for dessert, says Bienert; he suggests pairing them with honey, sweet condiments and dessert wines. He also enjoys them in salads.
C.J.'s picks: Maytag blue cheese (Newton, Iowa); Jasper Hill Farm's "Bailey Hazen Blue" (Vermont); Shepherd's Way Farm's "Big Woods Blue" (Minnesota); as well as Roquefort (France); and Gorgonzola (Italy).
Hard Cheeses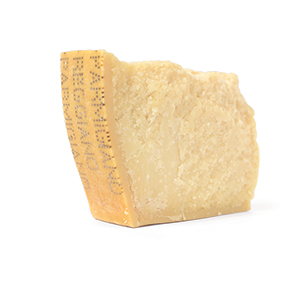 Ever hear of the slogan "a cheese that goes crunch"? Well, this is the real thing. These dry, granular cheeses are speckled throughout with little crystals that can have a slight crunch to them. Anything but pushovers, these strongmen won't bend or slice; usually, you have to break them into brittle shards. Aging (24 months or longer) gives force to their flavor; a slight oiliness can make them irresistibly rich.
Bienert hails hard cheeses, too, as great "pocket cheeses" for snacking. Also, use them sparingly in cooking. And of course, they're great graters. "They add that savory 'umami' character to dishes," he says.
C.J.'s picks: A Parmigiano-Reggiano from the Sola Bruna Consortium (Italy); Vella Cheese Co.'s "Vella Dry Jack" (California); and Frisian Farms 5-year-aged Gouda (Leighton, Iowa).
Washed-Rind Cheeses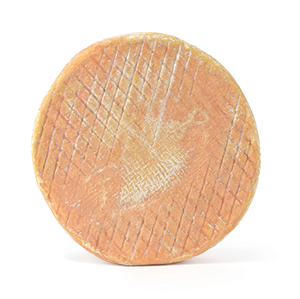 You know how some people like to boast about how hot they like their ethnic food? Well, if you want bragging rights in the cheese world, it's about how stinky you like your cheese. And washed-rind cheeses are the smelliest of them all.
According to Bienert, these cheeses get their funk from the rind, which, during the cheese-making process, is periodically washed with a solution of salt and water. This process creates humidity that allows beneficial bacteria to grow. Sometimes, the cheese-maker finishes the process with other liquids and flavorings—such as wine, brandy, beer or herbs—to create a signature cheese. Their textures range from semisoft to downright runny; their rinds appear pinkish to vibrant orange.
Bienert suggests serving these savory and intense cheeses after a meal. Or try them melted, with potatoes, as a satisfyingly meaty vegetarian meal.
C.J.'s picks: Alemar Cheese Co.'s "Good Thunder" (Minnesota); Jasper Hill Farm's "Winnimere" (Vermont); and Cowgirl Creamery's "Red Hawk" (California).
---
Wini Moranville, author of "The Bonne Femme Cookbook," covers food, wine and dining for dsm. Follow her on Facebook at All Things Food DSM-Wini Moranville.
Cheese Conference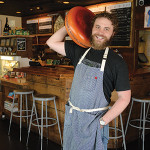 The American Cheese Society's Annual Conference and Competition will be held in Des Moines starting on July 27. The society expects more than 1,200 cheese and specialty food professionals at the event for educational seminars, competitions and all-out revelry.
Most of the sessions are geared toward industry professionals; however, casual cheese enthusiasts will find ways to partake, including:
A Block Party
Hosted by The Cheese Shop of Des Moines, this cheese fest begins at noon on July 27. "We plan to close the street, have a beer garden and invite all of Des Moines to come and meet our favorite national cheese-makers, who will be offering samples," says owner C.J. Bienert.
Grand Cheese Tasting and Sale
On July 30, from 7 to 9:30 p.m., the Iowa Events Center's doors swing open for the Festival of Cheese, when the public can sample among more than 1,800 American artisanal and specialty cheeses alongside preserves, chocolate, wine, cider and craft beer. Cheeses will also be available for purchase at cut-rate prices. Tickets are on sale at brownpapertickets.com/event/2517474.
A 5K "Cheese Run"
The race is scheduled for 8 a.m. on July 31; proceeds will help support the nonprofit American Cheese Education Foundation.
Find out more from the American Cheese Society's website at cheesesociety.org.