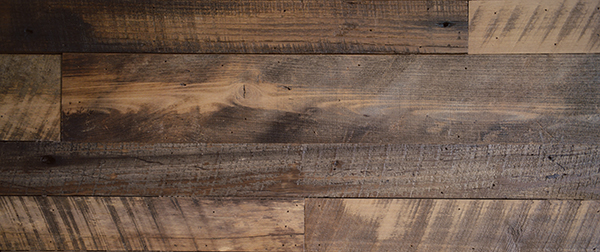 Writer: Larry Erickson
Photographer: Duane Tinkey
Leslie Lucente was clicking through Pinterest, looking for nursery ideas for the baby that she and husband Mike were expecting.
Click, no. Click, no. Click … Whoa! This is it, she announced.
"Whatever she wants," Mike recalls thinking as he looked at the Pinterest photo of recycled boards on a wall.
Working at a computer in their Clive home, the Lucentes found installation ideas and tips from do-it-yourselfers online. And they found a source of materials at Iowa Reclaimed Floors, Beams & Boards, south of downtown Des Moines on Thomas Beck Road.
There, batches of boards with various finishes hang on the walls behind Juli Middleton, the lumber broker who coached the Lucentes through their selection.
Recycled wood has been a growing trend for good reason, Middleton says. Each piece has a distinctive character and history, she observes, and it's environmentally smart. After all, recycling certainly beats dumping old lumber in the landfill, and it doesn't require cutting any trees.
"Plus, it gives your home a little extra texture, warmth and an interesting story," Middleton says. "Really, nothing changes a project like the floor, and this is a forever floor, not a laminated surface that wears out."
Such qualities are important to Middleton, who was an interior designer in Des Moines until 2009, when she moved to Austin, Texas. There she learned about sources and opportunities for recycled lumber. Middleton brought that knowledge with her when she returned to Des Moines last year to open her business.
"The best sources are in the South and East," she says, explaining that those regions have older factories and warehouses, great sources for lumber. "Everything we sell is from 1930 or earlier," she says.
That appeals to homeowners who are looking for something different, Middleton says. They see the options in her showroom, but more deals are made when shoppers visit one of her clients' homes, looking at old floors and beams in new-home settings. "That's what really sells it," she says. "They're like, 'Wow!' "
---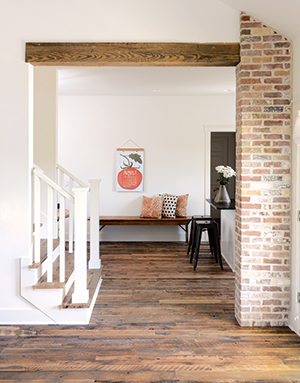 Reclaimed wood is a perfect complement to the exposed masonry and overall style of this modern farmhouse near Norwalk, left. Homeowners Jay and Mary Beth Goeser chose oak boards that once lined a barn. The wood is cleaned and processed for residential use without harming the patina of time. Supplier Juli Middleton provides lumber like this with three finishes: original, lightly planed and milled smooth.
Like the flooring and stair treads, the rough-sawn pine beam overhead also came from a barn. Middleton can furnish pine or hand-hewn oak beams in lengths up to 40 feet, she says. Barn beams differ from those used in factories and warehouses, she says, because those commercial applications usually had painted surfaces, iron hardware and chamfered corners, reflecting early efforts at industrial job site safety.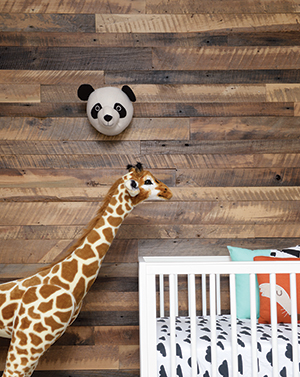 When dsm visited, Michael and Leslie Lucente were still expecting the newcomer who would occupy this nursery, right. But they were ready! It was Leslie who was first captivated by the appeal of reclaimed lumber, and do-it-yourselfer Michael made it happen. They selected random-width oak lumber, with its rich tan and gray tones, and added a water-base finish to give the rough surface a softer "touch," without affecting its color.
After painting the underlying wall a dark color so it wouldn't be visible through uneven joints and knotholes, Michael used a power-nailer armed with brads to install the wood. "It wasn't difficult at all," he says, and the Lucentes are already pondering where to install the remaining lumber from their shipment.

Weathered boards reclaimed from the exterior of an old barn make a bold counterpoint to a modern white kitchen in the Ankeny home of Jackie and John Marino. Deep umber tones make this surface particularly distinctive. Lumber supplier Juli Middleton sees the result as "a modern rustic motif."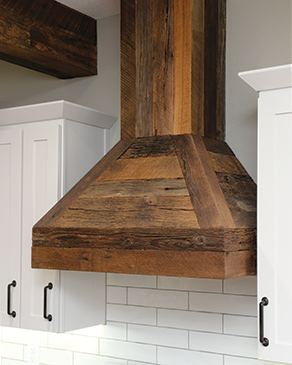 She recommends trim carpenters for installing the reclaimed wood on walls, ceilings and other surfaces. In most markets, recycled lumber tends to be slightly more expensive than new boards, but advocates like Middleton and her clients contend the results are more interesting and more durable, as well as a better choice environmentally.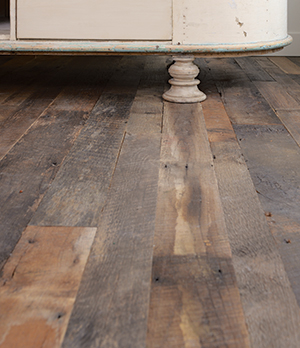 Interior designer Rebecca Cartwright is such a fan of reclaimed lumber, she chose it for the flooring of her home-like studio in Clive. It rarely goes without comment when clients visit, she says. "They notice it right away, and it really seems to resonate with people. It's a unique look, and they ask, 'What's the story on this floor?' "
Her flooring consists of wide oak planks that retain their original face. Durable and easy to maintain, it has been treated with a sealer. One of the great qualities of this wood is that it's environmentally "green." No trees had to be cut down, and the heavy old-growth lumber wears like iron, so it will last many lifetimes.
"People are attracted to something that is obviously not mass-produced and is customized to them," Cartwright says.
"The flooring really responds to the swing toward craftsmanship, quality and a respect for the soulfulness of age."