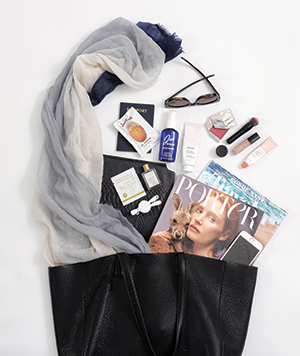 Solarz, co-owner of Now Now, a web development and digital content firm, lets us in on what she takes along with her when she travels.
Travel Tote: This is my go-to bag for the plane, my anywhere-you-want-to-go bag. I'm all about travel these days.
Periodical Pleasures: I always stuff my bag with magazines; I'm a magazine junkie. They make the bag super heavy, but I can't get into reading them on my iPad. At home, I have a shelf full of magazines. I never throw them away. My husband (John Solarz) has his records; I have my magazines.
Solid Foundation: I threw this Ilia foundation in a little travel pot. I try to put as many of my products as possible in little jars to lighten the load.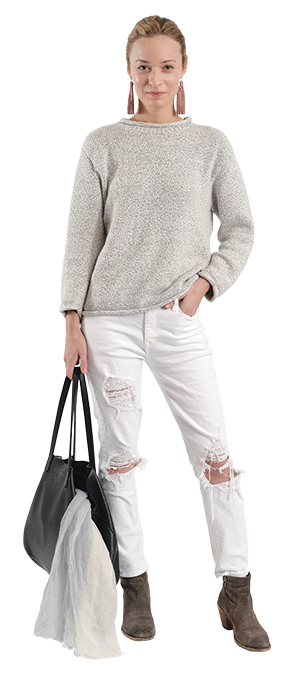 At First Blush: This Kjaer Weis blush is from Germany. I don't know why I travel with it—the TSA always stops me because of the metal! But I'm obsessed with all-natural makeup.
Lip Lock: Glossier lip balm smells like a salty day at the beach. The founder was a writer for Vogue who now makes her own beauty line.
Cleanliness Counts: I can't get on the plane without hand sanitizer. It's not glamorous, but it's necessary. My favorite is Jao from Eden.
Hunger Fix: I take Justin's almond butter, which I get at Whole Foods, with me on the plane for a snack. It's super easy to eat, plus it gets me past all the tempting airport food.
Bon Voyage: My last trip on my passport was to Mexico. We went to Tulum; the place is magic. I like to go anywhere that's laid back and has a beach.
Nice For the Nose: We stayed at Coqui Coqui hotel in Tulum, which also makes this amazing perfume. I have a huge bottle at home, but I take this small one when I travel.
Wrap It Up: I've had this scarf for a long time; I found it at some random store. It's become a staple of my travels. I can use it to keep warm on the plane, or as a head wrap, shawl, scarf or beach cover-up. It goes with everything.