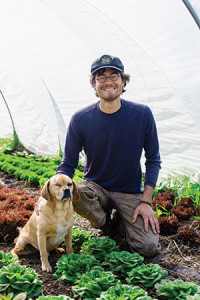 Writer: Laura Kristine Johnson
Photographer: Karla Conrad
There's a Chinese proverb that says, 'The best time to plant a tree was 20 years ago. The second-best time is now,' " says Jordan Clasen as he plucks one of his 250 apple tree scions out of a mixture of mulch and water. "Growing up in Iowa, you see acres and acres of cornfields. I'm trying to do something different than that."
Apples from the grafted trees will dress up the already impressive spread of organic produce that Clasen grows and sells each year through his involvement in Community Supported Agriculture and the Downtown Farmers' Market. He operates the successful vegetable venture, dubbed Grade A Gardens, on six acres of land behind his ranch home in Johnston, which just happens to nestle up against agricultural giant DuPont Pioneer. But the location, Clasen says, is just happenstance.
"It is a unique spot, but fate more than anything else is how I ended up here," he says with a laugh.
Gateway to Vegetables
With a degree in business management from Des Moines Area Community College, the wiry 28-year-old has no formal training in agriculture, relying instead on trial and error, gut instinct and a hand-me-down library of gardening books he inherited from a friend.
A stint as the produce manager at Gateway Market from 2007 to 2012 and a plot in a community garden near Drake University served as his first foray into vegetables.
"I worked with a lot of local farmers at Gateway Market," Clasen says. "But I was always looking for more produce. The market for local foods keeps going up and up."
In 2010, Clasen launched his first earthy endeavor—a crop of wheatgrass—at Gateway under the name Grade A Grass. He expanded to Grade A Garlic and finally settled on the name Grade A Gardens as he added more and more produce to his repertoire.
Finding a Farm
In need of more gardening space in 2009, Clasen approached Paul and Lori Rottenberg, parents of his best friend, Daniel, about taking over a half-acre of their backyard to grow garlic. That half-acre turned into six acres, which Clasen painstakingly transitioned from rows of corn and soybeans into an organic space that churns out several tons of vegetables each year.
Clasen began pursuing gardening full time in 2012 and took up residence on the acreage two years ago after the Rottenbergs moved to another home.
"I like being outside and being my own boss," Clasen says. "I could never be stuck in a cubicle. Iowa has the best soil in the world, and it's nice to put it to good use."
Growing and Refining
Along with a one-eyed dog, Rupert, and cats Sunny and Sole, Clasen's companions include 200 chickens and 150,000 honeybees on the acreage where he raises 60-plus varieties of vegetables. His buddy Thomas Burkhead works full time at the farm from May through November, and Clasen hired two part-time workers this year to help out during the busy season.
Winter months find Clasen washing dishes at The Cheese Shop of Des Moines, which also serves as the drop-off location for his 75 CSA customers; tuning in to his favorite listening material, the "Farmer-to-Farmer" podcast; and fashioning wooden spoons next to his wood-burning stove.
As for what's next for Grade A Gardens, Clasen is intent on refining his skills.
"Right now I'm focusing on efficiency," he says. "I bought a new tractor. I'm doing more research. I don't think I'm going to get huge—yet. I'm still young."