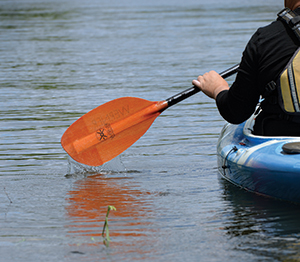 Writer: Gunnar Olson
Greater Des Moines rivers and creeks seem to saturate the news these days—as the villain in accounts of flooding and the victim in opinion pieces decrying water quality. But in another storyline, these waterways play the part of hero, rescuing weary city dwellers who seek both solitude and adventure.
An image is etched in the mind of John Wenck from his first time kayaking on the Des Moines River: Over one shoulder, a bridge spanning the river with cars buzzing overhead. Over the other, a bald eagle perched in a dead cottonwood tree.
"I was on the edge of two worlds," says Wenck of Des Moines. "There's this world of nature right in the heart of the city. Then there's the stuff we're all familiar with—the hurry up and speed of our society. 'Gotta get here, gotta get there.' "
A daily walker, Melanie Sadeghpour says water "allows me to forget, for just a bit, that I live in the middle of a city and to immerse myself in a more nature-based experience. When you visit the parks here in Des Moines, you almost always encounter water. It ties you to the landscape, to the seasons and to a greater sense of being."
While important work is being done to improve water quality and lessen the impact of flooding, a separate effort is underway to expand the recreational opportunities along the rivers and creeks of Central Iowa. Under contract with the Iowa Department of Natural Resources (DNR), the Des Moines Area Metropolitan Planning Organization (MPO) is developing the state's first regionwide plan for developing water trails. "Water trails," as designated by the Iowa DNR, are recreational corridors on rivers and lakes. (Editor's note: dsm contributor Gunnar Olson is the communications manager for the MPO.)
When complete later this year, the Greater Des Moines Water Trails and Greenways Master Plan will serve as a road map for developing a network of these recreational corridors along 150 miles of rivers and creeks in Central Iowa, including the Des Moines, Raccoon, South Skunk, North and Middle rivers, as well as Beaver, Fourmile, Mud and Walnut creeks. (For more information, visit dmampo.org/water-trails.)
But for many residents, there's no need to wait for a plan. They're playing in, on and along the rivers and creeks now. Here are stories from five of them—a paddler, stand-up paddle-boarder, birder and walker and an angler—along with their advice for how you, too, can get in on the action.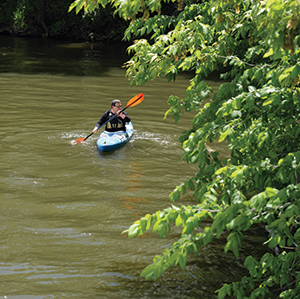 Paddling
After months of hounding, a friend finally persuaded John Wenck of Des Moines to try kayaking on the Des Moines River.
"He kept telling me about it; he was persistent—almost annoying—and so I finally said, 'OK, I'll do it,' just to get him off my back," Wenck recalls. It was early in the morning and cold when they put into the Des Moines River near Euclid Avenue: "I was not looking forward to it."
The next hour on the water would literally change the course of Wenck's life and career. Sitting low in the kayak, very close to the water, he started to feel an intimacy with the river, a calmness that could be found in a pocket of quiet surrounded by a bustling city.
Then there was the "wow moment" that cemented this as an experience he would want come back to again and again. "We looked up, and there was a bald eagle perched in a dead cottonwood tree," he says. "I remember it; we rested the paddles. It was the first bald eagle I'd seen in the wild."
That was 2004. Within a month, he and his wife had invested in their own equipment. He went on to join advocacy groups, spending four years as president of Central Iowa Paddlers. Today, at 50, Wenck is the water trails coordinator for the Iowa Department of Natural Resources, where he works daily to introduce Iowans to paddling.
Resources: Wenck recommends the activities calendar on Central Iowa Paddlers's website at centraliowapaddlers.org for people who have equipment and want to connect with other paddling enthusiasts.
For people without gear, Wenck suggests booking an outing with Argo Adventures, an outfitter offering canoe and kayak rental as well as shuttle service. Trips are along the Raccoon River, starting at the canoe ramp in Walnut Woods Park and ending at the canoe ramp in Water Works Park. For more information, visit goargoadventures.com.
Stand-Up PaddleBoarding
Just out of eyeshot from the Interstate Highway 35 bridge over the Raccoon River in West Des Moines is a quiet place in nature where you can surf on the river.
Ever since their children were old enough to swim, Katie and Bryce Gilbert of Warren County have been bringing them here to play on the water on stand-up paddle boards. They paddle upstream to Commerce Ledges, which consists of three natural ledges in the riverbed. The water rushing over the ledges creates a wave.
"River water is washing past you," Katie explains. "But you're surfing, pointing upstream. You're standing still, and the water is rushing past you. You get a little adrenaline rush. It's just fun—there's nothing like surfing, when you feel that water take off under the board.
"You come off the river, exhausted, hungry, and everyone is smiling," says Katie, 38. Even her daughter, 9-year-old Ashlyn, whom she describes as "princess pretty pants," throws on her board shorts, "gets covered in mud, has a ball and doesn't think twice about it."
Resources: Check out Katie Gilbert's No Coast Stand Up (nocoaststandup.com), which she started to spread the word about stand-up paddleboarding in Iowa. She offers introductory classes on local lakes and helps organize Ladies' Night and Men's Night.
There's also a Facebook group called "Des Moines Stand Up Paddle Group," where you can find out about upcoming events and connect with paddler boarders.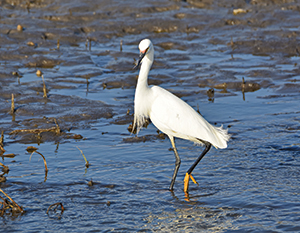 Birding
Unless you're in Florida, it's unlikely you'll encounter a roseate spoonbill, a large wading bird with pink feathers and a flat, gray bill. But there it was—in Iowa.
"It just showed up here," says John Bissell, 42, of Grimes. "A lot of times a hurricane will displace birds, and this one happened to end up on the mudflats of the Des Moines River in Jester Park."
Bissell has been fascinated with birds since he was a boy watching his grandmother's birdfeeder, and today he is a dedicated birder who loves spotting rare specimens. He keeps lists of the birds he sees and participates in friendly competition with other birders on who can spot the most species in a year. He even acts as one of Iowa's reviewers for claims of rare bird sightings on an online birding database.
At least five days a week, often on his lunch break, Bissell takes leave of his desk at EMC Insurance in downtown Des Moines and sets out to one of the many bird habitats in the metro area. Either on foot or in a car, he wanders through Water Works Park or Gray's Lake Park and looks for birds.
"What draws me most to birding is the possibility of seeing something rare," he says. "They are on wings and end up in interesting places."
Resources: Bissell says Greater Des Moines is rich with bird habitats, given the presence of two rivers, which act as migratory corridors. Water Works Park and Gray's Lake Park are two easily accessible birding locations close to downtown. Each spring, the Des Moines Parks and Recreation Department (dmparks.org) offers introductory birding classes; Bissell is the teacher. He also recommends two websites for birders of all levels of experience: iowabirds.org and ebird.org.
Angling
For Des Moines angler JJ Bailey, the pursuit of fish is as much the sport as the catch. One trip stands out in his mind.
It was a hot summer day last year, the ground was already wet, and another storm was rolling in. Bailey, 41, set out on foot to one of his personal, I'm-not-telling-you-where-it-is fishing holes on the Raccoon River: "We'll just say somewhere west of 63rd Street." It's a half-mile walk to his spot, so he had to pack in his two rods and reels, a live bait bucket, a backpack of fishing supplies—some 50 pounds of gear. He wore a full rain suit, not so much to stay dry—it's basically a wearable, sweat-inducing sauna—as to fend off swarms of mosquitos. The water is ankle-deep. "And I'm just hoping I don't get hit by this storm, hoping this is going to be worth it," he says.
It was. Just as the black wall of the storm was about to reach him, he landed his biggest fish yet, a 35-pound, 42-inch flathead catfish, what he calls the apex of predator fish species in Central Iowa.
Resources: For newcomers to the sport, Bailey recommends starting on calm waters where they can focus on honing their skills, then graduating to fishing on the river. He suggests the Iowa Department of Natural Resources as a good online resource for information, events and classes (iowadnr.gov/fishing). For gear, he likes Casey's Bait and Tackle in Des Moines, Johnston Bait and Tackle in Johnston, Bass Pro Shop in Altoona, and Sheels in West Des Moines.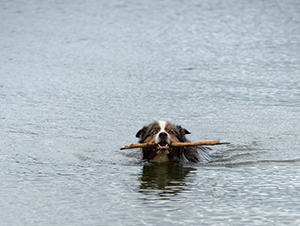 Playing Outside
In a world awash in programmed activities, games with predefined rules, and constant demands on time, it's easy to skimp on the simple pleasure of going outside to play.
Not so for Melanie Sadeghpour of Des Moines. She grew up playing in, on and around the lakes of Minnesota. Today, at 42, she is the mother of an inquisitive toddler and energetic Australian shepherd, and she and her husband, Cameron, make a point of taking them to one of the metro's parks with access to creeks and rivers every weekend for daughter, Ada, and daily for the dog, Dash.
"Like my dog, I find that if I don't get outside for some movement and fresh air most days, I start to get anxious and irritable," she says. "It allows me to forget, for just a bit, that I live in the middle of a city and to immerse myself in a more nature-based experience."
"We take our toddler to creeks to explore the water, the mud and the banks in her constant quest for knowledge about our strange, big world," she says. "We take her to sandbars on the rivers and play in the sand, wade in the shallows, and investigate the ever-changing detritus left behind by nature, people and the flow of the current."
Dash, she says, likes nothing better than chasing a stick out into the river on a hot summer day. "Sometimes he brings it back," she adds. "Usually, he charges out into the water and then paddles and splashes about to his heart's content, stick all but forgotten."
Resources? It's more of a state of mind: No specialty gear required. No calendars to check for programs. To engage in play is more of a mindset. Says Sadeghpour: "The first step is, of course, to go outside! Many Iowans don't think it is possible to go outside on anything but an 80-degree sunny day. Those days are lovely, of course, but to walk outside in a gentle snow, or to trudge through puddles on a rainy spring day are experiences most people miss out on. So, I would say, remember that you can always come inside and get warm and dry. Wear the proper clothes to make yourself as comfortable as possible, but don't make comfort your No. 1 priority. Instead, embrace the idea of an adventure."
---
Gunnar Olson is a freelance journalist with an interest in the inner workings of cities and their residents. He is the communications manager of Des Moines Area Metropolitan Planning Organization and a former staff writer at The Des Moines Register. He and his wife, Sara, live in Windsor Heights with their children, Ellis and Louisa.