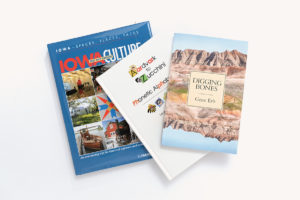 Three new books by Greater Des Moines authors recently landed on our desks, each clearly reflecting the writer's passion.
"Digging Bones" by Gene Erb is a historical action-adventure novel set in the 1870s in the Western frontier. It tells the story of siblings Luke and Rachel, who escape a childhood of abuse in their family's Nebraska cabin to join a fossil hunting crew headed to the desolate Dakota badlands. Shadow, a young Sioux brave, follows them, ill intentions in mind. Erb, a former Des Moines Register award-winning reporter and editor, is a top-notch researcher, integrating historic events and facts in the story while avoiding stereotypes and creating authentic, empathetic characters. Luke, Rachel and Shadow tell the story through their own voices and viewpoints. The book is available through Amazon.com.
If anyone–anyone–doubts there's an abundance of culture in Iowa, then they clearly don't know about "Iowa Culture: Past and Present" by Carson Ode. In creating the 405-page oversized hardback book, Ode and his wife, Connie, spent two years visiting nearly 500 (yes, 500!) museums, cultural centers and historic sites across the state. Open it to any page, and we guarantee you'll find out something you didn't know — like, say, the fact that the Story Theatre-Grand Opera House in Story City is Iowa's oldest continuously operating theater. Each page is also packed with photos. For more info or to buy a copy, go to the book's website.
For those who have yet to discover the joy of reading, "Aardvark to Zucchini Phonetic Alphabet Book" by Joan Hentschel is an early reading primer designed for children ages 1 to 6. The reading program, which Hentschel developed, covers 64 phonetic sounds. "When gradually introduced in a specific order, they help the reader grasp the concepts quickly," she explains, adding that the approach also may help older students, including those who are learning English as a second language. To learn more, go to the book's website.